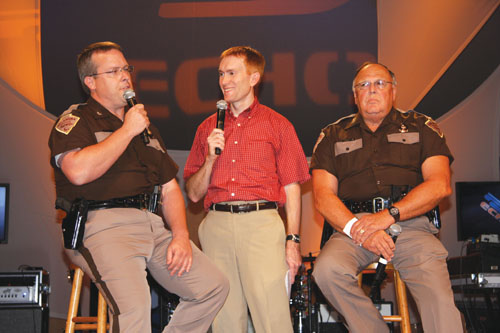 The nearly 7,000 students stood quietly, attentively as silence permeated the massive tabernacle. The only sounds vibrating through the cool night air were the echoing footsteps of Oklahoma Highway Patrol Troopers as they approached the microphones on stage. Their voices resonated across the vast expanse with the names of their fallen comrades—those killed in the line of duty while protecting the citizens of the great state of Oklahoma.
Afterwards, as more than 40 troopers lined the stage, the audience broke out in a lengthy spontaneous applause as they expressed their thanks and appreciation to those who protect them day-in and day-out.
The occasion was the dedication of the Oklahoma State Troopers Association Memorial at Falls Creek Baptist Conference Center, attended by Van Guillotte, Chief of the Oklahoma Highway Patrol; Kevin Ward, Commissioner of Public Safety; Deputy Highway Patrol Chiefs Greg Allen and John Harris; President of the OSTA Roy Rogers, retired OHP Chief Gary Adams and troopers from across the state.
"There is nothing more significant and wonderful for us than to have our Highway Patrol troopers and the families of the fallen troopers here," said Anthony L. Jordan, executive director-treasurer of the Baptist General Convention of Oklahoma. "You are incredibly special to us. You are a part of Falls Creek. It is a unique honor for us, and isn't it wonderful that teenagers in our state have a great love and respect for our state troopers?"
The memorial to the troopers is on the plaza just outside the new enclosed, climate-controlled Tabernacle. Individual bricks list the names of each of the 33 state troopers killed in the line of duty, beginning with Sam R. Henderson, who was killed May 7, 1941 in a vehicular assault, and ending with William Lloyd McClendon, who died Oct. 1, 2006 in an automobile accident. Sixteen of the 33 were killed by gunfire, two in aircraft accidents, three in vehicular assaults (intentional) and the rest died in an automobile accident or were struck by a vehicle.
At the beginning of the evening service in the tabernacle, James Lankford, BGCO student mobilization and Falls Creek program specialist, interviewed Guillotte and Rogers.
Guillotte explained that the Highway Patrol does more than just patrol Oklahoma's highways.
"We are involved in public safety, getting people safely from point A to point B," he said. "We also have aircraft, a bomb squad, drug unit and training units."
Guillotte explained that he feels an enormous responsibility as chief to more than 850 troopers.
"I think about them, worry about them and hope they don't make it to this plaza," he said.
Rogers, who has been a trooper for 41 years, and president of the OSTA for 16 years, said he read about bricks for the Falls Creek Plaza in the Baptist Messenger, and thought there could be no better place than Falls Creek to memorialize the state's fallen troopers.
"Putting the memorial together came from God," said Rogers, a member of Dougherty, First. "All I did was contact Steve Thomas (director, BGCO Stewardship Advancement Group), and the BGCO took the ball and ran with it."
Rogers said the thousands of people who come onto the Falls Creek grounds make it a great place to honor the 33 troopers who wore the uniform and gave their lives as the ultimate sacrifice.
"These men's names rest on holy ground," he said.
Rogers' partner, Howard Crumley, who was killed by gunfire in 1970, is one of the troopers memorialized.
A special guest for the ceremonies was Linda Green Bennett, widow of Trooper Nikky Green, who was gunned down the day after Christmas in 2003. Not only was Green an OHP trooper, he was also youth minister at Devol, First. In a town with only 71 water meters, Devol, First hosted 280 children and youth the last Wednesday night of Green's life.
Devol deacon Sam Evans described Green as an amazing man in that he always had the Lord first in his life.
"He came to our church with a mission, and that was to bring Jesus Christ into the lives of everyone he met, young and old alike," Evans said.
Green also had the dream of a youth center in Devol.
On Aug. 21, 2005, Devol, First dedicated a new 9,800-square-foot building with a youth center named in honor of Green.
His widow, the mother of Green's three daughters, told the Falls Creek campers that Falls Creek was special to her and her late husband, who served as sponsors at the camp.
"We were married several years before he joined the Highway Patrol," Bennett said. "I got to see him transformed from a hard-working farm boy to a trooper. I sometimes had to talk him into going to church, but once he started, he jumped right in there and started growing as a Christian."
One of the troopers who attended the dedication, said he realizes, if not for the grace of God, his name might be the 34th on the plaza.
Rocky Northcutt, a member of Ardmore, First, was hit by a bullet while backing up a fellow trooper on a routine traffic stop 10 years ago, and nearly died on the scene.
"God took a bad situation, turned it into good and used it for His glory," Northcutt said.
At the dedication ceremony following the evening service, Guillotte said he told Jordan that there is too much empty space on the memorial, and he hopes it never has to be filled in.
"This is a beautiful memorial, and it will be a tribute to these men for years," he said.
Jordan said it is "hard to express what we feel as we think about those who have laid down their lives to protect us.
"All the applause will not take away the pain of losing someone so special to you."
Jordan noted that Jesus said "greater love hath no man than to lay down his life for a friend."
"Each of these paid the ultimate sacrifice in protecting us," he said. "Year after year, thousands will walk across this memorial and give thanks for these men."
Emerson Falls, pastor of Oklahoma City, Glorieta and president of the state convention, said in his dedicatory prayer, "God, You ordained civil government so we might have peace. There are those who violate this. Therefore, we need peace officers. We can walk in freedom and security knowing there are those who watch out for us. We dedicate this ground to those who have given their lives that we might have peace."