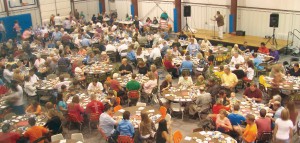 TAHLEQUAH-Associate Pastor Ed Hale said more than 150 members of First Church prayed, rolled up their sleeves and worked hard to help share the Gospel during a Sept. 9-12 revival.
As a result, more than 2,500 people attended the three-day revival and, more importantly, 108 people made a profession of faith.
"It was awesome. The Lord really blessed it," Hale said a few days later, the excitement still evident in his voice. "Our church is still reeling and very excited about what God did. The youth group also is growing."
Evangelist Ronnie Hill was the speaker during the revival, with music led by Chris McDaniel.
But, it was the prayerful preparation by the congregation which Hale says made the difference.
"We did 40 days of prayer and fasting before the revival and then held a 24-hour prayer vigil the two days before it started and a two-hour intense prayer walk throughout the church the day before," he said. "We prayed over the pews and the chapel, where the encouraging area was to be."
Hill spoke to about 3,500 students at six assemblies held in area schools Sept. 10-11, and students were given "tickets" to come hear him speak that night and eat free pizza.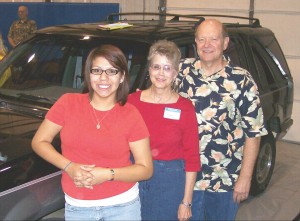 "We gave away 235 pizzas Monday and Tuesday night," Hale marveled. "The turnout was amazing. We average about 400 in Sunday School and 500 in worship, and we probably had close to 800 people in here Tuesday night."
The church gave away a car-a 1991 Ford Explorer-Tuesday night. The vehicle went to Tahlequah High School sophomore Elonka Voros. The car was actually signed over to Voros' grandmother, since she was under 18.
Hale said the church baptized every night of the revival, with a total of 14 new believers baptized during the revival and four more the following Sunday night.
"We'll see the effects of this for a long time to come," he said. "We already have lined up two more."