Recently, I have had the opportunity to attend some multi-language worship services, and they were remarkable experiences that helped me see how we are truly ONE in Christ.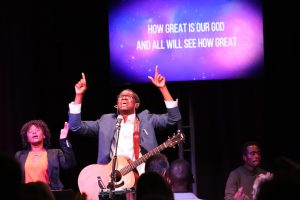 First I went to the Global Worship Day, hosted at Edmond, Vintage on Sunday Nov. 7. Five churches gathered in an international worship service. People using 13 different heart languages sang, prayed, read Scripture. We heard many testimonies (in English). You can watch the whole service here.
Here is what Vintage Church Pastor Mark Aduddell said about the event:
"We live in a world that is increasingly divided. Yet Christ said that the world would know that we were His followers by the way we love one another. These past few years have shown us how we are different—politically, socially, culturally and ideologically. The world is becoming more and more divisive, and even in our churches, denominations and among believers, we seem to be oppositional toward each other. However, in Christ, we are one people, worshipping one Lord, through one faith, and one baptism.

"You asked me why we do this. As I thought about it, I would say that I am driven to take the Gospel across the street and around the world, and the best way I know to do that is by uniting with my brothers and sisters in Christ from all nations, along with marginalized groups and the underprivileged.

"During this season of my ministry, the Lord has allowed me to connect, encourage, champion and love on International and marginalized pastors. I have discovered that, mostly, they want and need friendship, encouragement and to be a part of something bigger than themselves. They shared with me that, as people in a foreign land, there are times when they feel like they are "part of the menu," but that they really find joy in having a voice in and being a part of the program.

"Marginalized and international pastors and churches really just need those who will champion them and bring them together. We all know that we are better together, but instead of gathering them, recognizing them, then preaching to them, we have taken the path of being a place that connects, encourages, champions and creates opportunities for each pastor and church to be seen, heard and celebrated.

"Together we are the Body of Christ. When we gather together in the Spirit of Christ with people who are different in culture, color, language and country, we discover the true beauty of the Body of Christ… Then the world sees our love for one another and wants to know this God we serve. It's all about the Gospel!"
Well said! I sense the Lord is moving among Oklahoma Baptists because I have heard Pastor Aduddell's sentiment expressed by other leaders increasingly across our state.
Speaking of which, next, I attended the 2021 Annual Meeting of Oklahoma Baptists. On Monday evening Nov. 15, a multiple-language video was shown with people quoting Eph. 4: 1-6 in their language. Watch the video below and see if you see what I see—believers who have more in common than meets the eye:
During the worship time a multi-ethnic choir called the ONE Choir led worship in song. The choir was actually a compiled choir composed of Oklahoma Baptist singing groups from among the many ethnic and language churches in our state convention. Eight languages were present in the choir. It was an amazing presentation. Voices of Asian, Native American, Hispanic and African American were joined in leading worship in multiple languages and singing a new song entitled "ONE" written for the occasion by Randy Lind, Brad Henderson and Cliff Duren. Watch the studio video of the song below: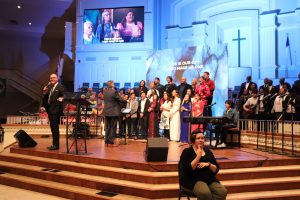 ONE Choir live was amazing! I don't have a video of it, but the picture below is from the event and is a favorite of mine. While I am sure I am not that great of a photographer, I like how the picture shows people from many languages, tribes and ethnicities all focused on one thing—The LORD. That night we heard people sing (and sign) in several languages, and it was a powerful testimony of unity.
Even though I could not understand what the people were saying in other languages, I could join with those who were leading worship because of the unity we all share in Christ.
It's true; in Christ we are all ONE.
One thing people always say at multicultural events like this is, "This is what heaven will be like!"
I understand what they mean. We will certainly experience unity together around the throne of the Lord in the heavenly realm. Rev. 7: 9-10 describes what it will be like on that day,
"After this I looked, and there was a vast multitude from every nation, tribe, people, and language, which no one could number, standing before the throne and before the Lamb. They were clothed in white robes with palm branches in their hands. And they cried out in a loud voice: Salvation belongs to our God, who is seated on the throne, and to the Lamb!"
But I can't help but think, "Yes this is what heaven will be like. But it can be what earth is like right now!"
We need to celebrate and encourage unity in the Spirit! Or better said, as the Scripture says,
"…making every effort to keep the unity of the Spirit through the bond of peace."
I pray that the experiences I had will not be a one-off and we will continue to show support and respect for one another, no matter what our heart languages are. We were created to be ONE in Him!