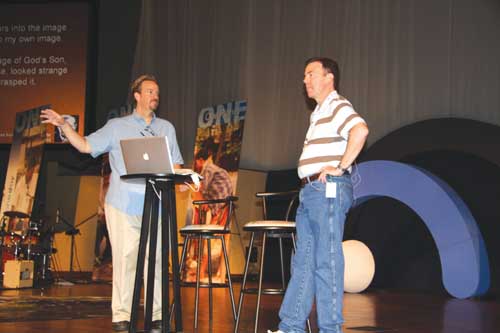 DAVIS—The One Day Initiative is a strategy of the Baptist General Convention of Oklahoma to impact 'lostness' in the state by developing disciples. It is an effort to train at least 10,000 lay leaders in 'missional' living—all in one day, Aug. 25.
To the end of preparing church leaders for the forthcoming initiative, the BGCO's Sunday School & Adult Discipleship Specialist, Bob Mayfield, hosted a special preview and training conference for more than 200 leaders and pastors at Falls Creek, April 30-May 1.
"'One Day' is a great way to help every church in Oklahoma customize leadership training for their Sunday School and small group ministries," said Ray Griffin, minister of education at Oklahoma City, Quail Springs, who led a breakout session on how to build a high impact Sunday School ministry. "I am grateful for Mayfield's passion for the people of Oklahoma to have a personal life-changing relationship with Jesus Christ."
Prominent author and expert, Ed Stetzer of LifeWay Research, spoke on three topics: Missional Small Communities, Missional Discipleship and his latest book, Lost and Found. Stetzer's presentations, which were recorded and will be used for the One-Day emphasis, communicated his passion for churches to reach outside the walls of the local churches.
LifeWay research has shown that small groups are an effective medium for outreach and building community.
"However, I'm less concerned with the type of church container (we use) than I am with not having a contained church," said Stetzer.
Mayfield, who is now offering One-Day resources and educational materials to all BGCO churches, echoed Stetzer's reminder that "holiness is not separation from sinners, but separation from sin."
Mayfield also emphasized the overarching theme of unity for the initiative: "One Day. One Mission. One Planet." The training experience offered varied modules and classes to equip pastors and lay leaders to be on mission with God, such as how to better reach and keep young adults.
Convention leaders have set a goal of 500 Oklahoma churches participating in Mission Oklahoma during September and October, which would yield an estimated 3,000 class mission projects. For more information, visit bgco.org/5374.