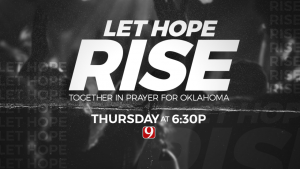 As the COVID-19 virus continues to spread in Oklahoma, Gov. Kevin Stitt, by an Executive Department proclamation, has proclaimed today, March 26, "A Statewide Day of Prayer in the state of Oklahoma."
Citing the challenges to Oklahoma communities COVID-19 has presented, Stitt quoted Psalm 34:17 in the Proclamation, saying "When the righteous cry for help, the Lord heard and delivers them out of all their troubles. The Lord is near to the brokenhearted and saves the crushed in spirit."
Stitt, who is a professing Evangelical Christian, went on to say, "Whereas, I urge Oklahomans of all faiths and religious backgrounds to join together in prayer for all those affected by COVID-19, including our healthcare professionals on the front lines and those who have suffered harm of lost loved ones."
The proclamation comes on the heels of Stitt's announced restrictions affecting individuals and businesses across the state, to attempt to abate the spread of COVID-19, which has led to infections and loss of life in Oklahoma.
Also, on the evening of March 26, Stitt and other leaders have organized a televised prayer event. The "Let Hope Rise" event, which will be streamed online and broadcasted in Oklahoma City on KWTV News 9 is hosted by Transformation Church in Tulsa. The event begins at 6:30 p.m. and is scheduled to last one hour.
"I know this is an uncertain or anxious time for many Oklahomans right now," Gov. Stitt said. "That is why I believe it is important we join together as a state and pray for God's blessing, protection and strength as we face a challenge that is unprecedented in its scope."
Among the many state ministry leaders featured at this evening's special event include Oklahoma Baptist pastors Alex Himaya of Broken Arrow, The church.at Battlecreek and Doug Melton of Oklahoma City, Southern Hills. Joel Harder, chaplain of the Oklahoma House of Representatives, also will speak.
Pastor Rusty McMullen of McAlester, First promoted the proclamation and event on social media, saying, "Please encourage your congregations to pray for our state… particularly our healthcare workers, those who have been financially affected by the situation, and those who have suffered harm or lost loved ones."