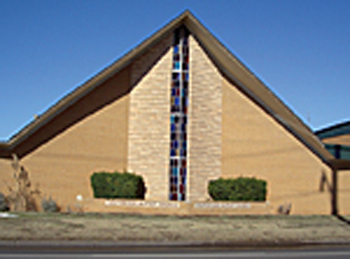 Oklahoma City, Southwood has sold its property at S.W. 59th and Western and is planning a move west.
"We talked and preached about it all summer," said pastor Rich Dunbar, "but the actual decisions have come about rather quickly.
Dunbar said when the church decided to sell its property, an offer came within two days.
"The day after we voted to accept an offer of $475,000, and authorized our trustees to sign that or any other bid we received that might be better, I got a call from the company across the street from the church asking to meet with me," he said.
Dunbar said he met with the company at 2 p.m., and walked out with a signed contract for $725,000 at 2:30.
The $725,000 paid off the loan on Southwood's new Falls Creek cabin, which was dedicated last May, leaving the church free of that debt, but in need of funds to purchase property and build new facilities. Dunbar noted that the name on the sign at the Falls Creek cabin will remain "Southwood OKC Askins Conference Center" as a memorial to what the Lord did through Southwood.
"We aren't ashamed of our heritage," Dunbar declared. "We just need a fresh start.
Dunbar said after talking with Capital Association Director of Missions Tim Russell, he is looking at property in east Mustang, about eight miles from the church's present location, for a new site. He noted that area is growing rapidly and would be a good place for a fresh start.
And the reason for the move.
"We have become largely irrelevant in our community," Dunbar explained. "Southwood has been declining for 20-plus years. When I came a little over two years ago, we were running about 80. We went up to almost 200 in Sunday School, but have started to decline again.
He said a lot of the families the church reached from farther south don't feel comfortable bringing their children to the building because of the crime and vagrancy in the area.
"That's an ongoing thing we face in our location," Dunbar said. "And the cost of upkeep on the building, including insurance, is going through the roof."
Dunbar said he was influenced to suggest a move by An Unstoppable Force: Daring to Become the Church God Intended by Erwin McManus, pastor of a church called Mosaic in Los Angeles.
"We aren't adopting a Mosaic model," Dunbar emphasized. "We are not going to be super-modern, but we want to be relevant to our culture."
However, Southwood has adopted the L.A. church's name-Mosaic. There will be no "Baptist" in the name, but Dunbar said the church's sign will state it is a Southern Baptist church.
"The metaphor a mosaic presents of broken pieces brought together by the artist to make a beautiful picture is something I thought was descriptive of what the church ought to be," Dunbar related. "Those pieces are diverse in background, shape and size, yet when God takes them and puts them into the church, He creates something beautiful."
Dunbar said 80 percent of the members present voted for the move, with 95 percent approving the name change. He added that 65 to 100 of the active members have indicated they will move with the church.
"For a lot of our members who live south, this will make a 1-2 mile difference," he said. "They will be going west instead of north."
Dunbar said the last service in the current facility will be Dec. 31, with Feb. 6 being the date everything has to be out of the building.
"We will make pews, chairs, sound equipment and other items available for what people can afford," Dunbar said. "We aren't going to move any of those things into the new building."
Until property is secured and a building is constructed, the church hopes to meet in a location central to the area it hopes to reach.
Because of the expected limited space in a rental facility, the church will maintain two senior Sunday School classes which already exist. The church will not have Sunday evening services, Dunbar explained, because that is when a lot of small groups (former Sunday School classes) will meet. Wednesday evenings will include only activities for youth and children, plus ESL classes currently being conducted.
Dunbar said the church is seeking partners to come along side them in the new work as well as help purchase property. Anyone interested in partnering with the new work in any way can contact the church office at 405/632-5593 or e-mail pastorrich1@cox.net.
"We'll start meeting in the new location in January," he said. "We would like to have a public launch and new core group, besides the ones coming from our church, launched by Easter Sunday. Our mission statement will be 'Love God, love others and serve the world.'"