EDMOND—There are some 2 billion people on earth today without meaningful access to the Gospel of Jesus Christ, according to a source with the International Mission Board (IMB) of the Southern Baptist Convention (SBC).
On Oct. 11, approximately 200 Oklahoma Baptists from across the state gathered in Edmond for the first IMB special event called "Together for the Nations," which is designed to propel missions and the spread of the Gospel.
From messages from God's Word to hands-on activities to breakout sessions, the all-day event was punctuated with one theme: Southern Baptists must have the urgency to take the Gospel of Jesus Christ to all nations.
A recurring theme of the event was addressing what Paul Chitwood, IMB president, has called "The greatest problem in the world today: lostness."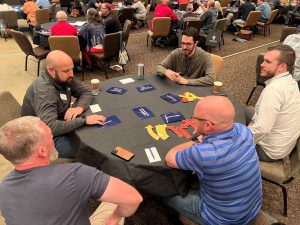 The event was attended by pastors and church leaders from Oklahoma who wanted to learn how they and their churches can make a difference in missions and grow in "partnership with the International Mission Board in solving the world's greatest problem."
Rusty McMullen, pastor of McAlester, First, was among many participants who drove hours to attend the event at Edmond, Henderson Hills.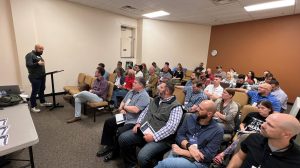 "Jesus gave us the Great Commission, and He wants us to make disciples of all nations," McMullen said. "This IMB event was encouraging to me, as it provided a great avenue to connect with IMB missionaries and discover ways we can become even more involvement in international missions."
The event, which was promoted in partnership with Oklahoma Baptists, was hosted by Edmond, Henderson Hills. "We were honored to host the Together for the Nations IMB Conference today. May the Lord send more for His glory (Luke 10:2)," said John Wohlgemuth, pastor of Henderson Hills.
Oklahoma Baptists' President Chris Wall, who serves as pastor of Owasso, First, led a panel at the event called "Reaching the Nations Together," in which he interviewed recognized missions leaders in Oklahoma who have cultivated "a culture of sending in their local church."
"Any church of any size discovers the many pathways Southern Baptists can go on missions, from short-term to long-term missions," Wall said. "As Southern Baptists, we truly have a great legacy of missions. Together we can reach the nations for him. Oklahoma Baptists are a key part of this story."
Attendees took part in breakout sessions that included topics, "Reaching the Lost in South Asia," "Reaching the Lost among the Global Deaf" and "Reaching the Lost in the Americas."
Leaders with the IMB expressed appreciation for Oklahoma Baptists for being a leader in global missions and hosting the event. Future Together for the Nations conferences are being planned.
"We have a great group today at the Together for the Nations conference!" said Todd Fisher, Oklahoma Baptists executive director-treasurer. "Thank you IMB for coming to Oklahoma and encouraging and equipping our Oklahoma Baptists churches of every size and location to be engaged in international missions.
"Fifty-nine percent of the world's population (4.6 billion people) are part of unreached/unengaged people groups. We must be committed to the message God has given us and the mission to take it to the nations."