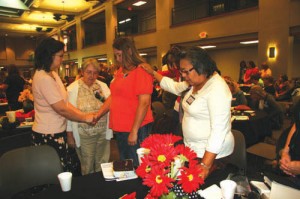 More than 200 church staff wives left the Ministry Wives Weekend at Moore, First, not only with soft, smooth feet, brightly painted fingernails, comforting bath salts, great food and lots of door prizes, but also with hearts filled with a new passion for their roles in life.
The women were treated to pampering sessions, a coffee and smoothie bar, homemade bath salts and a friendship seminar on Friday afternoon. They also had the opportunity to design and paint dinnerware, share ministry stories and concerns and hear about how to handle struggles, heal hurts and live the abundant life as they serve churches of all sizes.
They also donated about 300 pairs of new or gently used shoes for the Christian Women's Job Corps in Muskogee, which endeavors to help women learn basic living and job skills, while also showing them how to walk with Jesus.
Speaking during the weekend were Jennifer Landrith and Rachel Lovingood, ministers' wives from Long Hollow Church in Hendersonville, Tenn. Landrith, married to the pastor, and Lovingood, the wife of the youth minister, grew up in the same youth group and are authors of the Bible study "In Our Shoes," also the theme for the weekend.
Landrith and Lovingood said they wrote the Bible study because they couldn't find anything current and detailed for ministry wives.
"Nobody gets us like we get us," said Lovingood. "We know what it's like to hear unsolicited advice, to be a single mom on Sundays, to work in bed babies because we can't stand to hear the sermon that morning.
"None of us have it all together," she continued. "We can only wear the shoes God called us to wear."
The authors showed several different kinds of shoes, which represents phases the ministry wives might be going through.
Holding up a pair of fluffy blue houseshoes, Landrith asked if anyone needed rest.
"You may be depressed," she noted. "You may find it hard to get out of these shoes, to get out of bed. You may be a stay-at-home mom who wishes you could go out to eat somewhere that doesn't have a play place."
Running shoes, the women said, represent a busy life of juggling and trying not to drop anything.
The black high heels may be to keep up appearances.
"They hurt your feet; it hurts to keep up a perfect lifestyle," they said.
Some may be wearing military boots, they indicated.
"You may be in the midst of a battle," they acknowledged. "We have an enemy, and he is after us. It may feel like you're surrounded by conflict."
Flip flops may indicate the ministry is going great, but you need a break, a time of refreshment.
And then there is the crushed neglected shoe which represents a feeling of loneliness or isolation.
The women were asked to stand if any of those shoes fit their lives, and others gathered around them to pray for them.
Focusing on John 10:10, Landrith and Lovingood said the first part of that verse says Satan comes to steal, kill and destroy.
"Satan wants to steal the joy you have for ministry," said Lovingood. "If you are a joyless Christian, why would anyone want to be like you? He also tries to steal our passion. We all have passion, but it comes out of us in different ways. We get a mind set that we've lost our passion, but it doesn't go away. It gets misdirected. When it's directed in so many directions, it loses its effectiveness. If Satan can't make you bad, he'll make you busy."
Landrith said Satan wants to kill our ministry and he wants to kill the message of the Gospel.
"Our society is open to talk about God, but when you talk about Jesus, people diversify quickly," she observed. "More people would serve if we watered down the Gospel, compromised the truth or twisted scripture to make it fit their plans. Satan wants you to get tired of telling people about Jesus."
But, the ladies said, the last part of John 10:10 is good news—Jesus comes to give us the abundant life.
"God's command is we be filled with the Holy Spirit so we can love Him," they said. "But sometimes the fear of looking different, of being pulled out of our comfort zones, stuffing ourselves with the junk food of life instead of the Spirit or being too busy keeps us from being full of the Spirit."
They concluded that there were practical steps to have "MORE" of God.
"Make spiritual growth a priority; Operated in your own role rather than trying to walk in the shoes of someone else; Remember we do what we do because people are dying and going to hell, and Encourage one another."
Leading the seminar on friendships, seminar leader Vickey Banks told the women not one husband can empathize with them like a girlfriend.
"Inside each of us is still a little girl longing for someone to share her secrets with," she said. She added that she has learned some things from her friends on how to be a good girlfriend.
"Focus on being a friend rather than finding a friend," she admonished. "Become more interested in other people than you are in getting them interested in you."
She said one should treat friends like they are a priority at all times, and soul sisters are worth the cost of maintenance.
"Friends come in all shapes and sizes," she said. "Look beyond the cover."
Other advice included meeting practical needs, sharing in both weeping and rejoicing, praying for friends; listening well, sharing dreams and always making room for more friends.
"Make the investment to be a good girlfriend," she encouraged. "You may have to get your hands dirty and open your heart. With ministry wives, friendships are a unique challenge."