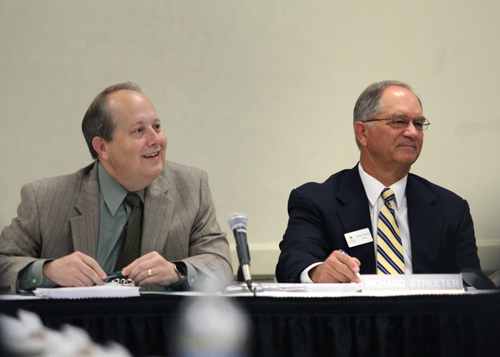 SHAWNEE—A strategic plan for Oklahoma Baptist University's next decade was unanimously approved by the university's board of trustees, Oct. 2, during the board's fall meeting on the campus in Shawnee.
The plan, titled "OBU 2020: Vision, Mission, Values," outlines seven initiatives for the 100-year-old private university, built around five institutional core values.
"This document outlines our vision, mission, our core values, and the strategic initiatives OBU will undertake as we begin our second century of preparing students for service and leadership," said OBU President David W. Whitlock.
Initiatives in the strategic plan include enhancing academic services, programs and support; expanding student scholarships; advancing student services; strengthening marketing and enrollment management; enriching quality of life for OBU employees; reinforcing faculty development; and improving university relations with diverse constituencies.
The core values presented in the OBU 2020 document "represent the convictions, passions and beliefs of Oklahoma Baptist University," Whitlock said. "These shape the standards and beliefs of the mission and purpose of the university."
The five adopted core values include Christ Centered, Excellence Driven, Learning Focused, Missional Purposed and Community Directed.
The strategic plan was developed during a two-day meeting of OBU faculty and administrative leadership in mid-September. Participants in that retreat utilized reports from two groups—a core values team and an environmental scanning team—which prepared documents to outline the university's planning assumptions.
"During our planning retreat, we found consensus in key priorities for our university community," said Whitlock, who has been OBU's president since Nov. 1, 2008.
"OBU 2020 provides the backdrop against which the university will plan and budget," Whitlock said. "We know that the challenges ahead are great, but we are equally convinced that the opportunities ahead are even greater. What we do matters. What we do has great consequence."
As he discussed the initiative on student scholarships, Whitlock said OBU adopted a new scholarship structure which will start with the 2010-11 academic year. The university will offer three new top academic merit scholarships. The Founders' Scholarship will provide $9,000 per year, the Trustees' Scholarship will be $7,000 per year and the President's Scholarship will be $6,000 per year.
Whitlock also announced a new Oklahoma Baptist camp scholarship program which will offer $1,000 scholarships for each summer a student attends a camp program sponsored by the Baptist General Convention of Oklahoma or a cooperating state Baptist association.
"I am committed to making OBU more accessible to Oklahoma Baptist families," Whitlock said.
The president also announced that the university will increase its minimum aid guarantee to children of Southern Baptist missionaries. OBU will provide a minimum of 50 percent of tuition costs for "missionary kids" through university scholarships and awards.
During the meeting, trustees approved costs for tuition, fees, room and board for OBU's 2010-11 year. The overall costs will increase 5.04 percent, from $23,134 in the 2009-10 year to $24,300 for the upcoming academic year.
"This is the earliest we have been able to state actual costs for the upcoming year," said Randy L. Smith, OBU executive vice president for business and administrative services. "We wanted to provide this information to prospective students and their families as early as possible. With our new scholarship programs, this will allow students the opportunity to make informed decisions earlier in the college search process."
The fall meeting of the 33-member board was the first for OBU's newly enacted trustee meeting schedule. The board formerly met in December, March and May. The board will now meet in early October, early February and mid-May each academic year.
Board chair Richard Streeter, a financial planner from Claremore, presided at the meeting.