Although the 2009 Men's Retreat April 24-25 at Falls Creek Baptist Conference Center near Davis is chock full of "guy activities," organizer Keith Burkhart says the focus is not just on roaring motorcycles, classic cars, horsemanship, fishing and hunting or NASCAR racing.
"My passion is not just a retreat," said Burkhart, family and men's ministries specialist with the Baptist General Convention of Oklahoma. "While we want to create an environment in which men will come and feel comfortable, my passion is to encourage those men to take the next step toward discipleship."
The theme of the Men's Retreat—"Rewired"—is based on Colossians 3:17, "And whatever you do, whether in word or deed, do it all in the name of the Lord Jesus, giving thanks to God the Father through Him" (NIV).
Burkhart relates that verse to whatever it is men are drawn to; what he calls "tribes" of men. Thus, the annual retreat is set up with special interest venues that allow men to gather with others of like interests.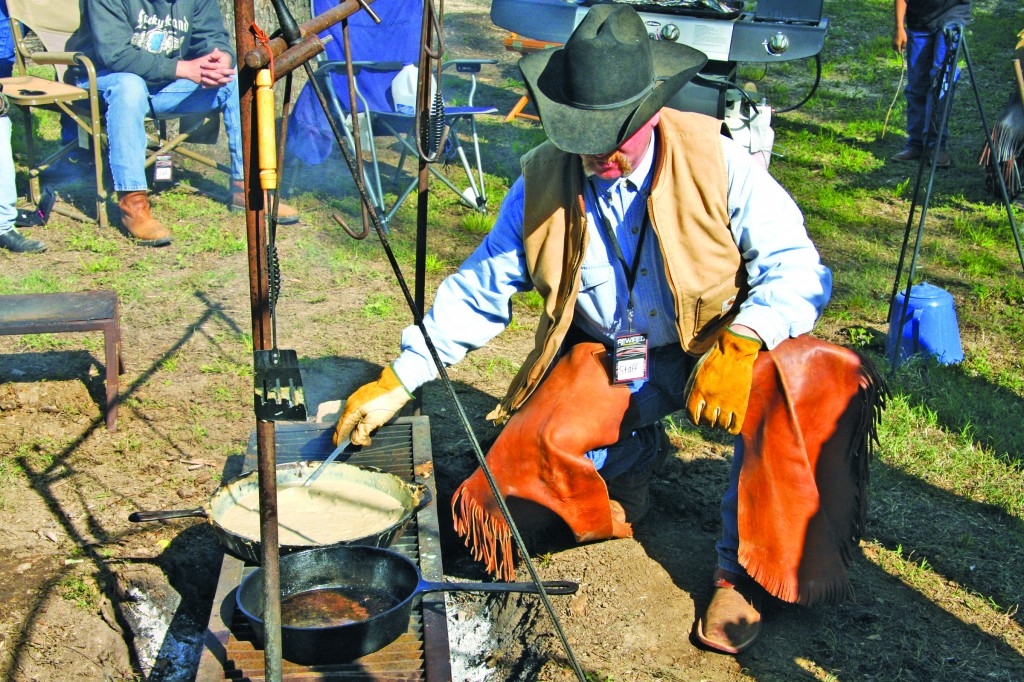 In February and March, he coordinated a series of 10 sessions across the state to train church staff and lay leaders in how to use the retreat to reach the men in their communities. The training was held in Ardmore, Atoka, Checotah, Elk City, Enid, Lawton, Oklahoma City and Sapulpa.
"We designed those where church leaders could get to a location within an hour," Burkhart said. "Through those sessions, we touched more than 100 churches and trained more than 400 pastors and lay leaders."
Accompanying Burkhart to the training sessions were leaders from the various "tribes," such as the cowboy church, motorcycle F.A.I.T.H. riders, businessmen and a hunting/fishing expert.
"I took 5-6 men with me each time," Burkhart said. "We saw God break through. We prayed for those leaders and men, and saw many of them come away encouraged. We also demonstrated how the invitation will be done at the men's retreat this year.
"This year, we want those pastors and leaders to help with that. We're going to ask them to spread across the Tabernacle, and we're going to do the invitation in a unique way. So, we modeled that to them."
But, the emphasis on discipleship doesn't end there.
Continued from page 1
Doyle Pryor, pastor of Sapulpa, First, has written material that those attending the men's retreat will take home with them.
Included are 10 lessons, or "compass points."
"It resembles a journal, with a leather-look, card stock cover, that has 10 compass points, with Jesus as true north," Burkhart explained. "It will cover several areas, such as finances, the Word of God, community, mission; all the spiritual disciplines that a man truly needs to really grow as a disciple and follower of Christ."
Pryor also developed a DVD for a representative of every church to take home with them, which has instructions to the pastor on how to use the material.
"The DVD has 10 sermon outlines that accompany the compass points," Burkhart said. "The men will all go back and read a chapter, which takes about 15 minutes each week. There are graphics and charts which reinforce each spiritual discipline, so at the end of each week, they will gather in groups of 3-5 in their local church to discuss what they have read.
"Each man who comes can buy two extra books and go home and find two others who didn't go to the men's retreat and walk them through it. It's designed to allow them to sit down at their convenience and discuss the questions at the end of each chapter and how they apply to their life. It moves them into the process of discipleship."
As exciting as that is, Burkhart also beams when he mentions the keynote speakers lined up for this year's men's retreat. They are Norm Miller, chairman of Interstate Batteries and its NASCAR racing team and founder of the Interstate Batteries Great American Race for vintage cars, and Rick Rigsby, former TV news reporter, now the chaplain for the Texas A&M Aggies football team and well-known speaker at Promise Keepers, Men at the Cross and Iron Sharpens Iron conferences.
"They are incredible," Burkhart exclaimed. "Also, the first 800 men who register are going to get a free copy of Miller's book, Beyond the Norm."
Worship leader is Matt Roberson from Tulsa, who will lead a "Rewired Worship Choir," something new this year.
"This volunteer group will lead in worship with Matt during our two keynote times," Burkhart said. "They will need to rehearse with Matt at 1:30 p.m. on Friday of the men's retreat. "If interested, they can volunteer by going to mattrobersononline@gmail.com."
Specialized venue speakers include Edmond businessman Kent Humphreys, "Marketplace Ministry;" Buddy Griffin, "Dealing with the Father Wound:" Lew Sterrett, "Sermon on the Mount;" Bobby Brasher, executive director of the Christian Hunters and Anglers in Tyler, Texas, "Duck Hunting and Leadership & Equipment for Deer Hunting and Life;" Mark Grandstaff, "Raw Materials to Raw Power" (Motorcycles); Mark Sinor, pastor of Edmond, North Pointe, "Perspectives on Life from a Fisherman;" Sid Woodruff, former men's and deacon ministry specialist with LifeWay Christian Resources, "What Men Need to Know about Women;" and Richard Zimmer, pastor of Shawnee, Rock Creek, "Men and Motorcycles."
"Humphreys has prepared a resource kit for the retreat, and every church that attends will receive one of these reaching the marketplace resource kits," Burkhart said.
Pre-retreat activities April 24 include a fishing tournament at Arbuckle Lake organized by The Fishers of Men National Tournament Trail, a cowboy camp down by the river, ropes course, an open class car show, trout fishing in the creek and organized motorcycle ride into the campground.
"Bass Pro Shops got on board this year, and they're sending their fly fishing pro down for the pre-event," Burkhart said. "There will be more stuff than the guys can ever think about attending. The car show and fishing tournament at Arbuckle Lake Friday morning are new."
Burkhart is expecting more than 3,000 men to come to the retreat this year, but admitted he's "praying for 4,000 guys to show."
As for a quiet time in the Arbuckle Mountains, forget it. Burkhart said he is expecting probably 500 motorcycles to show up this year, almost twice the number (300) that came last year.
He attributes that to the exponential growth of F.A.I.T.H. Riders chapters in Oklahoma over the past 18 months.
"We have around 30 F.A.I.T.H. Riders chapters now," he marveled. "The number seems to grow every week almost."
For more information about the lengthy list of activities at the Rewired Men's Retreat, visit www.bgco.org, and click on the icon under coming events, or call 405/942-3000, ext. 4649.