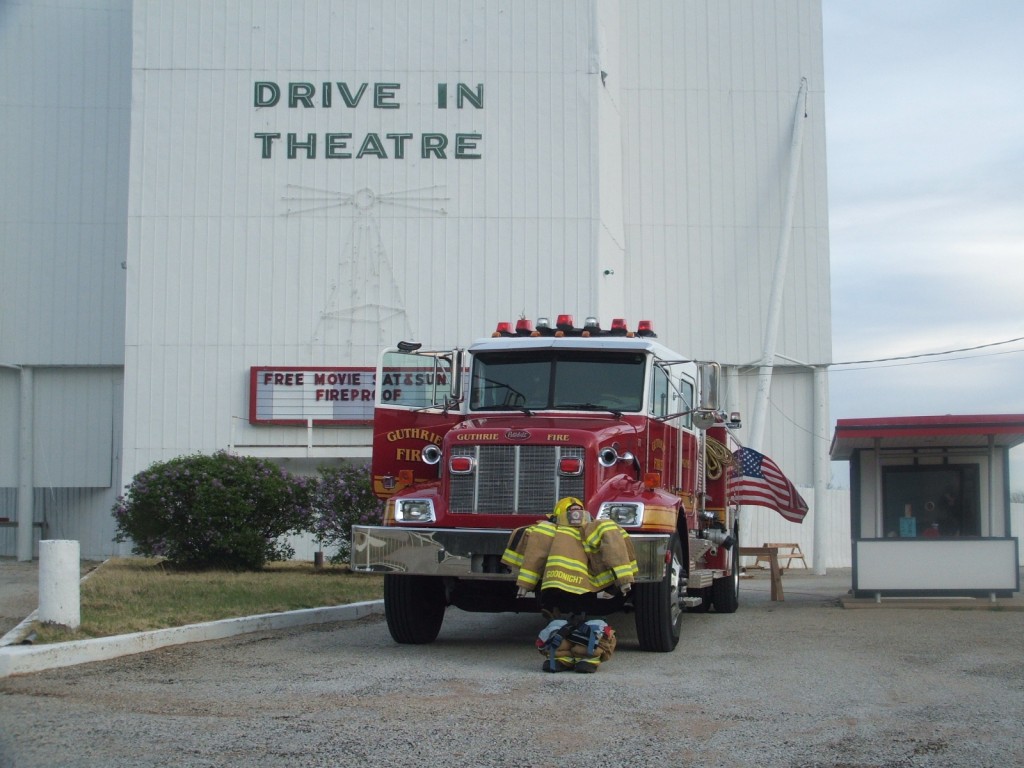 GUTHRIE—"FIREPROOF" turned out to be not quite weatherproof March 27-28, but more than 100 hearty souls braved the aftereffects of an early-spring snowstorm to view the Sherwood Pictures/Provident Films blockbuster movie at the Beacon Drive-In.
Originally scheduled for viewing at the outdoor theatre on this community's Division St., on Friday and Saturday evenings, organizers had to quickly shift the schedule to Saturday and Sunday as frigid temperatures made the prospect of sitting in a car for two hours watching the big screen an unpleasant prospect.
"The weather just killed us," said Charlie Loper, pastor of Guthrie, Faith, and main organizer of the event sponsored by a group called "No Strings Attached."
After cancelling the free showing Friday night, 13 cars with 33 people showed up to see the movie on Saturday, and 27 cars with 77 people came to see it Sunday night.
"Sunday night is never going to be a good night for the drive-in with people going to have to go to work the next day, but that's the only day we had after the weather hit us like it did," Loper said, adding that local church services also provided competition.
"Other than that, everything went incredibly smoothly, there were no problems, and we had plenty of people there," an upbeat Loper added. "Several people came down after the movie and visited with us, and we gave them the Love Dare book."
In the movie FIREPROOF, a couple dares to rescue their choking marriage from the flames of divorce and temptation using The Love Dare book as a guide. The daily devotional steers couples through the fiery challenge of developing a strong, committed marriage in a world that threatens to burn it to the ground.
The Love Dare personally leads readers through daily devotionals, records their thoughts and experiences and ends each day daring them to perform a simple act of love for their spouse. The 40-Day journey equips them to melt hardened, separated hearts into an enduring love that can withstand the flames of fear, pride and temptation.
Although the turnout was light, Loper said those who were meant to be there were there.
"We had a lady who stayed after the movie Saturday, and we prayed and counseled with her. She has been out of church for quite awhile and had some serious issues to deal with. One couple who was engaged came Sunday evening, and she thought seeing the movie and going through the Love Dare would be helpful for her and her fiance to prepare them as their wedding day approached.
"So, God knew who needed to be there and He had them there."
Loper said the event was far more than just trying to show a movie.
"I would still say it was definitely worthwhile. I was glad we did it," he said. "Part of the issue is we are building a reputation in the community, and when the community realizes that we're not trying to get anything from them; all we're trying to do is give to them, then they quit being so defensive about church related issues and church related functions and then when they see us do these kinds of things in the future, that's always going to carry weight.
"They may think, 'you know, I can actually go and enjoy a movie and I don't have to worry that people are going to try to get anything from me, but they are just providing something for free that's nice for me and my family.'"
That's why the group, which also includes Guthrie, Community, Crescent, First and Edmond, Waterloo Road—with support from Central and Capital associations—came up with the No Strings Attached name for their partnership.
This was the second time the group had shown a movie at the drive-in produced by Sherwood; the first was "Facing the Giants" in 2007.
"We had a real good group for "Facing the Giants" in 2007, and we really were expecting a crowd nearing 1,000 Friday and Saturday nights for 'FIREPROOF,' Loper said. "It might have worked out that way if the weather had been better.
"Each church in our group probably will show "FIREPROOF" again this year, as a follow-up for people who wanted to come this weekend and couldn't because of the bad weather. And, in the future, we'll do a drive-in showing with the next movie Sherwood comes out with, which I understand is in production now."
Meanwhile, No Strings Attached made some great connections at the "FIREPROOF" showings.
"We had greeters walking around and talking to people as they drove in," Loper said. "I had some very intriguing conversations with people as I did that. It's a great way to find out information we needed, of course, but it also was a great way to start conversations, and they enjoyed talking to us. It put a face to the whole thing, too."
There were no decisions, but that wasn't what the whole thing was about.
"It was about making contact with people and encouraging them and helping them realize that being part of a church family is an integral part of maintaining a marriage," Loper stressed. 'That if you're going to have a relationship based on God, you can't do it alone, and that a church family needs to help you when you go through those difficult times.
"Also, there are a lot of people who come to events who, when they get there, think they're going to be pursued around the room by someone with a Bible in their hand trying to force feed them Christianity, and that's not the intent of this group at all. Our intent is to point them in that direction by virtue of our servanthood, and for them to know that we spent a lot of time and money and effort to pull that off with no expectation on their part to do anything reassures them that it's not about us."
Loper hopes the idea catches on, and in fact, it shows signs of doing so.
"A Methodist pastor from Chickasha called last week and wanted to know the details of how and what we were doing because he wanted to do the same thing at the Drive-in in Chickasha," he beamed. "He was very excited and interested in what we had done and in knowing the process. I thought that was incredibly cool that other people are grabbing onto the idea and running with it."