LAWTON—As scenes of racial division arise across the nation, one area of Oklahoma is rising up to show that churches offer the best path toward racial reconciliation.
On Sunday evening, Oct. 29, in Lawton, multiple area churches came together for "An Evening of Unity," a Christian worship event designed to bring Christians together.
Joe Ligon, pastor of Marlow, First, was among those who helped plan the event.
"The idea was actually birthed last December," Ligon said. "Walter Wilson (pastor of Lawton, Friendship and African-American ministry consultant for the Baptist General Convention of Oklahoma) and I were both invited to a racial reconciliation event at Falls Creek by Dr. (Anthony) Jordan. At that meeting, we were talking about something specific and tangible we could do in our part of the state. We hit upon doing an 'event' in Lawton, with our churches sort of taking the lead."
Wilson and Ligon had previously hoped to hold the event sooner, but some delays came, and the event finally came together this October.
"I believe God's timing on this event was best," Ligon said.
Churches from various denominations, including Southern Baptist and National Baptist, took part in the event, which featured times of music, prayer, Scripture reading, a sermon and more.
"The event was designed to show that regardless of our race, creed or color we can come together and fellowship with each other," Wilson said. "Yes it did show that we may be many members, but we all belong to one body."
Wilson offered the greeting and welcome to the hundreds gathered in McMahon Auditorium in Lawton. Attendees traveled from Altus, Cache, Chickasaw, Duncan, Elgin, Faxon, Fletcher, Geronimo, Marlow and other areas to support the event.
"We were able to have Dr. Willie Smith, pastor at Bethlehem Baptist Church in Lawton (a National Baptist Church) on board, and his leadership has proven to be so valuable," Ligon said.
In addition to Ligon, Smith and Wilson, more than a dozen pastors appeared on the program, offering Scriptural thoughts on challenges facing communities and families.
According to Ligon and Wilson, the premise of the event was to unify under the banner of Jesus Christ and to see the church as the solution to racial problems.
"We look at all the controversies dividing our country, there is only one solution. We can't expect our government to solve these issues," Ligon said. "These issues will be only be resolved when the church stands up and together to present a clear picture of the Gospel's solution to the challenges."
During one portion of the service, a unique time of prayer was observed. Attendees were asked to connect with someone they had never met, share a prayer request and then go to the Lord with it in prayer on the spot.
Wilson said, "I was overcome by emotion as we came together for this event. Joe (Ligon) gave a great sermon. This event shows black and white, Christians from all races and backgrounds, can come together."
On Facebook, the positive comments poured in.
"What a great service," one said. "I loved it all," said another. "It was a wonderful night from start to finish," said one more.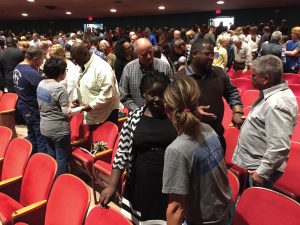 Attendees were asked to bring a non-perishable food item that will be donated to the Lawton Food Bank, and many took part in that effort. Wilson said the food bank truck was filled.
"I was greatly encouraged to see people of all colors willing to go sit and pray with other folk they had never met before," Wilson said. "Also it was encouraging to feel the presence and power of the Holy Spirit in the midst of this event."
"This was not an event to end all events," Ligon said. "But we do think it's a great first step."
"It was encouraging to see that the Gospel erased barriers that separate so many people in our country and folks experienced a bit of the unity that we all long for," Ligon added.