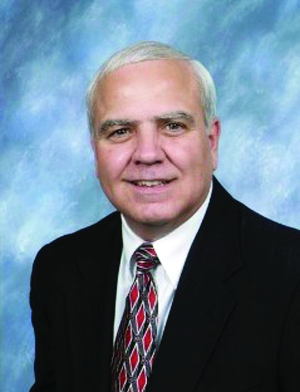 The following article is the first of a series about Oklahoma Baptists from around the state who have led and served in various ways.
• Name: Larry Nigh
• Position: Senior Pastor of Ponca City, Northeast since December 1984. Nigh previously served as pastor of Gage, First; Norman, Alameda, and as associate pastor/minister of youth at Oklahoma City, Mayfair.
• Family: Nigh and his wife, Saundra (Sandy) were married in 1973, and have two children, Julie and Jason, who are both married. They have six grandchildren, who Larry describes as "the best thing to ever happen to us." Nigh has been privileged in baptizing two of his grandchildren so far.
• Convention involvement: Nigh has been an outstanding leader within the Baptist General Convention of Oklahoma. He is a certified leader of FAITH Evangelistic Strategy, and has partnered with several missionaries around the world, as well as participated in an evangelistic crusade to the Philippines in 1981. Nigh has also served as the pastor of the Oklahoma All-State Youth Choir & Orchestra, served as acting director of missions and as moderator for Kay Association, as a member of the Board of Trustees for Oklahoma Baptist University from 1990-1992, second vice-president of the state pastor's conference from 1991-1992, a member of the Board of Trustees for Oklahoma Baptist Homes for Children from 1999-2003, and was a member of the BGCO Board of Directors from 1989-1990, 1993-1997, 1999-2003 and 2005-2009. He also was a member of the Credentials Committee for the SBC Annual Meeting in Atlanta, Ga. in 1995, and preached the annual sermon at the BGCO Annual Meeting at Broken Arrow, First in November 2013.
• Education: After graduation from Northwest Classen High School in Oklahoma City, Nigh went on to receive a B.A. degree in religion from Oklahoma Baptist University. His seminary education began at Southwestern Seminary in Ft. Worth, Texas, where he earned a Master of Divinity degree. He earned his Doctor of Ministry degree from Midwestern Seminary in Kansas City, with a ministry project focusing on the area of senior adults.
• Life principles: "My life principle is focused on being a servant leader in my church and to also lead my members to be the same. Preaching the Word has always been at the front of everything I do, but I also want to lead and guide my church members to live by every law, commandment and principle from God's Word. I cannot expect my people to do this unless they see it modeled in and through me."
• Passion: "My greatest passion apart from preaching the Word and serving as a pastor, is doing missions. I have tried to lead my church to fulfill the Great Commission here in Ponca City and around the world. Our church has literally gone around the world to share Jesus with the lost. I have a heart and passion to see all people saved."
• Life verse: "From the very beginning of my call to ministry way back in 1967, I have claimed Gal. 2:20 as my life verse. I am so thankful that I have been saved by the blood of Jesus Christ and called to minister in His name. But I realize that the life I live now in the flesh I live by faith in the Son of God. I am challenged every day to allow Him to live in and through me—equipping me, encouraging me, and providing for me in all that I am to do through Him. I cannot fail if I live my life in faith!"
Key questions from the
Baptist Messenger:
Messenger: When and how were you led into the ministry work?
Nigh: I was saved at age 9 at Oklahoma City, Northwest. From that time on, I got very involved in the youth and music ministries of the church. All the church staff members were great encouragers to me as I developed my walk with the Lord.
At the age of 16, I was called to ministry and surrendered my life to full-time ministry. I knew from that very moment that God was calling me into the pastoral ministry—to be a preacher.
I served 18 months as associate pastor and minister of youth at Oklahoma City, Mayfair. In the spring of 1974, I accepted the call to pastor Gage, First. I served there for the next eight years. Then, I served at Norman, Alameda for three-and-a-half years before accepting the call to pastor Ponca City, Northeast.
God has provided a wonderful ministry here. Never did we realize we would be here for 30 years, but I can't think of any better to place to serve than at Northeast.
Messenger: What are the biggest factors that helped you remain as a faithful pastor?
Nigh: The biggest factor has been the loving support of my wife, Sandy. She is a great friend and counselor to me. What has kept me in the pastoral ministry all these years has been my strong calling to ministry.
I never doubted God's call on my life. There are those times when you wonder if you have made the right decisions, but standing firm in the faith and the call has always been enough to see me through.
Messenger: What piece of advice would you give to a new, young pastor who desires to serve his church for many years to come?
Nigh: I have been asked many times by my peers how we have been able to stay so long at one church. My answers to them and any young pastor always have been the same:
• Lead by example
• Build trust among the church members
• Don't be a dictator
• Always pray in all things, especially the BIG things that can make or break a ministry (building a new building, paying off debt, calling new staff, conflict, etc.)
• Gather around you a group of men to help mentor, counsel, and hold you accountable
• Always be ready to join God in His work, trusting Him for everything.
• Lead your church to have the outward look—of getting out the four walls of your church and your comfort zone to minister in His name.
• Always try to maintain a sense of humor—learn to laugh at yourself—be real.
Messenger: You have played a key role in the life of Southern Baptists of Oklahoma. Reflecting back on your years of service and thinking ahead to the future of the SBC, what gives you cause to be optimistic for Oklahoma?
Nigh: I am optimistic about our future as Southern Baptists. We haven't lost our calling to fulfill the Great Commission and to do missions.
The world around is chaotic and out of control. Satan is throwing everything he can at us to defeat us. The time for the Lord's return is drawing near. Therefore, we must pick up the pace to work harder, and to encourage all of our churches to get involved.
I am thankful for all the ways I got to serve in the state convention and national convention. Every pastor needs those same opportunities to get involved, to learn, to grow, and to lead.
God will always need great leaders and pastors to serve Him and do His work until Jesus comes. Sometimes, I wish I could have done more, but I am thankful for how God has used me through all my years of ministry.