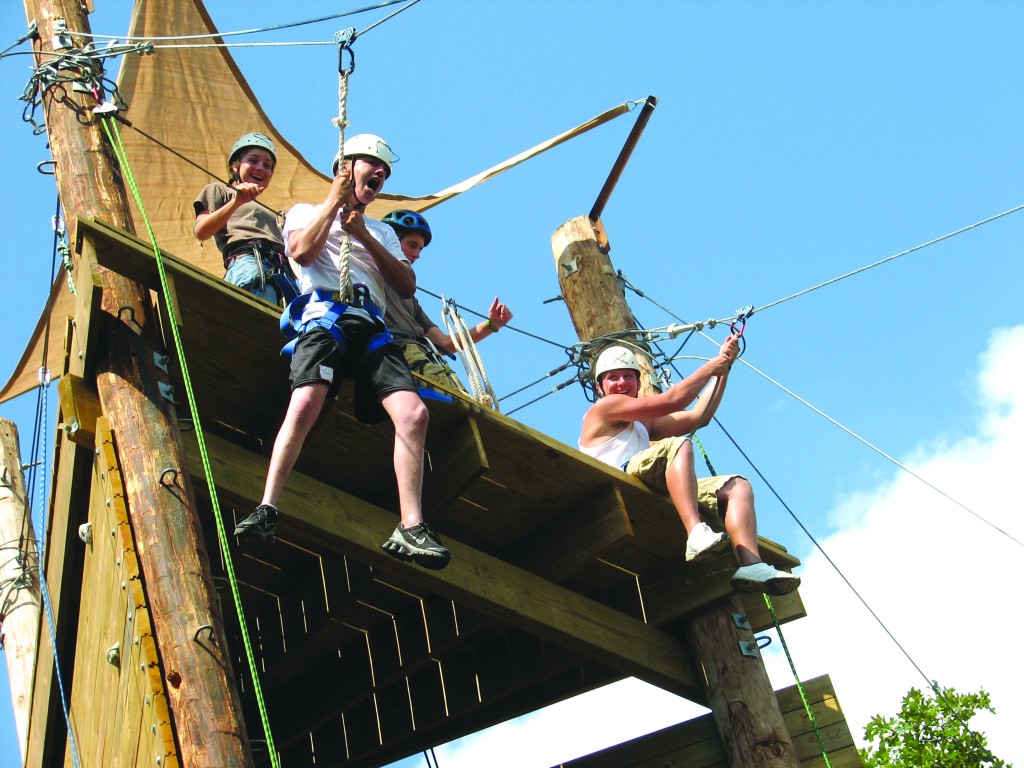 Kiamichi Baptist Assembly was formed in 1942 as a location for "Camp Meetings" held under a brush arbor, with campers staying in tents and sleeping on the ground. It has since grown and developed into a year-round facility on 120 acres with 60 cabins and camp-owned facilities and a 1,500-seat tabernacle.
KBA is owned and operated by the five Southern Baptist Associations in southeast Oklahoma: Atoka-Coal, Frisco, LeFlore, Pittsburg and Sans Bois. It is one of the largest camps of its kind in the nation, with more than 11,000 campers attending annually.
This summer was no exception.
"Our total numbers for the year will be over 10,000 for sure with more than 1,000 total recorded decisions," said Jay Baker, who directs the camp, along with his wife, Martha. "Our KBA weeks had a total attendance of 2,961, with 334 total recorded decisions."
KBA hosts a total of 10 weeks of summer camps, with programming responsibilities for four of those weeks: two children's weeks and two youth weeks. The assembly provides churches with discipleship and evangelistic opportunities for their children and youth. Since its inception, KBA has seen more than 30,000 recorded decisions made at camp.
"While Kiamichi Baptist Assembly has seen exciting growth, our prayer is that God will continue to provide an expansion of this ministry," Baker said. "Much of KBA's funding comes from the generous giving of our associations and churches. We are grateful for the ways in which our churches give in support and would encourage other churches to prayerfully consider this, as the Lord leads. If a church is interested in bringing a group to camp, becoming a regular supporter or obtaining more information about any area of KBA's ministry, contact us at 918/567-2601, or e-mail, kba1942@yahoo.com."
LeFlore Association owns a cabin at KBA which sleeps 90 (40 boys and 50 girls) and has a kitchen/dining area. Renovations have recently been made to the cabin, including a remodeled kitchen with all new appliances; washer & dryer; two new water heaters; new tables and chairs in the dining area; new central heat & air conditioning and a new deck with an outdoor grill.
Rick Boyne, pastor of Wagoner, Immanuel, accompanied his church's children's group to KBA July 13-17, when Muskogee Association held its annual camp.
"My goodness, it was absolutely incredible. By Thursday evening, we had 202 decisions out of 670 campers," Boyne said. "God did such wonderful things there."
Boyne said the children especially enjoyed KBA's archery program.
"It is highly supervised, and was very exciting for the kids," he said.
He also appreciated some historic aspects of the campground.
"They have two Baptist historical markers there," Boyne pointed out. "One for the actual campground when it was instituted, and one what they call Uncle Buck's Cabin, which honors one of the men who was instrumental in creating the camp."
Gary McKeen, pastor of Haskell, First, challenged the 46 campers and sponsors in his group to memorize the names of the books of the New Testament—and at least two of them all of the books of the Bible—promising to dye his hair and goatee pink if they met the challenge. The challenge was met. See photo at right.
KBA's summer camp experience concluded with two Summit camps, a youth camp July 27-31 and a children's camp Aug. 3-7.
"Summit is a made up of a group of Southern Baptist youth ministers," Baker explained. "Mostly guys who used to come to KBA and moved away. At that time in the early 1990s, KBA had only one youth week and they decided they needed to have another. Since that time, it's grown to where they have three weeks here, a week at Grand Lake Baptist Assembly and a week at OBU. We host them, but they do their own programming.
"Most people who come here don't know the difference. The good thing is, Summitt brings some additional staffers, which helps, and they do their own recreation. So we have a few more helping hands during those Summitt weeks, which is always good."
KBA is located adjacent to a small lake of what Baker estimated about 100 acres in size.
"Part of our property adjoins the lake, and we use it for canoeing and kayaking," he said. "But, there is no swimming, and our campers don't fish in it, either.
KBA expanded its long-standing ropes course this year.
"We now have a climbing apparatus that has a two-sided climbing wall, and a 50-foot tower with a double zip line off of that. We have had a ropes course for about 8-9 years, but that was our big addition this year and it's pretty impressive, so we're pleased in how that's turned out," Baker said.
The camp added archery last year to its recreation program.
"That's been a real big success for us," Baker said. "We have a shooting hut, and we teach what's called center point archery. When we put it in, I had visions of arrows flying in all directions, but it's just super organized. They have whistle commands, and even the kids who have never held a bow before are plunking arrows into the target within 20 minutes."
KBA is a huge camp by associational standards.
"We might be one of the biggest associational camps in the country," Baker said. "Our tabernacle holds 1,500 now, and we're going to remodel our tabernacle this offseason. We will add probably another 300 seats. We're also going to install new lighting, sound and video equipment, remodel the stage area and install new seating.
"Hopefully we will get a great face-lift, not that God wouldn't show up if we met in a hay barn, but we're in a very picturesque area, and it's kind of a shame when our worship area is the least attractive area on camp. That's going to be exciting when it's completed."