Registration is still open for the 2021 MedAdvance conference, hosted by the International Mission Board (IMB). The conference will be held at Southwestern Seminary in Fort Worth, Texas, Aug. 5-7.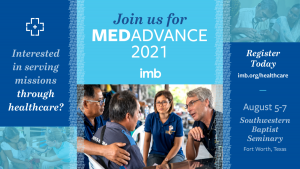 At the event, participants will discover how God is at work, organizers said, as healthcare missionaries share from around the world. Those working in or interested in the medical field will learn how they can serve on mission at home and overseas using their God-given talent, skills and experience.
Rebekah Naylor, global healthcare strategies consultant for the IMB, said that healthcare missions is opening doors to a hurting world and granting gospel access to unreached peoples and places in unique ways.
"The MedAdvance conference provides a wonderful opportunity for healthcare professionals and students and church leaders to learn how they can be involved in praying, giving and going using health strategies to access the unreached, make disciples, form healthy churches and train leaders," Naylor said.
The annual conference provides opportunities for healthcare workers, professionals, students and church leaders to connect with IMB missionaries and leaders for networking and discussion surrounding medical missions opportunities.
Paul Chitwood, IMB president, and Adam Greenway, president of Southwestern Seminary, will speak during the main sessions of the three-day conference.
Healthcare professionals and missionaries and IMB personnel will lead breakouts throughout the conference. For example:
Rick Dunbar will lead a session titled "First Do No Harm – Healing that Helps."
Victor Hou, AVP of global advance for IMB, will lead a breakout on healthcare strategies in global cities.
Geoff Little will lead "Virtual Mobile Clinics – No Passport Required."
IMB healthcare personnel will present opportunities and needs for students, healthcare professionals and churches, specific to their regions of service.
For those not able to travel for in-person meeting, a digital pass to view main sessions and a limited number of breakouts is available. Sessions will be recorded and available for viewing Aug. 20-Sept. 30.
You can be a part of providing help and hope to those who have never heard the Gospel. Register today.
Read to learn about the impact MedAdvance had on a physician assistant in Central Asia.