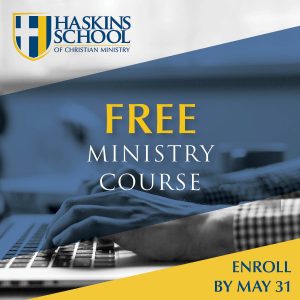 The Haskins School of Christian Ministry is offering a free ministry course for new students who enroll by May 31. The online school, which is offered by Oklahoma Baptists, offers more than 70 courses designed with various ministry contexts in mind. The free courses are meant to help meet the equipping needs of pastors and other ministry leaders who are faced with challenges presented by the current Coronavirus pandemic.
Haskins School Dean Mark McClellan explained the non-accredited courses offered are of the highest quality. "Haskins School courses provide each student with some of the best instruction available that combine strong biblical teaching and practical application," McClellan said. "The assignments are for the student to put into practice in their specific ministry and prepare them to instruct and equip others. The courses provide training for nearly every ministry in the church. Students choose which course(s) meet their ministry needs now and throughout their study in the Haskins School."
The Haskins School offers courses in two formats of seven weeks and 14 weeks. Students who would like to continue studying with the school after the free course can take seven-week courses for $25 and 14-week courses for $50. Students can earn a diploma from the school for 10 courses and a certificate for five courses or take courses without pursuing either.
For more information about free Haskins School classes contact Terra Easom teasom@oklahomabaptists.org for English language courses and Grecia Obregon gobregon@oklahomabaptists.org for classes in Spanish. Or by calling 405/942-3800.