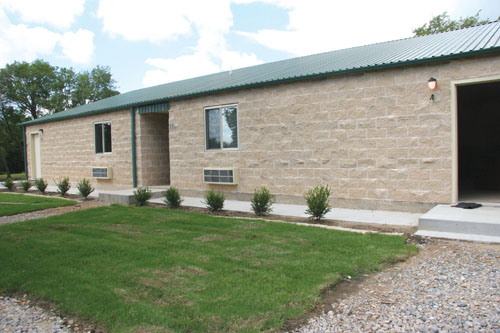 Madill, First is a small-town church with a big city ministry. Located in a southern Oklahoma lake community, the population of Madill is about 3,500, but it is estimated at least 2 million drive through the town each year.
The church has grown from an attendance of around 200 two years ago to between 600-700.
"Our number one goal is to get outside the church into the community," said Todd Vargas, youth/associate pastor.
Although the church has seven full-time ministers on staff, it is looking for help, and in turn, wants to help those who are interested in ministry opportunities.
"For several years, we have been praying about bringing in interns," said Vargas. "And we are now in a position to do so."
Vargas said the church can accommodate at least four males and four females who desire to learn about ministry.
In January, the church dedicated a quadraplex which was initially built to help those in the community suffering from economic problems.
"We wanted to provide free housing for people who were having a hard time paying their bills, but we found most people desired help, but didn't want to leave their residences," said Vargas. "We have had some people take advantage of the housing, but most of it will be available for the intern program."
Vargas said the internships will be much like college, based on semesters, with room and board provided.
"It is a chance for those who are going into ministry or those who aren't sure what they want to do to get involved with the ministries of the church," he said. "They will get a full-range of hands-on training in ministry, and will also have the opportunity to participate in leadership classes.
"Basically, it will be a year of growth in ministry, with dedicated quiet times, discipleship, prayer and biblical teaching."
Ministry opportunities will include children's and youth ministries, audio visual, sound, a Bread of Life feeding ministry, F.A.I.T.H. evangelism, Hispanic ministry, public school Bible studies, Upward basketball and soccer and Adopt a Block ministry.
"They will participate in staff meetings, and see full circle what our ministers see," Vargas said. "They wil also have the opportunity to particpate in mission trips. We have a church plant in El Paso, Texas they can be involved with."
Vargas pointed out that Madill is close to two colleges—Southeastern in Durant and Murray State in Tishomingo, so it would be possible for the interns to do side credits while working at the church.
"We would want them to learn to build relationships with the community, not just the youth," said Vargas. "In our Adopt a Block ministry, we have sidewalk Sunday School for the kids with prizes and snacks; we visit the people on the block every Monday and seek to fill needs such as lawn mowing. We try to bring the church and the love of Christ to them."
Vargas acknowledged that the church tries to raise its youth with these same goals, but "we have them for two hours a week, and the world has them the rest of the time. We can do so much more with interns."
Vargas said the ultimate goal is that the interns will learn what real biblical ministry is.
"If they have a calling to be full-time ministers, that is great, but the church needs to be in all fields of endeavor, whether it's medicine, legal, teaching or coaching."
Vargas said they will have two semesters, fall and spring, and he hopes a student would do two semesters.
Those interested in more information on the internship program and desiring an application, should contact the church at P.O. Box 250, Madill 73446, phone 580/795-3341.