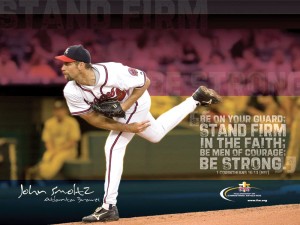 KANSAS CITY, Mo.—The last week in January marked the anniversary of the very first elections in the U.S. Baseball Hall of Fame, when baseball greats Ty Cobb, Babe Ruth, Honus Wagner, Christy Mathewson and Walter Johnson were named as the first inductees on Jan. 29, 1936.
Joining these baseball legends will be three standout pitchers and a power hitter who make up the Hall of Fame's Class of 2015. In six months, Randy Johnson, Pedro Martinez, John Smoltz and Craig Biggio will be inducted as the 2015 class on July 26 in Cooperstown, N.Y. This year marks the first time in Hall of Fame history that three pitchers were honored in the same election, and the first time in 60 years that four players were nominated at once.
Stellar pitcher Smoltz helped lead the Atlanta Braves to unprecedented success during his impressive career, and also speaks regularly for the Fellowship of Christian Athletes (FCA) in the Atlanta area. In October 2006, FCA went one-on-one with Smoltz for a Q&A in its magazine.
FCA asked Smoltz about some of the responsibilities and challenges of being a spiritual leader.
"We all have a testimony, and the shame of it is that we tend to not be bold because we think we don't know enough," Smoltz told FCA. "But you can't view everybody as a nail and you're holding the hammer. That doesn't work for the majority. You almost have to be part psychologist to figure out their make-up and what they are able to receive and not receive. Ultimately it's not up to us, anyway. It is not our agenda; it is not our purpose. It's God's. For me, I just hope that I can shed a different light on what's going on in the clubhouse. If I can do that and remain obedient to Him, then nothing I set out to do will matter. My own purposes will fall on deaf ears because they are in my own interest. But if we ask God for the right time, the words won't be an issue."
Smoltz added that quiet time with God each day to pray and communicate with Him is crucial in being obedient to God and discerning His voice.
"You have to want that nugget of wisdom each day," he said, "because that is the only way you are going to be able to face whatever might happen. You want to know that you are guarded—that you have the armor of God—because you are going to be attacked. In some way, you are going to be told why you are not who you claim to be. And that is just part of the journey of a Christian. If you realize that and know that it's going to happen and then equip yourself with His Word, then you'll be able to defeat the wicked."
Smoltz also said that athletes and coaches who want to make a difference must remember that, to Christ, all are on the same level and all will be given the courage to speak up for their Savior.
"That is the beauty of the body of Christ—knowing that He died for everybody," he said. "He didn't just die to elevate some and not others; we all have it. So, my advice is just to stay the course. Find out who God wants you to be and stay the course. Draw that line in the sand, because over time, you are going to gain favor. . . . You'll have an impact with how you carry yourself and how you influence and serve others."
Smoltz was born May 15, 1967 in Detroit, Mich., into a baseball family. He grew up a Detroit Tigers fan, as his father and grandfather spent time working at Tiger Stadium. In fact, when Detroit won the 1984 World Series, Smoltz and his father dug up a piece of Tiger Stadium sod and planted it in the family's backyard.
Smoltz stood out in baseball and basketball at Waverly High School in Lansing, Mich. He intended to attend the University of Michigan, but was instead drafted in the 22nd round of the 1985 amateur draft by his hometown Tigers. Two years later, he was acquired by Atlanta, where he became the only Braves player be a part of the franchise's historic run of 14 consecutive division titles from 1991-2005. He pitched in 41 postseason games and five World Series and was honored with the Cy Young Award in 1996. Even after seasons plagued by injury, Smoltz become the only player in big league history with at least 200 career wins and at least 150 saves. Also honored for his humanitarian efforts, Smoltz has received the Lou Gehrig Memorial Award (2005), the Roberto Clemente Award (2005) and the Branch Rickey Award (2007).
"This is an honor that I could not have anticipated when I started playing baseball and even today," Smoltz told baseballhall.org. "I think it will hit me when I get there. I'm not comfortable with titles, but I'm relishing this one, and I will for the rest of my life."
Images – CSE & FCA