As the curtain closed on the first summer of youth encampments in the spectacular new $24 million tabernacle at the Falls Creek Baptist Conference Center, thoughts turned toward other parts of the $30 million Phase I improvements included in the Falls Creek for the Sake of the Call campaign.
Twilight settled across the camp in the Arbuckle Mountains July 27, as officials broke ground for the Center for World Missions and World Missions Prayer Park that will sit adjacent to each other and anchor the east end of the Plaza.
Private donors are funding both of these projects. Other projects within the Falls Creek Master Plan "will be built as God's people give," said BGCO Executive Director-Treasurer Anthony L. Jordan.
The Center for World Missions-funded by Wynn Construction Company of Oklahoma City-will contain approximately 2,800 square feet, a main room which seats about 112 people, and have a multi-purpose capacity. The northern half of the circular walls will be made of floor-to-ceiling glass and provide a space for smaller group gatherings requiring a more reverent setting.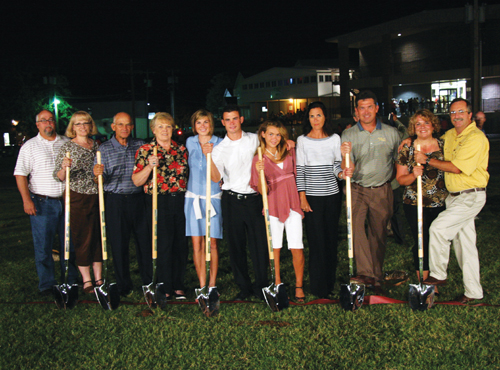 During the summer youth encampments, the Center for World Missions will be used as the primary "Save the Planet" venue. Save the Planet is not an ecological/environmental program but is a unique approach to introducing world missions to teenagers.
With a dual focus of helping teenagers know more about world missions and encouraging them to be sensitive to the possibility God may be calling them to missions; this approach has seen tremendous success for both. This approach uses visual aids, computer lab and e-mail/IM contact with active missionaries and on-site counseling to assist students in understanding and following God's will as it relates to world missions.
The World Missions Prayer Park, funded by Hugh and Nelda Swift of Duncan, will consist of a 90-seat amphitheater, water fountain with "floating" granite globe, covered arbor and pavers listing all 77 counties in Oklahoma and 39 Native American tribes. Set into the park area will be a detailed United States map.
In addition to year-round use, the prayer park will become the permanent site for local, state, national and world missions prayer during summer youth encampments. Previously, these prayers were held on an asphalt road upon which an outline of the world had been painted.
Construction on the missions center and prayer park will begin in September. The project is expected to take five months to complete.