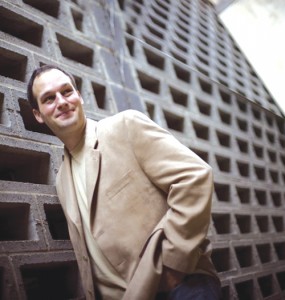 DALLAS—Sitting in an up-scale restaurant near the city center of Dallas, Chris Plekenpol (PLECK-in-pole) smiles as a television spot carries the images of University of Texas quarterback Colt McCoy and University of Oklahoma quarterback Sam Bradford. It just so happens that the spot appears two days before the 2009 Red River Shootout, where the schools' football teams will meet for what has become one of the most notable rivalries in college football. Both men appear in black shirts seated in a white chair with white light framing their image as they begin to speak about their lives and their trust in Jesus Christ.
"Isn't that great?" Plekenpol asks. "Right here in the middle of everything you hear something about Jesus. I love it."
Plekenpol should know. For just a few blocks away a picture of him clad in U.S. Army fatigues with a sharp salute advertises the same Web site on which McCoy and Bradford appeared—I Am Second. Plekenpol's testimony has been featured on the Web site, which has now received more than 1 million hits.
I Am Second is the brainchild of E3 Partners—a global missions organization with a focus on recruiting, organizing and mobilizing Christian missionaries for partnerships to establish churches around the world. Plekenpol, 32, is finishing his last year of study at Dallas Theological Seminary, and his involvement in the Web site outreach came as a surprise to him given his background as a graduate of West Point and executive officer in the U.S. Army's 82nd Airborne.

West Point and Beyond
A native of Trophy Club, Texas, he arrived at the United States Military Academy quite by accident. Through a passing conversation between his father and former Sen. Phil Graham, he filled out the application for West Point on a whim, passed the physical exam and to his surprise, was soon on his way to New York to join the long grey line.
West Point proved to be a place where he thrived both as a student and future military officer. Upon his arrival at the Academy, he quickly noticed the Baptist Student Union was a gathering place for many cadets as they participated in many hours of serious teaching about the Bible. Plekenpol always considered himself a Christian, but he had seldom read the Bible. As a child, his parents took him to a Lutheran church, but he confesses that he "never really understood the Gospel until I got to West Point and observed the character and quality of life lived by all the Christians around me." As he observed his fellow cadets "read their Bibles and devote themselves to Christ their lives became a powerful example to me about the reality of the Gospel."
Following graduation from West Point, his first assignment was at Fort Knox, Ky. During his days as a young lieutenant in the U.S. Army, he remained interested in the doctrines of Christianity. He listened to well-known preachers on the radio and drove an hour and a half one-way to Louisville to hear Bob Russell, senior pastor of Southeast Christian Church, preach each week.
"In those days, I thought bigger was better," he said. "I wanted to experience the fullness of God, and it seemed to me that the people who were at that church knew God in a way that I did not, and I wanted what they had in their lives."
Coupled with his involvement in the Officer's Christian Fellowship while at West Point (a large organization of officers from every military branch who join together for Bible study), Plekenpol slowly became aware that he had not been converted.
On Dec. 4, 1999, he stepped forward at the end of a worship service and joined a group at the front of the church as they prayed to receive Christ.
"From that moment, my life went from black and white to vivid color," he states.
Plekenpol was soon transferred to Fort Benning, Ga., then to Fort Bragg, N.C. and finally to Camp Casey, South Korea. The call then came for him to report to Iraq, where he would lead an armor company into battle. Yet, nothing prepared him for what he would see in the deserts of the world now transformed into a theater of war.

In the Company of Soldiers
His very first day in the region was marked by missteps and mistakes which forced the realization that war creates a "fog where so many things can go wrong." All soldiers involved in combat are forever changed by the experience. Plekenpol is no exception. Many of his experiences are chronicled in two books he wrote about his time in Iraq. Faith in the Fog of War was originally his daily journal that grew into a book as he "struggled to put into words all that he experienced in battle."
Many say he is lucky to be alive after an IED ripped through his 72-ton tank on Nov. 23, 2004.
"I had never encountered that type of deadly force in my life," he said.
Emerging from the wreckage, he was amazed that while the tank was still smoldering from the heat of the impact, nothing had penetrated the crew compartment. His reflections on the experience evidenced that something was changing in him as the days passed. The Bible seemed to be "more alive" and provided him with a growing confidence that God was "aware of my situation and nothing could ever budge His will off its sovereign track."
Plekenpol's belief in God's sovereignty would only grow in the days to come. The now famous assault on Fallujah in the fall of 2004 would leave him with an experience that would forever shape his understanding of the Gospel of Christ. During a routine inspection, an Iraqi insurgent tried to ram a tank with a car loaded with explosives and was now unconscious from the impact. While the attempt to kill the American soldiers had failed, the car was still filled with bombs which ultimately ignited in a huge blast, killing the driver. As the flames consumed the insurgent, Plekenpol watched with horror as the man died before his eyes.
"Suddenly I saw myself in the corpse that lay before me," he writes. "I was about to be consumed by God's fire, when God the Son put Himself in my place. He pulled me from harm's way and dove into the flames, sacrificing His life that I might live."
This is the experience recounted by Plekenpol on the I Am Second Web site. And it is the one experience which still crystallizes in his mind his best understanding of the Gospel.
"As God's enemy, God did something for me that I could not do for myself," he says. "I deserved to die for my sins, but Jesus died for me so that I might live."
Post-War Ministry
Since his days in Iraq, he has given himself to the formal study of the Bible and theology. His brushes with death have produced a clarity which drives him to action as he seizes every opportunity to push both himself and others "beyond the superficial toward what is real in life."
It is not uncommon to hear that Plekenpol has taken in a homeless man off the streets or spends time with men struggling with homosexuality. "The main thing I want in my own life and in the lives of others is something real—not something made up or simply on the surface."
His method to pursue spiritual authenticity is small group interaction where "facades can recede and people can admit their struggles and sins."
This is one of the goals of the I Am Second outreach and something for which he works to establish in local churches.
While previous attempts by other evangelical ministries have sought to use celebrity as a means of evangelism, Plekenpol admits that ultimately it is not only famous people who struggle with sin. Each person featured on the Web site reveals deep personal struggles—the likes of which are seldom mentioned openly in public especially by religious people.
"The reality is that we are all in need, and the local church must be a place where honesty and accountability really matter or we are just playing games and not really working for life-change," he said.
Plekenpol hopes that is the message received by all who view the I Am Second Web site. He insists that I Am Second is simply a gateway to a place where people can find real help through local congregations dedicated to the Gospel of Jesus Christ who "get involved in the messy details of life."
"I want to live my life in such a way that failure is guaranteed unless God intervenes," he says.
For this soldier turned minister, it does seem that God does remain first while he is—second.