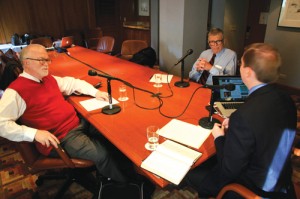 Pastors and church leaders must deal with many crucial issues that their congregants face on a daily basis. In an effort to engage, equip and encourage those church leaders as they wage that battle, the Baptist Messenger is launching "Messenger InSight," a new Podcast outreach.
The monthly Podcast—hosted by Executive Editor Douglas E. Baker—biblically and thoroughly examines issues encountered by the modern church to strengthen understanding and fellowship among churches.
The inaugural Podcast features the work of Chuck Colson's latest book—The Faith, Given Once for All. Colson has long been recognized as an evangelical leader who for more than 30 years, has called the church to faithfulness and action to the Gospel of the Lord Jesus Christ.
Joining Colson on the initial Podcast for a discussion surrounding key issues of the Christian faith is Southern Baptist theologian Timothy George, dean of Beeson Divinity School in Birmingham, Ala.
Topics include:
Essential Doctrines of the Faith; Christian Doctrine—Required?; My Faith, THE Faith, and the Church's Faith; The Trinity—A Necessity?; Ecumenism—What is It?; Evangelicals and Catholics Together—Its Mission and Future; Are Roman Catholics Christians?; The Future of the Southern Baptist Convention.
"This discussion with Colson and George is just the sort of candid discussion we must have as evangelicals and Southern Baptists," Baker said. "Christian doctrine is once again put front and center as the unifying force in our ongoing fellowship together around the Gospel."
The second Podcast surrounds key issues of the Emergent Church and the Emerging Church Movement. Two key theologians who have studied the theology and philosophy of the movement analyze the key ideas and evaluate the impact and future influence of the movement on evangelicals.
Topics include:
Part I. Emergent or Emerging—What is the Difference?; Don Carson on the Emergent Left; Two Streams in the Emerging Church Movement; Contextualization—What is it?; Epistemology—What is it?; Pre-Modern, Modern, Post-Modern: Does it Matter?; Missional—What is it?; Missional and Attractional Ministry; Mark Driscoll—Friend or Foe?; The Enlightenment—Does it Matter?
Part II. The Bible—Inerrancy and Authority; Relevants, Reconstructionists, Revisionists—Three Visions, Three Goals?; Christian Preaching—Its Emerging Future; An Emerging Idolatry?; Emerging and the Southern Baptist Future.
"This is a discussion which must take place because so much confusion exists around these issues," Baker said. "Two young pastors join two seasoned theologians to carefully examine issues surrounding these modern initiatives in ministry under the light of Holy Scripture. No topic is off limits, and this group of ministers addressed every aspect and controversy with respect, candor and Christian charity."
The panelists include Mark Devine, associate professor of divinity, Beeson Divinity School, Birmingham, Ala.; Micah Fries, senior pastor, St. Joseph, Mo., Frederick Boulevard; Gregory Thornbury, dean of the School of Christian Studies, Union University and Justin Wainscott, teaching pastor, Paducah, Ky., First.
The Messenger Insight Podcasts are about 30 minutes in length. They are available now at www.messengerinsight.com.