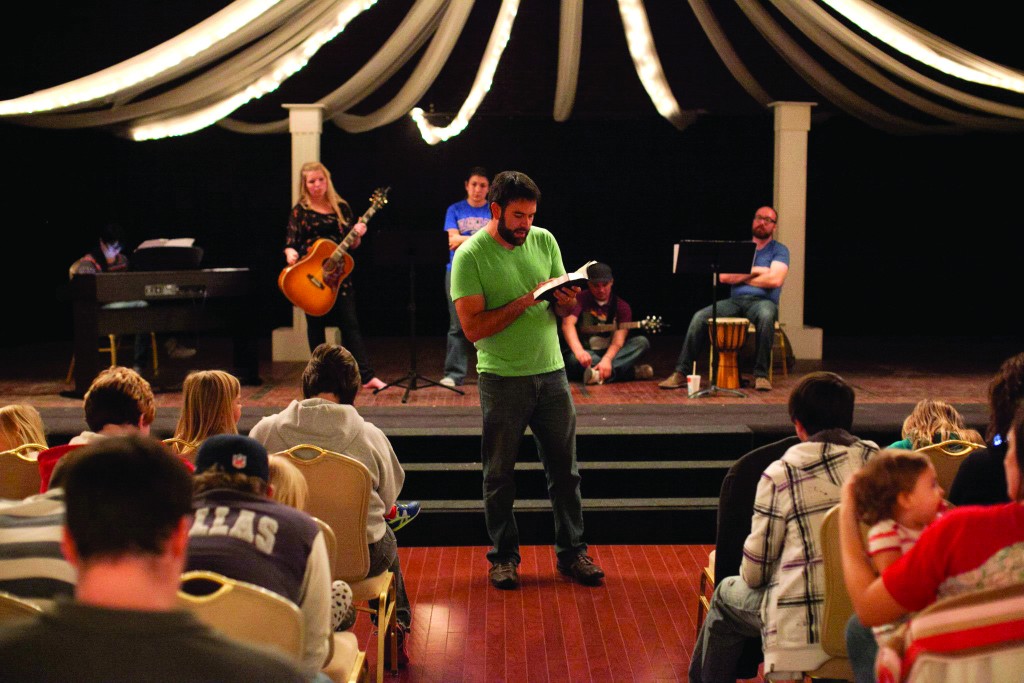 MOORE—Formally less than six months old, Moore, Community Church had so established itself as a fixture in the city, that when the May 20 tornado ripped through the area, it was natural that city officials called upon the congregation to help in the face of the mass destruction.
"Our goal was to be a force in the community, thus our name," said Pastor Brandon Mata.
Mata said from the beginning, the church made it known to the city it was available to help with local events.
"We felt community had to be the heart of our church," Mata revealed. "In the 1950s, people who had need looked to the church. That's what we wanted."
As a result, church members were available to help with such events in Moore as Big Wheels National, Shop with a Cop Christmas program and an Easter Egg Hunt, where they had a chance to share the Gospel with those who came. Mata was also asked serve on a planning committee for a huge city park in the center of Moore.
"So when the tornado struck, we were already ingrained in the community, and it was natural for us to be called on to help," Mata explained. "The first thing we did was go to the community center, grab shovels and rakes and start working."
He said the first Saturday after the tornado, he was asked to organize a group of 500 to clean the cemetery.
"We ended up with 3,000. It is amazing to see denominational lines blurred as people came to serve," said Mata, adding that the church heard from people across the nation, and as far away as Hawaii, who wanted to help.
As a result, ServeMoore.com was set up to organize people to help in the tragedy.
"We hope even after the clean-up is complete, we can continue to serve the community through Serve
Moore.com," Mata said.
Mata, who is employed full-time as assistant manager of a Sonic Drive-In, met his wife, Lindsay, when she was employed by "America's Drive-In." They were members of Moore, Highland, when he was called to the ministry. He began his ministry by serving as interim student minister at Highland, then became full-time in that position.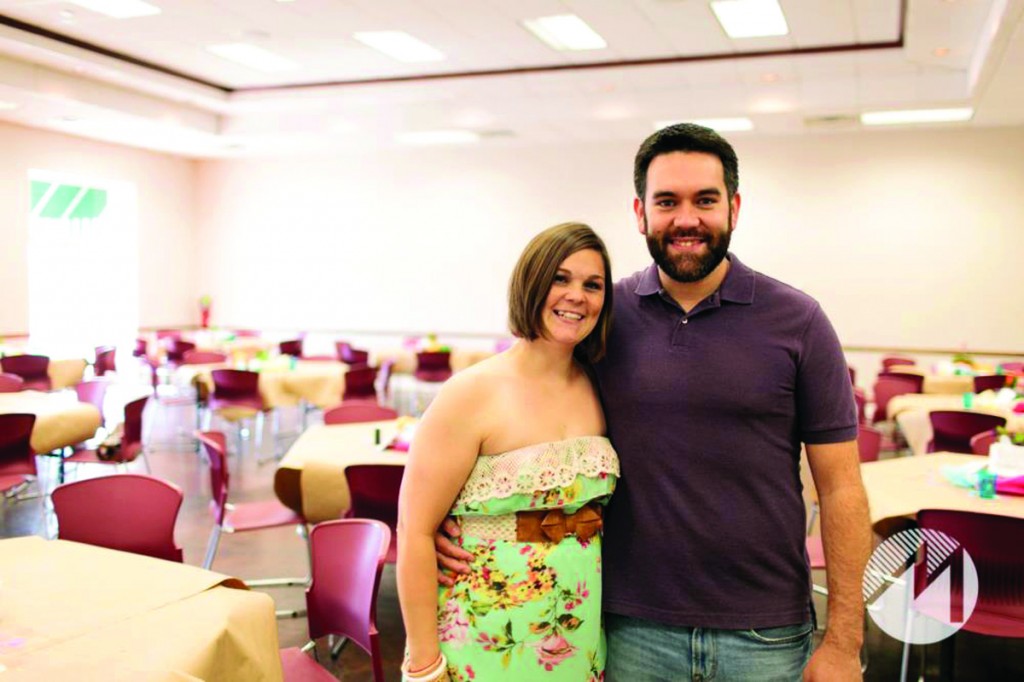 He said while he was working as student minister, he kept getting post cards from the Baptist General Convention of Oklahoma's Church Planting Group about Discover Church Planting meetings, but would look at them, then throw them away. But one such invitation announced a meeting on Valentine's Day to be catered by Olive Garden.
"My wife and I have never made a big deal about Valentine's Day, but we decided Olive Garden sounded good, so we signed up for the meeting and took another couple with us.
Mata said they were by at least 20 years the youngest in the group.
"But we heard people whose hearts were so passionate to see the next generation come to Christ, that it stirred us," he admitted. "We were blown away by the fact we need more churches and how many lost people there are in Oklahoma."
At the end of the meeting, Mata said he asked the leadership how they got his name, and was told they ask people to give them names of people who might be good church planters, and someone gave them his name.
"To this day, I don't know who that person is," Mata said.
Bo Holland, Church Planting Specialist at the BGCO, said that Discover Church Planting is an event the Church Planting Group hosts several times a year to expose potential church planters to church planting possibilities.
"We get those names from pastors, DOMs, and other leaders who turn in names of people who they believe God may be calling to become church planters."
We never know what God will do with the seeds that are planted through Discover Church Planting, Holland explained, but over the years, we have seen a good return.
"On the way home, Lindsay and I discussed what we'd learned and knew that church planting was in our future, but somewhere down the road," Mata revealed.
Some three years later, he said, they had fallen in love with the idea of church planting, and began to seriously look at statistics.
"But we knew it wasn't yet our time," he said.
In the meantime, Mata got his students at Highland involved in Power Plant, a Southern Baptist Convention program that uses students to help plant churches.
"We went to Philadelphia, Utah and San Francisco to help plant churches," Mata said. "We wanted our students to have a vision of what church planting is. And at the same time, our pastor, David Evans, continued to preach about church planting, emphasizing that he wanted Highland to be a church that plants churches.
Mata said during a training session in San Francisco, the speaker gave an invitation, saying he felt someone in the room was called to church planting.
"The Holy Spirit spoke to me, but I didn't know what my students would think if I stood up," Mata admitted. "Then the speaker said, 'Don't worry what the person next to you is thinking.' Then I began to wonder how I would take care of my family. The speaker said, 'Don't worry about your family or finances.' He reputed everything I was thinking, but I still didn't stand up, and I felt terrible. God taught me that night if I was called to anything, I needed to step out."
Mata acknowledged he prayed for the next month, and talked to Evans, who was very supportive.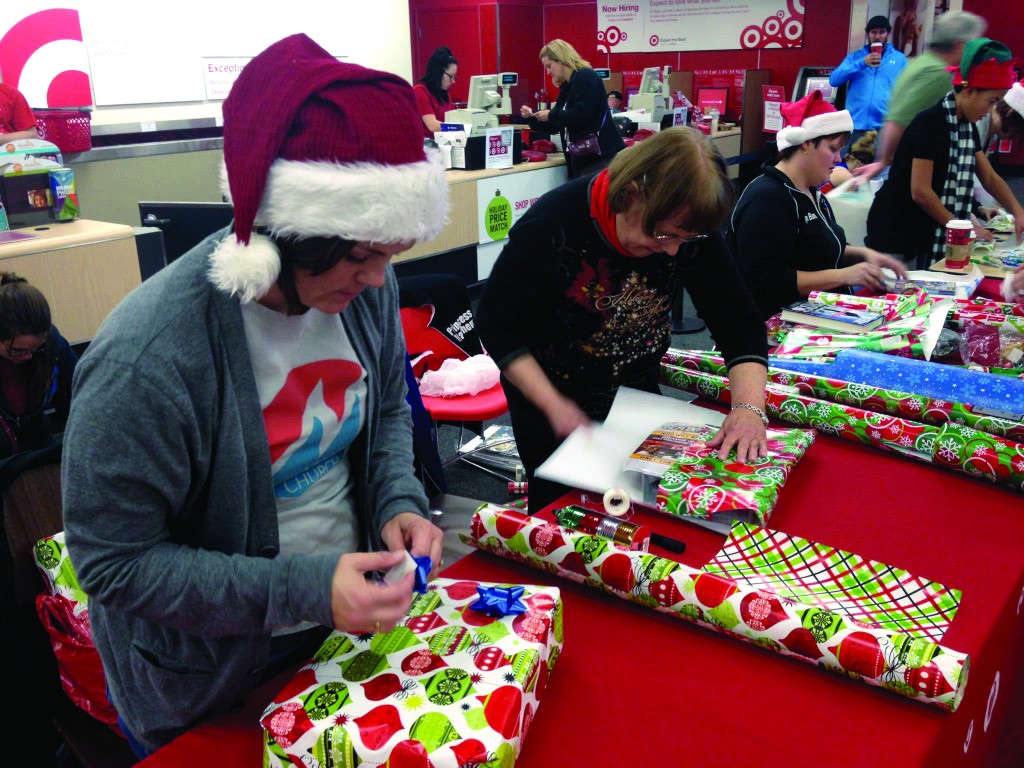 "He asked where I was being called, and I told him to this community," Mata said. "Union Association had put out statistics that said only 2 percent of its churches were reaching the generation in their 20s, 30s and 40s."
"We decided to take a year to flesh things out, but I told the church I would be leaving," Mata divulged. "This allowed the church to see that it wasn't us versus them, and it wasn't going to be a church split. Through the course of that year, our pastor preached that some would be called to lead the new church."
The new congregation, with some core families from Highland, started meeting in home Bible studies. A commissioning service was held in December 2012, and the church began meeting at a Seventh Day Adventist church in January.
Moore, Community started out with 78 people and has remained consistent through the first six months. With an emphasis on community, the church has home Bible studies throughout the week, reaching out to others with the hope the Gospel will be shared in homes all around Moore. Sunday night emphases are on strengthening families, fellowship and outreach, and fifth Sundays are special times when the whole community comes together to worship. Moore Life is the church's discipleship journey.
The church also highlights a Moore business to bless each month and is intent on opening dialogues with school principals and meeting the needs of individual students and their families.
Mata said as he is asked why another church is needed in Moore, he points to the fact that there are almost 70,000 unchurched people in the area, including those who have never met Jesus, people who have had bad experiences with the church and those disillusioned with "organized" religion.
"Most of those in Moore who fit that description are between the ages of 10 and 40," he reported. "They have never felt the need for 'church' as they know it. Some have never even heard the true story of Jesus, even though they are right in the heart of the 'Bible Belt.'"
The fact that Cleveland County is the second most unchurched county in Oklahoma helped Mata realize the need for a new church to come alongside existing churches and "communicate the timeless message of Jesus Christ without compromise in a new way for a new generation of people."
The Church Planting Group at the BGCO sure affirms the need for new churches throughout Cleveland County.
"We've developed a list of the top 30 areas across Oklahoma in need of new churches," said Holland. "South Oklahoma City, Moore, and Norman are all places in need of new congregations."
Mata said he is grateful for the support of Highland, which partners with the new congregation in activities such as sending children to summer camps. He is also thankful for the generous support of BGCO churches. Their gifts to the Cooperative Program help to fund this new work.
Mata and his wife are parents of four children, Dawson, 14; Kyleigh, 11; Mirel 5, and Lilyan, 3. Their financial support comes from the North American Mission Board and the Baptist General Convention of Oklahoma.
If you know someone who you believe God may be calling to become a church planter you can turn his name into the BGCO by simply emailing their contact information to BHolland@BGCO.org.
"We are always looking for the next Brandon," said Holland, "and we depend on help from Oklahoma Baptists to develop our list."
For more information on how your church can expand its ministry influence by helping to start a new church, visit www.oklahomachurchplanting.com.