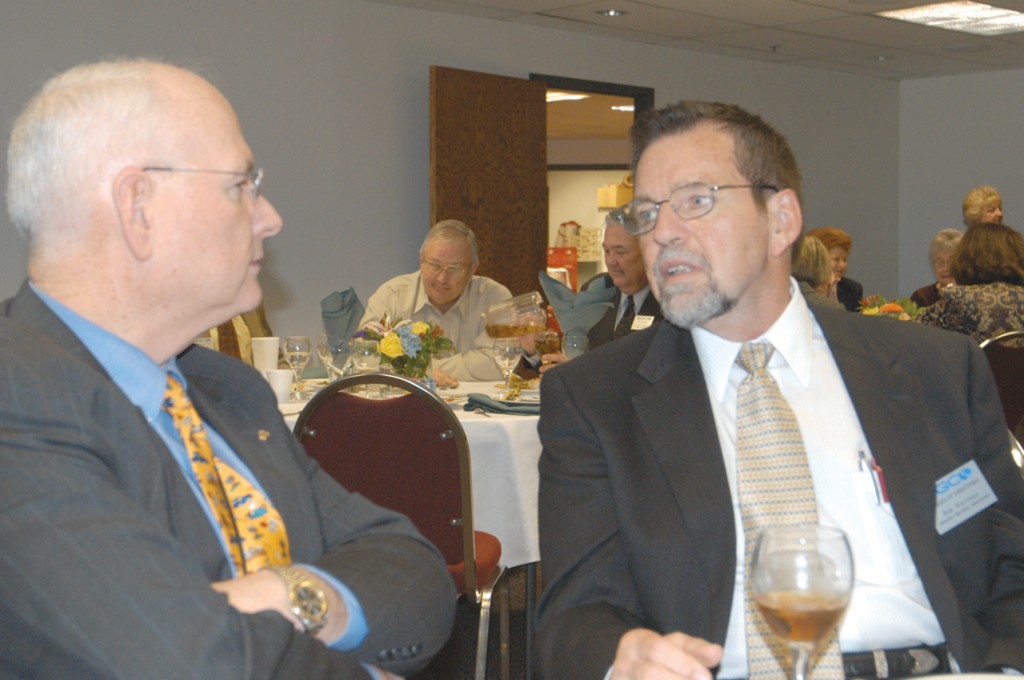 The new Falls Creek Tabernacle will be dedicated June 2, Baptist General Convention of Oklahoma board members were told during their meeting Feb. 6 at the Baptist Building in Oklahoma City.
"It has been a long journey filled with the work of the hand of God," Anthony L. Jordan, BGCO executive director-treasurer, said in announcing the celebration date. "But all of the birth pains will go away when we see that tabernacle filled with young people responding to the Gospel. And this is just the beginning of what God will do at Falls Creek."
The board members also were greeted with the news of a $2.25 million budget overage for 2006, and approved sending 50 percent of the total to impact lostness through the Southern Baptist Convention. Almost 75 percent of the amount will go to the International and North American Mission Boards.
Fourteen percent of the overage will go to impacting lostness through the BGCO affiliates, including $50,000 to Oklahoma Baptist University for new Oklahoma student scholarships; $50,000 to Baptist Village Retirement Communities for the Larry and Edwine Adams Care Fund, and $50,000 to Oklahoma Baptist Homes for Children to help support the ongoing budget ministry to children and their families and women in crisis pregnancies.
Impacting lostness through partnership ministries will receive $200,000 or 18.7 percent of the overage. That money will help in Oklahoma's partnerships in Utah-Idaho, Mexico, Bangladesh and Armenia. One possibility is the development of a Falls Creek-type camp in Armenia.
Church planting will receive $100,000 or 9.4 percent; creative evangelism projects with associations and churches will receive $200,000 or 18.7 percent; media projects, presenting the claims of Christ to the lost and unchurched across Oklahoma through multi-media will receive $100,000 or 9.4 percent, and Children's Mission Camp (Hudgens) will receive $100,000 or 9.4 percent, for development. The remaining funds, $218,409 (20.4 percent) will be put into reserve funds, and $44,286 will go to carry-over accounts, which are unspent budget dollars from 2006 that have been designated for expenditure in 2007.
"Oklahoma Baptists are a generous people," said Jordan. They are also a missional people. As we considered what we would do with the $2.2 million dollars beyond our budget needs, we had one over-arching desire-impact lostness in Oklahoma, our nation and world. We immediately gave 50 percent to the SBC of which nearly 75 percent goes to the two mission boards to impact lostness. The part that stayed in Oklahoma is aimed directly at impacting lostness here and around the world through our mission partnerships. To God be the Glory"
In other action, the board approved the Camps Task Force report, which recognized a need for expanding the conference center ministries of the BGCO and therefore is transferring the activities of Camp Nunny Cha-ha to Camp Hudgens, which will become a children's mission camp and missions learning center by the summer of 2008. The recommendations also included a modification of Camp Hudgens to accommodate 100 additional campers and that the camp be renamed appropriate to a children's mission camp and missions learning center. Also approved was a recommendation that 100 percent of the income in excess of expenses generated by renting Camp Nunny Cha-ha be used to develop Camp Hudgens, and that this continue for five years beginning in 2008.
James Swain, pastor of Kingfisher, First, who headed the Camps Task Force, said having one camp for children will be better stewardship of resources and make a greater impact. He noted that Camp Hudgens is 530 acres, while Camp Nunny Cha-ha contains only seven acres.
Jordan said by tying Camps Nunny Cha-ha and Hudgens together, the convention is expanding the ministries of the camps, and with this new approach, there is a need to expand the leadership of the conference centers.
With that in mind, the board approved two new conference center positions, a director and associate director of conference centers. A search will begin immediately for the director of conference centers, said Ron Fannin, BGCO senior associate executive director. Gary Fielding, current general manager of Falls Creek, will fill the associate director position. The BGCO is currently accepting resumes for the new director of conference centers position.
"Applicants should have experience in and a passion for both ministry and business," said Fannin. Resumes can be sent to Fannin at rfannin@bgco.org.
Jordan emphasized that Fielding will play a vital role in Falls Creek and Camp Hudgens in his new position as the associate director of conference centers.
"Gary Fielding is a gifted leader and has served the convention very well as the general manager of Falls Creek," Jordan said.
A new stewardship and ministry advancement group was approved, which will provide resources to churches and ministries designed to increase giving to the local church and special projects; inform and educate about the BGCO mission and ministries, and secure financial resources for capital needs of the convention and provide resources for other BGCO missions and ministries.
In other business, Wade Burleson, pastor of Enid, Emmanuel, made a motion, and the board approved, to request the trustees and administration of the International Mission Board to establish an active and official IMB presence at Falls Creek for the purpose of recruitment, follow up and training of students. Tim Richardson, pastor of Edmond, Waterloo Road, proposed the identical motion with regard to the North American Mission Board. It, too, was approved.
In other action, the board approved:
• A 2008 Cooperative Program objective of $24.6 million.
• Corporate resolutions necessary to establish a brokerage agreement with Merrill Lynch for the acceptance of gifts of stock and the transfer or sale thereof.
• A 404(b)(9) retirement plan adoption agreement for the BGCO, which modifies the plan to include Roth Elective Deferrals.
• A personnel compensation package adjustment of 3 percent and a Christmas bonus for inclusion in the 2008 BGCO budget.
• The election to the board of Tyson Wynn, pastor of Strang, First, to complete the four-year unexpired term of Larry Wallace in Craig-Mayes Association, and Rick Frie, pastor of Jenks, First, to complete the two-year unexpired term of Brad Davis in Tulsa Metro Association.