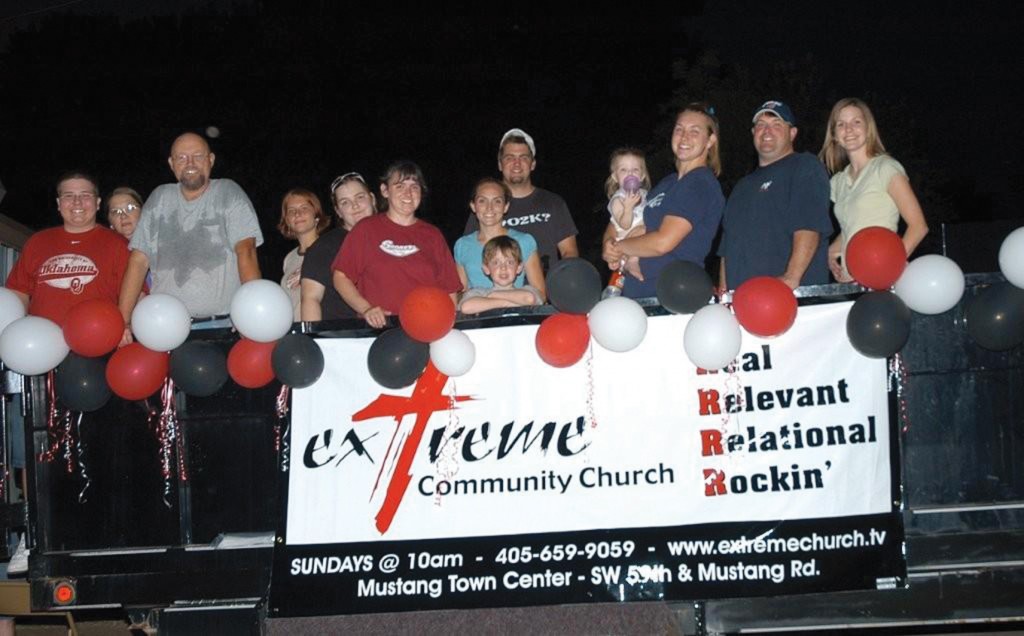 Churches can be started anywhere-even in the home of a non-Christian. That's where Extreme Community Church in Mustang began. "My vision partner, Jerry Jackson, was telling a couple we were planning to start a church in the area where they live," recalled Pastor Mike Buckley. "The more he shared the vision with them, the more excited they became, and they opened their home for us to start meeting."
However, the husband told Buckley that he didn't mind the church meeting in his home, but "just don't push Jesus on me and we'll be cool."
The new Mustang church started just four years ago, and has already birthed two new churches.
Buckley, who grew up in Mustang, said he was called into the ministry when he was 17, went to Oklahoma Baptist University and served as a youth minister in Texas for four years.
"It was at that point I felt God was calling me to church planting, but I felt I needed more education and vocational ministry experience before I launched out on that," he explained.
After doing some work on his master's degree and serving as pastor of Pink Church in Pottawatomie-Lincoln Association, Buckley moved back to Mustang with thoughts of planting a church.
"To be honest, I really didn't want to start a church in Oklahoma," he admitted. "I didn't think we needed any more churches here. I wanted to go to Arizona or Washington or somewhere where statistically there is a huge unchurched population compared to other states."
However, as he was praying, he said he began to realize even though Oklahoma has a reputation of having a church on every corner, the truth is that somewhere between 80 and 90 percent of people in any given community are not in church on Sunday morning.
"God opened by eyes to the fact that while most people here in Oklahoma know something about Christ, the fact remains that most people don't know Him personally," Buckley said. "That's what spurred me to want to start a church here."
The church stayed in the home for about two months after its start, then rented the Jackie Cooper Gymnasium in Yukon, where it met for 18 months.
"We realized in our little group that we had a lot of musical talent," Buckley said. "We felt one of the drawing points for the vision God had given us was to have an excellent praise and worship band, and we needed some place to set that up."
Buckley said the first service in the gym was attended by 50-60 people, but most of those had come to pat them on the back and tell them how proud they were of the new church.
"We dropped significantly after that," he said. "Some Sundays, I had to wait until the band sat down to have someone to preach to."
About two and a half years ago, the church moved to the Mustang Town Center, and has been growing steadily, averaging about 200-250 in attendance.
There is no organized Sunday School, but members hold home Bible studies throughout the week.
"For us, that's where church really happens," said Buckley. "It's where relationships are formed, and if there is a ministry need, it gets taken care of through the contacts of the home teams."
This fall, the church began Extreme Univeristy, which Buckley said is more like a Sunday School, with Bible studies and topical issues. It meets on Sunday nights at the Mustang Town Center.
Buckley said the name of the church came about after making a long list of possible names and trying to narrow it down.
"Jerry just blurted out 'Extreme love, extreme life, extreme impact for Jesus,' and we realized that's who we are, who we want to be, it's our vision statement.
In June, the church planted Extreme Community Church in El Reno, which has an attendance of around 50, and just recently has started Extreme Community Church in Cleveland, which is currently meeting on Sunday nights at a pizza restaurant and has an attendance anywhere from 6-10.
And the man in whose home the Mustang church was started?
At the first service in the gymnasium, he gave his heart to Christ.
That's what church planting is all about.