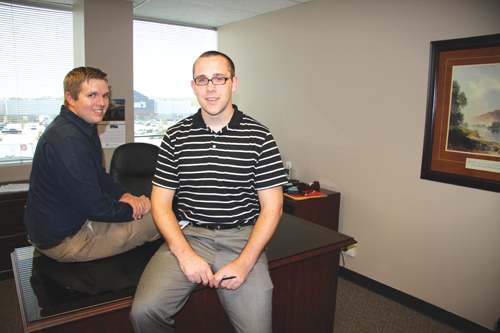 An account manager and a creative artist are the newest employees in the Baptist Messenger office. Ben Ehrlich, account manager, is a recent graduate of Oklahoma State University, and will be in charge of Messenger advertising, as well as helping with audio editing, pod casts and sound design for the Web. He replaces Charlie Atkins, who retired in August.
Cody Smith, who will graduate from the University of Central Oklahoma in December with a major in graphic design and minor in advertising, will be in charge of Messenger graphics and will help with Web site design, as well as design materials for the Baptist General Convention of Oklahoma.
Ehrlich, a marketing major with a minor in music, has worked as an audio production intern with an advertising agency in Oklahoma City and also managed and maintained a public music and multimedia computer lab at OSU while in college. He also worked as a youth ministry intern at Stillwater, First.
Ehrlich is a native of Stillwater, where he and his wife, Becky, who works at the physical plant at OSU, still reside. Now a member of Stillwater, Eagle Heights, he is a drummer with the Ryan Smith Band.
"Ben represents the finest of young men from Oklahoma Baptist congregations," said Douglas E. Baker, executive editor of the Baptist Messenger and Communications Team leader. "He is a faithful husband, active in his local congregation, a student of Holy Scripture and a man passionately committed to the advancement of the Gospel. From the moment I first met Ben, he was respectful of the legacy of Oklahoma Baptists and eager to begin work toward the strengthening of the Messenger's presence across the state and nation. He is a young leader for whom we can give thanks as we are afforded the opportunity to observe all that God is doing in his generation to build His church. We are grateful God has sent him our way, and we look forward to many years of service with him."
Smith, who was born in Oklahoma City and graduated from Choctaw High School, is a lifelong member of Oklahoma City, Brookwood. He has done volunteer work at Brookwood, designing materials for Falls Creek and other projects for the church.
While in college, he was employed by the Oklahoma Employment Security Commission as a purchasing coordinator for the IT department. At UCO, he served as an online marketing coordinator. He has worked on an internship basis with the BGCO communications department since June. He and his fiance, Callie, a journalism graduate of the University of Oklahoma, will be married in February.
"Cody is as smart as he is creative," said Baker. "Like Ben, he is a faithful churchman. God willing, he will be married this Spring. After viewing Cody's portfolio, it was obvious that he possesses both the talent and the passion to serve Christ and His church in this capacity. In this modern day when technology and graphic design can make or break any organization, Cody is thoroughly prepared to help position the Baptist Messenger and the Baptist General Convention of Oklahoma as a viable resource for local congregations. He is a quick study, and we are thankful for all God has built into His life."