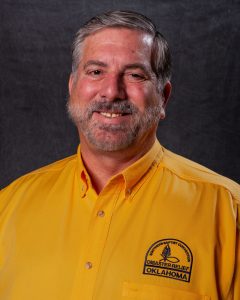 Don Williams retired from the Air Force in 2005. He started ministry with Disaster Relief and Chaplaincy in 2009, and on August 16, 2017, he was named director of Oklahoma Baptist Disaster Relief (DR). His first callout as the state's DR director came nine days later: Hurricane Harvey, which put a third of Houston under water.
"In 2019 we had a record number of tornadoes—147," Williams said. "In 2020, a record number of hurricanes hit. Last year there was flooding from North Dakota to Louisiana.
"It hasn't really stopped since I've been the director," Williams continued, "and if you read the Bible correctly, I think it will continue until Jesus comes."
Oklahoma Baptist DR teams manage 17 chainsaw trailers, six skid steers, two man lifts, five mud-out trailers, 16 feeding units—from quick response to 20,000 meals a day—plus four shower trailers, one large laundry trailer and about 500 NAMB-endorsed and equipped chaplains.
His work as a pilot prepared him to lead Oklahoma's 7,000 trained DR team members. "It took memory, skill and working together to be a pilot," Williams said. "It's when things don't go right you have to work through the process to ensure you successfully land to fly another day.
"God has taught me that when we all work together, focused on His purpose, He will provide the answers," Williams said. "If we're doing what God is telling us to do He will provide the resources.
"Because we (DR) showed up in Lake Charles, we were able to help hundreds of thousands of people and see more than 500 people make a profession of faith in Christ," Williams continued. "That's what it's all about: We help people physically to get the opportunity to speak spiritually into their lives and advance the Gospel."
Williams and his wife Lori, married 37 years, have six grown children and eight grandchildren.
Because of the generous giving of Oklahoma Baptists through the Cooperative Program, an amazing array of ministries are supported, including church planting in Oklahoma and across the country. This unified giving encourages fellowship with other believers all over the world. Collectively, Oklahoma Baptists are advancing the Gospel together.
Don Williams was featured in the 2021 Missionary Prayer Guide for Oklahoma Baptists. To see Williams' prayer requests, visit oklahomabaptists.org/cp