Greetings!
Sorry for the recent DHD drought. But hey, I'm back this week!
Since I've been hanging out at home due to the snow storm this week, I had plenty of time to come up with timely topics to share with you.
As always, thank you for reading! I'm always encouraged when I hear from readers like you!
Wax 1: No phones in church service
Trevin Wax has been a longtime favorite blogger of mine. He makes me think and provides a good perspective, especially on current social trends.
He wrote two blog pieces this week that caught my attention. The first one is titled "This Is Sacred Space. Please Turn Off Your phones."
Wax points out that we are expected (if not required) to turn off cellphones when in the movie theater, and this is a good practice, as it distracts others who paid money to watch a flick in a dark setting.
Consider the possibility of the same practice in a church worship service. Yes, many can counter that they use their phones as Bibles, but maybe this would be another reason to add to the list of how it could be better to have a literal Bible with you. Instead of your cellphone distracting others, you are the one getting distracted during the church service from texts and other pop-up messages that appear on your phone as you're reading Scripture.
"What if we set a new expectation?" Wax proposes. "To silence our phones and put away our devices. Better yet, to leave them in the car. To make a statement to ourselves and to the world around us that for the next hour, we're unavailable. That our worth and value and happiness don't depend on proving ourselves at work or through constant connection. Surely we can refrain for an hour from 'checking in.' We can give undivided attention to our Creator and Redeemer and to the Gospel, described by J. I. Packer as 'the biggest thing that ever was.'"
Wax 2: Reading advice
The second blog Wax wrote was "How Nooks and Spaces Can Help You Read More… and Better."
I'm always drawn to people who share tips of daily routines. Some of it is for my own betterment, but I also find it intriguing how popular and successful people spend their time on a daily basis. For example, I think it's wild that Mark Wahlberg wakes up at 2:30 a.m. to pray and then work out for an hour and thirty-five minutes, but I definitely don't see that happening in my life.
Wax shares tips in his blog on how to incorporate more reading time in your schedule. These reading tips are more suitable for me, as I know I should be reading more books instead of articles online. Of course, if I didn't read articles online, it would be even more challenging to find DHD content :-).
State congressman's attempt to shame pro-lifers backfires
Oklahoma State Representative Forrest Bennett appeared to challenge those who value the Sanctity of Life with a mockery of a House Bill, proposing "a father's financial responsibility to his child and his child's mother begins when the child is conceived."
As a lawmaker who supports legalized abortion, Bennett's spoof demonstrates what many get wrong about those in the pro-life camp. Pro-abortionists believe pro-lifers want to control women and force them to birth their children with no responsibility required to the father, and that's what appears to be the mindset behind Bennett's bill.
National Review's Alexandra DeSanctis offers excellent commentary on what Bennett and other pro-abortionists get wrong.
"One of the many arguments against abortion is that it places pregnant women in the undesirable and unjust position of being solely responsible for their child," DeSanctis wrote. "Abortion makes it easier for men to abandon their child and their child's mother, noting that, if she doesn't want the baby, she should simply have an abortion, which in some circumstances can make women feel as if abortion is their only real option."
Bennett has since retracted his bill.
An encouragement to 'do one task'
My Facebook friend Janna Charles shared a great post regarding those who struggle getting motivated to do regular tasks. Check out what she shared:
Depression can be paralyzing.

I found that leaving tasks undone just added to the negative messages I fed myself…"You're lazy. You can't even _______."

My doctor suggested I set a timer for 30 minutes, focus and work as hard as I could on just ONE task. When the timer went off, I was to stop.

This helped me in a few ways:

I mentally felt better

I physically felt better

I often created enough energy in 30 minutes to add another 30 minutes

Win, win, win! Go forth with God, and conquer!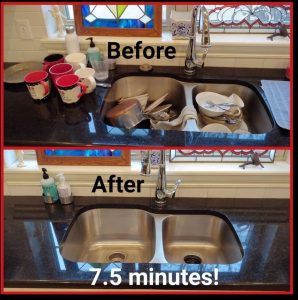 Thunder thoughts
The Oklahoma City Thunder continue to have a losing record this season, making the impression they are planning to tank to get a high lottery draft pick. As I have shared before, I don't see the Thunder intentionally missing baskets and allowing opponents to score easily. I do believe when the Thunder put a team on the court, they will compete to their best ability, and they may come up with some "unexpected" wins.
As a matter of fact, the Thunder are on a two-game winning streak, beating Portland quite handedly at home and claiming an overtime road win against Dallas this week. And the Thunder have won both games without the efforts of top player Shai Gilgeous-Alexander who is out for a few weeks with an ankle injury.
As I've also said before, the Thunder's roster features a young, inexperienced squad, which means, more often than not, they will not match up well with most of their opponents. This is why they shouldn't win very often.
However, there's a lot of promise and potential with this team. And when the Thunder do claim some wins, those who complain they aren't "tanking like they should" have a foolish viewpoint, in my opinion.
I'm actually curious how the active roster will perform in this stretch without Shai. Josh Giddey will have more time at the point, and Tre Mann will see more court action as the shooting guard. Here's a great article by Brandon Rahbar about Mann stepping up in the game against the Mavericks.
I hope you can share my optimism in what can happen this season with the Thunder. If they lose, it helps their draft rankings, but even if they win, especially in this sans-Shai stretch, it means current players are getting better. Hopefully this can encourage you to keep up with the Thunder.
Bengal fans rejoice
Speaking of a team that has had a winning drought, the Cincinnati Bengals claimed a major victory over the Kansas City Chiefs last weekend and will make their first appearance in the Super Bowl since 1988.
I'm happy for Cincy fans, and I really enjoyed watching this video revealing how different fans reacted to the Bengals beating the Chiefs.