Greetings!
This is the pre-Christmas edition of Doyle's Half Dozen. That's just to say it's the DHD that happens before Christmas Day next week.
But I do share Christmas-themed topics that I hope you enjoy reading. Merry Christmas!
I watched 'The Green Book'
Ever started watching a movie only to realize that it's quite fitting to watch at Christmas time? This happened to me last year when I happened to watch While You Were Sleeping. That's a great one watch this time of year, and it's especially great to watch because it's one of the more recent romantic comedies (if you call 1995 recent; it meets my criteria) that is not saturated with sexual content.
Name another critically acclaimed "rom com" (i.e. not any of that Hallmark garbage) that has come out in the last 25 years that was not overtly sexual in content. You may come up with one or even a few, but I am certain the list is quite short.
Last night I watched this year's Oscar Best Picture recipient, The Green Book. I enjoyed it, but I also agree with Michael Foust that the movie is not suitable for children. Profanity is excessive.
Two movies came to mind as I was watching The Green Book—The Defiant Ones with Tony Curtis and Sidney Pointier and Driving Miss Daisy.
The two main characters, Don Shirley and Tony Lip, have a great dynamic. It's fascinating to watch how they both learn from each other. The movie gives a depiction of how horrible the culture can be, especially in the time period of the film, but it takes people who are willing to be objective, to listen, to forgive and allow God's grace to be implemented—even through people who may be unaware of God's grace.
Another thing that made Green Book great is the final line. I'm not saying it's Casablanca, but it could be one of the best final lines in movie history.
More on unawareness of God's grace
Were you confused when you read in the previous topic "people who may be unaware of God's grace"? I think it's a common belief that God uses all kinds people, even those who may not be true followers of Christ. He even uses some of the most ungodly people in human history to declare His greatness. Check out what Nebuchadnezzar says about God in Daniel 3 and what Darius says in Daniel 6.
Prime examples of what I mean are shared by Brett McCracken in his article "19 Pieces of Goodness in 2019." To be even more specific, scroll through McCracken's article and find the exchange between Anderson Cooper and Stephen Colbert.
I have disagreements with Colbert, but his comments about suffering being a gift are worth hearing and pondering. To put a Scripture reference to what Colbert is saying, look up 1 Peter or check out 1 Cor. 1:3-4:
"Blessed be the God and Father of our Lord Jesus Christ, the Father of mercies and God of all comfort, who comforts us in all our affliction, so that we may be able to comfort those who are in any affliction, with the comfort with which we ourselves are comforted by God."
Forgotten Nativity Figure
The Gospel Coalition is getting a lot of props in this week's DHD. The website has some great articles this week, elaborating on fascinating Christmas-related topics.
I love Daniel Eng's commentary about Joseph being the "Forgotten Figure of the Nativity."
Joseph was a great Bible character who is overlooked for his strong faith and obedience, yet he was also faithful and respectful to Mary.
"More young boys should hope to be Joseph in the Nativity play," Eng wrote. "He believed in Jesus and, at tremendous cost to himself, he bravely acted on his faith, putting himself second and God first. Joseph may stand quietly in the background of the Christmas story, but that's precisely what makes him a hero of the faith."
Bethlehem and 'in a dark world'
The Gospel Coalition gets one last mention this week, but it shares the fourth DHD topic with another column. Jeremy Linneman's piece "If God Can Show Up in Bethlehem…" shares God's intention of using ordinary settings, humble conditions and unheralded people to reveal His glory.
Linneman's article reminded me of Hance Dilbeck's article "Christmas began in a dark world." The articles focus on different Bible passages, but both reveal overlooked people who were obedient to God, in spite of their shortcomings.
Dilbeck points out Zacharias and Elizabeth in Luke 1, who were faithful yet were barren at an old age. And they were faithful while Herold ruled.
"Zacharias and Elizabeth lived with a gnawing disappointment," Dilbeck wrote. "They had done everything right—loved each other, served the Lord, lived in righteousness—yet, they never had a child. They longed and prayed for a baby, but now, old and childless, they had lost all hope. Luke wants us to know something very important about the birth of Jesus.
"Christmas came in a dark world to disappointed people."
I plan to share more in the final topic below.
Newsworthy items
In this week's edition of the Baptist Messenger, 10 "newsworthy items" of 2019 are featured. These are what the Messenger considered the top 10 memorable moments that were reported and affected Oklahoma Baptist life.
Check out the article here, and see if these news items come to your mind when you look back at what happen this year.
Missing someone at Christmas
Here's a picture of my momma at last year's Christmas Eve service: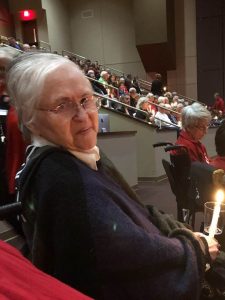 As I have shared previously, she passed away on Labor Day this year. I will miss sitting with her at this year's Christmas Eve service, hearing her sing every Christmas Carol. Dementia hindered her greatly in many ways, but the horrible disease did not take away her love of music and her knowledge of these great songs.
I share this because if you are also missing somebody this Christmas, I pray for an immeasurable amount of grace to fill you. May the Holy Spirit give you a joy that cannot be taken while losing a loved one.
You are not forgotten. You are loved. And you can also love someone else who is missing someone this Christmas.
Merry Christmas and may God bless you in abundance!