Greetings!
It's another week in a pandemic. Thanks for reading!
Update on fasting and praying on the 19th
I mentioned last week that I made a commitment to fast on the 19th of every month and pray during the 19th hour that day, asking God to end the COVID-19 virus. Last Wednesday was my first observance, and I was encouraged with the experience. In attendance were me and my friend Jerry for the first prayer time, beginning at 7 p.m. (the 19th hour), and time seemed to have flown by. Have you ever had that experience, where you commit to praying for an extended period that time gets away from you?
Other friends told me they also observed praying through the hour that evening. Since this is the beginning, I hope God will bless whoever else participates in the coming months. Of course, more than anything, I pray God will bless this observance in way that we can see this horrible virus no longer have an effect.
Broken grace
A Facebook friend shared this today (she got it from a friend), and I loved the message so much that I wanted to share it today:
"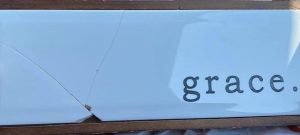 Grace.
"Collin saw this in Hobby Lobby while we were looking around. He was interested in it and asked me what I thought. I said 'Well, it's broken.' It had been heavily discounted because it was broken so I started looking at the one that was as it should be.
"He said 'No, that's the point. We're broken, and then grace comes in.'
"We decided to purchase it and got to the checkout only for the lady to say 'Oh man, this is broken.'
"My only response with my throat beginning to tighten was 'Ya, so are we.'
"Broken people saved by the grace-filled sacrifice of a perfect Savior. Excuse me while I sit in a puddle of tears."
"For by grace you have been saved through faith. And this is not your own doing; it is the gift of God, not a result of works, so that no one may boast" (Eph. 2:8-9).
Wax rethinking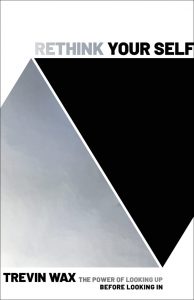 Trevin Wax, a favorite blogger, reported he has a new book that will be available Oct. 20. It is titled "Rethink Yourself: The Power of Looking Up Before Looking In."
Wax said he hopes the book "will shine light on the insufficiency of today's mantras and bring the ancient wisdom of the Bible to bear on this way of life.
"I believe" Wax continued, "people need to see just how countercultural Jesus is—his counterintuitive take on the meaning and purpose of life, and why it is more powerful and fulfilling than all the other ways of life on offer in our world."
The blog is a great read. I plan to look into the book.
Congrats Dr. Naylor
This week, Rebekah Naylor was named first female distinguished professor at Southwestern Seminary. I met Dr. Naylor while I was working at Oklahoma Baptist University and had the privilege of writing an alumni profile about her.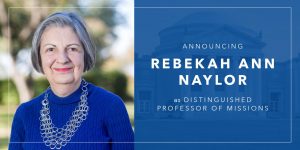 Dr. Naylor is an amazing woman in so many ways. She is an excelled surgeon and medical expert and is equally excelled in the understanding of Christian mission work. Her years of medical missions is incomparable, spanning more than four decades of service in India. Consider the fact that India ranks in the top 10 among countries where Christians are persecuted.
Since first meeting Dr. Naylor at OBU, I've interviewed her a few more times for the Baptist Messenger, and I'm always impressed with her eloquence and knowledge. Southwestern made an excellent hire this week. Her students will be impacted by her teaching.
Iowa impact
How many of you ever heard of a derecho before this week? This was a first for me. I had to look it up.
A "derecho" is "a line of intense, widespread and fast-moving windstorms and sometimes thunderstorms that moves across a great distance and is characterized by damaging winds."
Iowa suffered from a recent derecho that affected major areas of the state. Sarah Eekhoff Zylstra wrote a great response piece titled "Iowa Churches Dig Out of Windstorm Devastation."
Oklahoma Baptist Disaster Relief (DR) also responded and headed to the Hawkeye State. Don Williams, state DR director, shared a photo and information of what was happening: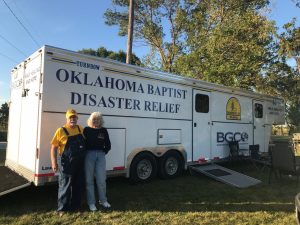 "Oklahoma Baptist Disaster Relief has answered the call to serve in Iowa, in response to a large complex of storms (called a derecho) that hit on Aug. 10. Myron and Linda Long, pictured here, and other DR team members from Cushing, Park Place are serving those impacted by the storms through a DR laundry service trailer. #GospelAdvance"
Messenger preview
The next print edition of the Baptist Messenger comes out next week, Aug. 27, but I thought I'd offer you a brief description of an article I wrote, and you can read next week.
Muldrow, First Pastor Mark Porter began his current pastorate in Feb. when he moved to Muldrow from Wyoming. Things were moving in an encouraging fashion for Porter, that is until the COVID-19 outbreak shut everything down a month later.
I enjoyed interviewing Pastor Porter. He shared how he and his family became acclimated to Oklahoma. One funny comment came from his son-in-law who was visiting in July. "Boy they have a lot of wind here," the young man from Colorado said. Porter and I shared a laugh from that observation.
Wind and rain affected the Muldrow area in eastern Oklahoma that resulted in a major July storm. But what happened as a result allowed for Porter and his church to find ways to minister to his community with the help of the Disaster Relief community.
Hope you can check out the story in the Aug. 27 Baptist Messenger!