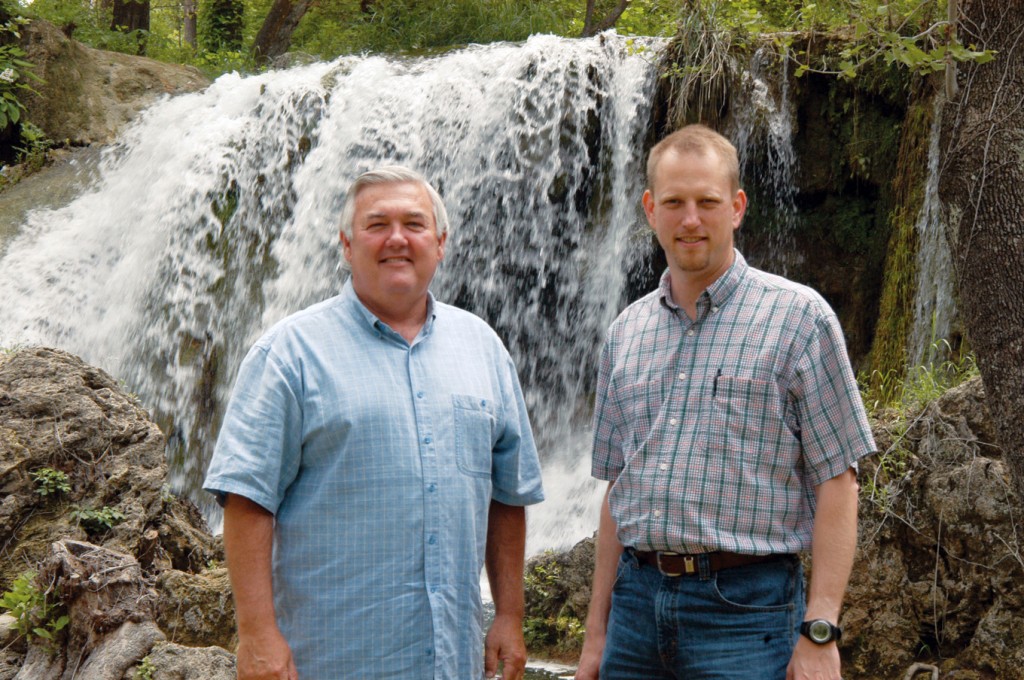 DAVIS-Kevin Darland took a somewhat circuitous route to being named director of conference centers for the Baptist General Convention of Oklahoma. But, in the end, it was his then 15-year-old son, Jacob, who provided the necessary bit of guidance that led Kevin, his wife, Jill, Jacob and their second son, Caleb, 12, to move to the Falls Creek Conference Center in the Arbuckle Mountains near here.
Darland, a Texan by birth, is very much at home amongst the trees and shrubs which dot the landscape of Falls Creek. He earned a Bachelor of Science degree in forestry in December 1987 from Stephen F. Austin State University, and worked as a district forester for the Texas Forest Service for five years before spending another two years as a consulting forester in Nacogdoches. While in that position, Darland had the opportunity to work with a missionary in central Mexico developing a camp. Through that experience, God cultivated the hunger for international missions and camping ministry in his heart that originated while in college when he had served as a summer missionary in a camp on the Texas/Mexico border.
"God taught me a lot about camp and ministry and began to tug on my heart in that way in a cross-cultural situation," Darland recalled. "There, God began to really re-direct my sense of call and burdened my heart for the nations."
That point was later solidified at a time during Student Week at Glorieta Conference Center, where he made a commitment to God's call on his life on Aug. 10, 1986.
"It was in finishing my degree and working as a district forester, doing land management for an associational camp, that God formed the relationships which He would eventually use to open the door into full-time camping ministry," Darland said. "It was after my tenure with the forestry service, and while I was doing private forestry consulting, that the relationship I had developed with the associational camp director precipitated a call from him to ask me if I would consider submitting my resume to replace him.
"It was at that camp in the role of director that I was able to look back and see what God was doing all along to prepare me and bring me to that point. It was in leaving that camp and going to serve Missouri Baptists at Windermere Baptist Conference Center as assistant director that I really began to experience and have developed in me a passion for excellence in ministry."
Darland said he can litter the map of his life's journey with landmarks at camp.
"Camp is the ground upon which so many landmarks on my spiritual journey have been built," he said. "I went to camp the first time in the third grade; it was a small, associational camp which was quite rustic.
"It was at youth camp my junior year of high school sitting on the steps of a cabin reading the first chapter of James, where for the first time, God's Word was living to me. He spoke to me in a very real and living way. It was at that same camp the next year that I dealt with the first tugging of a call to ministry. There, I shed tears and struggled with what God was wanting to do with my life.
Darland said while at Windermere God used a morning in summer staff Bible study to show him Joshua 3:4-". . .then you will know which way to go, since you have never gone this way before"-to change his life forever.
"That penetrated me; that upset my world, because at that point, God began to move in a way that took me out of the camping ministry and into foreign missions. It was a longing realized, just not the way I had planned," Darland said.
Soon after, the Darlands left Windermere; Kevin began to work on a Master of Arts degree in Missiology at Southwestern Seminary and then served as a Strategy Coordinator in the mountains of Central Asia working with three unreached Muslim people groups.
"We went overseas planning to spend the rest of our lives there, but unexpectedly, our time was cut short," Darland said. "For various reasons, we were confronted with a call from God to come home. It took more faith to come home than it did to go, and today I still don't fully understand His purposes in that. It took almost three years before we felt like it was really OK to be here in the states again. It was tough dealing with the grief of leaving the people we had learned to love and the passion we had to see an unreached people come to know the Christ we know."
Darland joined Eagle Sky Christian Camps in 2003 as director of operations. As such, he helped develop the vision and plans for a 4,500-acre youth camp and conference center in the Ozarks near Patterson, Mo.
"That situation began to lose momentum because of several issues, and through a series of events we began to sense that God was leading us back into an active camping ministry," Darland said. "So, we began to pray through that. Significant in those events was one that confronted our mindset. One of the things in coming home from Central Asia that was paramount in our minds was stability for our children. I have a sophomore in high school right now. We came home before his 7th grade year, and the thing we were committed to was giving him that stability through high school-a home and friends-a place to call home.
"What I didn't recognize was the box I was putting God in. It took that same child to help me realize it. I am here today because of the faith of that child. The God we serve is so intimately acquainted with us and so desirous of our worship and our following Him. It took my son to say 'Dad, it's OK. It's OK if we move. I'll make friends wherever I go, but you and mom need to be where you can minister to kids through camp and do what He called you to do.'
"God reminds me daily of how He's in control of everything, yet we try to stick Him in a box and say, "I'm going to do Your will, but I'm going to do it my way because this is what I see that needs to take place. We cannot do God's will man's way.
"God used the words of that 15-year-old adolescent boy in my life in the fall of last year to say, 'I'm going to do something different than you think.' I didn't know what that meant, but it opened our hearts to be receptive to what God was going to do."
Darland heard about the conference centers job, in which he directs the operations of Falls Creek, Camp Hudgens and Camp Nunny Cha-ha, from a friend who saw an ad. His wife grew up attending Falls Creek, but Darland had never been there. As a part of the investigation process, and before submitting his resume, he visited Falls Creek, of course.
"Staying in Lodge 1, room No. 3 the evening before I headed back to Missouri was another of those landmarks in my life," he said. "It was in that visit and staying in that room that I heard that still, small voice telling me this is what He was calling me to do. My family and I are very humbled to serve in this capacity. It's exciting to see daily ministry take place and to see Falls Creek continue to impact the lives of tens of thousands of young people and adults.
"And I am as excited as I can be to play a part in seeing that impact expand."