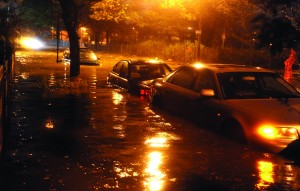 Oklahoma Southern Baptist disaster relief volunteers are busy making plans to be hands and feet of Jesus in Brooklyn, N.Y. as they go to the aid of victims of Superstorm Sandy.
"Oklahoma is going to take on the Brooklyn area's flood recovery effort in February and March," said Sam Porter, disaster relief director for the Baptist General Convention of Oklahoma (BGCO). "This will take us into the middle of our normal Oklahoma tornado season, but knowing the need in the Northeast for relief from Hurricane Sandy's destruction, and also for the cause of making an impact in the New York City metro area for the Gospel and SBC church planting efforts, we are committed to make it happen.
"We pray that our Oklahoma volunteers will see it as an opportunity to do humanitarian kind of labor to reach the lost and plant churches in the heaviest populated area of the U.S. It will continue to be a costly deployment, but well worth it to see many hurting souls who have no hope of recovery without our volunteers stepping in.
"We do have great hope that many will be saved in the days ahead."
Southern Baptist Convention disaster relief leaders expressed their gratitude to Oklahoma volunteers in advance as the teams were being formed to respond.
"Thanks, Sam, for all you and the Oklahoma disaster relief family have done to bring help, healing and hope to the folks in New York and New Jersey," said Fritz Wilson, executive director of Southern Baptist Disaster Relief with the North American Mission Board (NAMB). "Like always, you have been, and continue to be, a tremendous partner!"
"Thanks Sam. I know God will continue to use Oklahoma and the volunteers to bring honor and glory to Himself," added Mickey Caison, NAMB disaster relief recovery coordinator. "I look forward to working with you and the Oklahoma leadership in the days ahead."
State coordinator Richard Brown, a member at Oklahoma City, Grace Place, has compiled a schedule for the two-month response. It includes an Incident Command (IC) Team made up of a couple (man and wife usually), plus two or three feeding volunteers and accompanying Flood Recovery Teams comprised of as many as 13 volunteers, plus two chaplains.
"This will give us six days of work per flood recovery team, and will leave the church with no more than five of our people there on Sunday, so as to cause as little disruption as we can," Brown said.
The Oklahoma volunteers will be housed at Brooklyn Evangelical Church. Most of the work will be done on the Ocean side of Brooklyn.
"As of right now, we have 63 work orders," Brown said. "Each home takes about 40 to 60 man hours to clean up."
DR volunteers interested in going to Brooklyn should contact Brown at drmexico91@gmail.com.
"Brooklyn is the only section of New York that has not yet been helped, and Oklahoma is stepping up to fill the need," Porter said. "We're looking for both groups and individuals to go."
Meanwhile, Southern Baptists will continue transitioning to a long-term strategy of ministry to Hurricane Sandy survivors, Wilson said, adding that SBDR ministry in the region will continue for as long as a year.
Long-range SBDR plans in the Sandy-affected areas will focus on places where the Baptist Convention of New York and Send North America: New York City teams will be starting new churches. Wilson hopes the relationships and goodwill garnered by SBDR efforts will help church plants as they reach out to their communities.
"We can't be everywhere, so we want to be in those communities where we'll be starting new churches so we can enhance what they're doing," he said.
In this long-term work, Wilson said Southern Baptists will continue to do some flood recovery—such as mud-out work—but they will do more pressure washing and spraying. Many homeowners have cleaned out their homes, but they need help to get rid of the mold. Wilson said SBDR will also be helping in some rebuilding efforts.
"It won't be on the scale of Operation NOAH (after Hurricane Katrina) but we'll be recruiting churches and disaster relief teams to come in and help homeowners rebuild," he said.
To date, Southern Baptists have served more than 1.8 million meals to Hurricane Sandy survivors. A total of more than 34,000 volunteer days had been spent to help survivors through Jan. 11.
From its disaster operations center in Alpharetta, Ga., NAMB coordinates and manages Southern Baptist responses to major disasters through a partnership between NAMB and the Southern Baptist Convention's 42 state conventions, most of which have their own state disaster relief programs.
SBDR assets include 82,000 trained volunteers, including chaplains, and some 1,550 mobile units for feeding, chainsaw, mud-out, command, communication, childcare, shower, laundry, water purification, repair/rebuild and power generation. SBDR is one of the three largest mobilizers of trained disaster relief volunteers in the United States, along with the American Red Cross and The Salvation Army.
Oklahoma has 4,822 trained disaster relief volunteers and 213 NAMB-endorsed disaster relief chaplains.
To donate to the Oklahoma disaster relief effort, contact Porter's office at 405/942-4337.