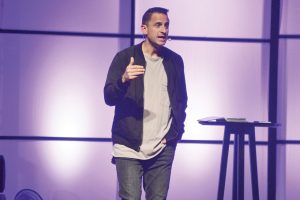 DAVIS—Summer camps feature weeks full of fun activities, Bible studies, worship services, church group meetings and other scheduled functions from early morning to late night. This is a common occurrence for both Falls Creek Baptist Conference Center and CrossTimbers Children's Mission Adventure Camp. However, not all meaningful experiences have to be of the summer variety.
Falls Creek has offered its Fall Back Weekend for eight years, and CrossTimbers hosted Catapult Weekend for the third consecutive year. Both weekend retreats happened Oct. 19-20, as Fall Back drew a registration of 1,455 junior high and high school students with a few drive-in guests, and Catapult had 162 fifth and sixth grade students.
Catapult prepares pre-teens for youth
Charlie Gatton, CrossTimbers program director, served as an overseer for Catapult for the first time this year, but as an experienced childen's minister, he has been a part of Catapult for years.
"I think Catapult went great this year," Gatton said. "We had great staff. We had a great turnout. At least three kids prayed to receive Christ over the weekend."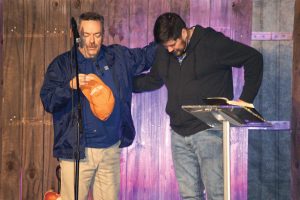 Gatton also commended Todd Sanders, student ministries and education specialist for the Baptist General Convention of Oklahoma, who served as the retreat pastor for Catapult this year.
"He did a wonderful job of talking about choices we need to make and should not make," Gatton said about Sanders.
The atmosphere that Catapult offers that varied from CrossTimbers' summer offering was more relaxed, but Gatton said Catapult gives more of a discipleship emphasis for fifth and sixth grade, as they go through the pre-teen stage.
"One of the things that we think Catapult is going to become is more like a leadership camp than just a weekend retreat," Gatton said. "We are going to move toward trying to build kids up and start growing leaders in an intentional way. We started that this year with some breakouts with boys and girls."
The breakout meetings allowed for boys and girls to meet separately. David Skinner, children's pastor at Oklahoma City, Cherokee Hills, led the boys' breakout session. He taught a Bible lesson on David as a boy, focusing on the choices he made and how they relate to the choices pre-teen boys make today.
Peggy Duncan, wife of Rodger Duncan, pastor of Cameron, First, was the breakout leader for the girls at Catapult. Duncan enjoyed the time she had with the young ladies and how they responded to her.
"My time with those fifth and sixth grade girls was incredible," Duncan said. "They were not only responsive and interacting with me, they answered the questions and gave mature answers. Several responded afterward and gave me feedback. That was really special to me. I had a blast."
Duncan agreed that Catapult is an excellent opportunity to encourage pre-teen students in a fun weekend setting.
"I think it is important to try to prepare our children as they make the transition into youth," she said. "It's a big jump. Anything we can do to not be so overwhelming, that they know they are not facing this alone, would be a big help to them. And the surroundings could not have been better at CrossTimbers."
Gatton reiterated how Catapult can be helpful for pre-teens. He also explained how the name "Catapult" can figuratively apply to the process.
"We want to give them a 'shot' into the next thing that they're going to do," Gatton said about fifth and sixth grade boys and girls. "We're trying to catapult them into the future and prepare them a little bit. It's a transition time for fifth and sixth graders, because if you are in the sixth grade and not in the youth yet, you're going to be. A lot of churches have sixth grade in youth, so that transition would soon apply to fifth graders."
Mills comes back to Fall Back
Brian Mills, college pastor at Northwest Ark., CrossChurch, returned to be the lead speaker for Falls Creek's Fall Back Weekend. This was his second consecutive appearance as Fall Back speaker, and Summit OK Collective also returned to lead times of worship through music during the main sessions.
"Brian does a good job of connecting with students," said Dakota Scott, student minister at Choctaw, First. "He shares stories that relate well to students and connect them to the Scriptures. He did a good job of challenging them too of living a life for the Lord."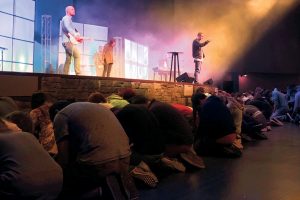 Scott said this was his third year to attend Fall Back, and his students enjoyed the similar-but-different setting at Falls Creek.
"They liked that it was similar to regular Falls Creek in the sense that we're in the Tabernacle and there's a band and a speaker," Scott said. "But there also was a relaxation atmosphere as we were learning about Jesus—not so planned. It's refreshing for students, as they have been in school and being in that grind of a schedule. This was relaxed and allowed them to refocus their minds."
Fall Back participants enjoyed multiple activities, including the zipline at night, late night Fortnite (a popular online video game) competition, bonfires, hiking trails and a dodgeball tournament. The 1917 Café and Gift Store was open in the Plaza.
Scott said it was important for his students to see Falls Creek in a different environment, and many students made essential spiritual decisions during Fall Back.
"It's important that the students understand that the summer experience of Falls Creek isn't the only way to experience Jesus," Scott said. "When we can go to Falls Creek and be in an atmosphere not like it is during the summer. They can understand that God is always there and available. He wants to direct and guide, and it doesn't always come with a huge production.
"We had one (student) rededicate his life and restored his focus on the Lord," Scott continued. "Many said they wanted to keep each other accountable and started a Bible study on their own."
For more information on events happening at CrossTimbers, visit www.crosstimbers.org/events. For more information on the Fall Back Weekend at Falls Creek, visit www.fallscreek.org/events/fall-back.