DAVIS—Camp Perfect Wings kicked off the summer camp season at CrossTimbers Children's Mission Adventure Camp near Davis. On May 30-June 1, many special needs children and adults participated in fun outings designed just for them.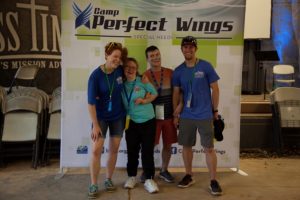 "We had as good a crowd of people as we ever had," said Charlie Gatton, who serves as CrossTimbers program director and is childhood ministry specialist for the Baptist General Convention of Oklahoma. "Eight of our summer staffers were able to be buddies for campers and were a great blessing to them."
"Buddies" are adult sponsors who pair up with campers, as they experience all the fun Perfect Wings offers. Gatton also said a few of the CrossTimbers summer staff members are studying special needs education in college and were excited to participate in Camp Perfect Wings this year.
Gatton credited the great camp experience to Becka Johnson, who has been serving as volunteer camp director at Camp Perfect Wings for many years. David Anderson, who is children's ministry specialist for the Louisiana Baptist state convention, served as camp pastor, and Gatton said Anderson's messages centered on sharing truth and the "I am" statements that Jesus shared in the Bible.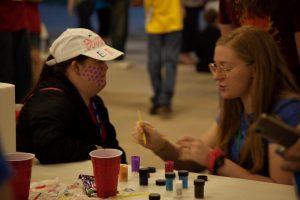 Campers enjoyed the regular highlights at Camp Perfect Wings, which include motorcycle and horseback rides and a cookout at Falls Creek Baptist Conference Center. They did crafts and participated in a Mission Stop, which are offered at every CrossTimbers camp session.
"We don't look at (Camp Perfect Wings) as a practice run," Gatton said. "We look at it as our first session of camp."
Shelby Egender, children's ministry associate at Oklahoma City, Quail Springs, has been a longtime volunteer at Camp Perfect Wings and said the campers are the reason why she comes back to camp every year.
"I love this camp," Egender said. "I love the campers. They love you no matter what. They are excited to be at camp every year. It just blesses me."