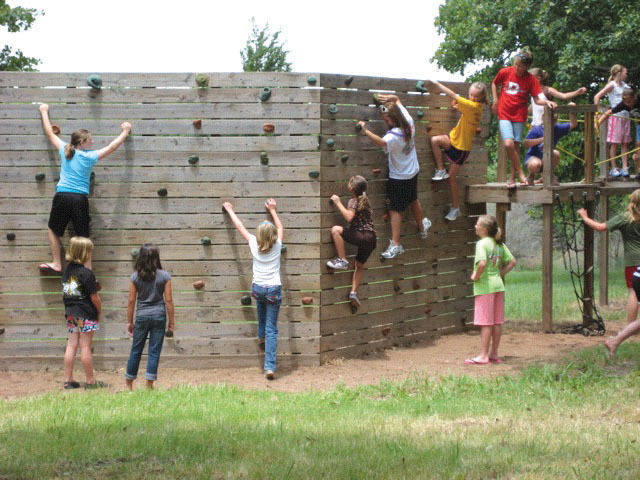 PAWNEE—For half a century, children have enjoyed the experience of attending summer camp at Camp Lela, which is owned by Cimarron Association located in Cushing.
The 40-acre camp, located seven miles west of Pawnee, and northeast of Stillwater, originally was owned by the North American Mission Board (Then the Home Mission Board) and used primarily by Native American churches. It was first leased by Cimarron Association in 1959, said Director of Missions Robert Copeland.
The association again held three weeks of camp earlier this summer for children who have completed the third through the sixth grade at Lela Baptist Assembly, which is now owned and operated by the association. The property was deeded to the association in 1964. The camp has three dorm buildings, with a capacity of 200 campers. A new dining hall was built in 2001.
"For many years, Royal Ambassadors' camps were held there," Copeland said, adding that many other associations and churches use the property almost continuously from Memorial Day to Labor Day.
This year during the three weeks of Cimarron's Children's Camps, attendance totaled 423, and 62 salvation decisions were registered. Both of these totals are up from 2008, Copeland said.
The camp theme for 2009 was 58 Watts, based on Ephesians 5:8 "For you were formerly darkness, but now you are light in the Lord. Walk as children of light."
Camp activities include fishing in one of two ponds stocked with perch, crappie and bass, swimming, a 14-foot water slide and inflatables
"This summer, the children were able to be involved in archery for the first time during the first week," he commented. "Most of the camp pastors, music leaders, directors, cooks and nurses have been the same faithful workers for many years, but this summer, Leigh Ann Sheets, member of Cleveland, Western Heights, served for the first time as a co-director of week three."
Because of the support of the churches of Cimarron Association, individual camper fees have not been increased since 1996, Copeland said.
"All those who support, donate and work at camp have the one purpose of making it possible for every child possible to attend summer camp, experience the outdoors, go fishing in the lake, just be in a peaceful environment and hear of the love Jesus has for each one," he concluded.