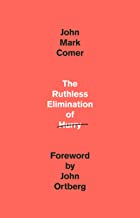 Tired of feeling hurried, overwhelmed or depleted? Tired of too much stuff, a jammed schedule or a multitude of distractions? Tired of too little time, short and infrequent vacations or limited attention span? In The Ruthless Elimination of Hurry, John Mark Comer (JMC) confronts the epidemic of hurry and asks the question, "What is this doing to our souls?"
John Mark Comer is the pastor for teaching and vision at Bridgetown Church in urban Portland, Ore. Comer, a wordsmith and astute cultural observer, credits much of the influence on his thinking to John Ortberg. Ortberg is the senior pastor of Menlo Church in Menlo, Calif., who was mentored for more than 20 years by the late Dallas Willard. Willard was a well-regarded scholar, author and thinker specializing in Christian spiritual formation.
Published in 2019 by WaterBrook and called a prophetic word for our day, this very popular book is engaging, profound and relatable. Gleaning from his own experiences of making major life changes after near burnout, Comer exposes the symptoms that "hurry sickness" and the digital age (predominately the "dopamine dispenser" of your cell phone) are having on our souls.
Noting the effect as a deteriorating relationship with God and vulnerability to adopting secular beliefs, he offers solutions through the spiritual disciplines to live deliberately by following Jesus. Comer suggests four practices for "waking our souls back up": the discipline of silence and solitude, the rhythm of keeping a Sabbath, the choice of simplicity and the alternative to slowing.
The book is full of profound quotes with a whopping 21 pages of notes. Here are some of my favorite quotes:
Hurry is the great enemy of spiritual life in our day. You must ruthlessly eliminate hurry from your life—Dallas Willard
For many of us the great danger is not that we will renounce our faith. It is that we will become so distracted and rushed and preoccupied that we will settle for a mediocre version of it. We will just skim our lives instead of actually living them—John Ortberg 
Corrie Ten Boom once said that if the devil can't make you sin, he'll make you busy—JMC
Love, joy and peace are at the heart of all Jesus is trying to grow in the soil of your life. And all three are incompatible with hurry—JMC
What does it mean to follow Jesus (or, as I prefer, apprentice under Jesus)? It is very simple. It means you live your life the way Jesus lived. You take His life and teachings as your template, your model, your pattern—JMC
Sabbath is more than just a day; it's a way of being in the world. It's a spirit of restfulness that comes from abiding, from living in the Father's loving presence all week long—JMC
And if we can slow down both (mind and body)—the pace at which we think and the pace at which we move our bodies through the world—maybe we can slow down our souls to a pace at which they can "taste and see that the Lord is good"—JMC
One word of caution: the book promotes social drinking and includes some quotes from Christian mystics.
I highly recommend The Ruthless Elimination of Hurry. It would be beneficial to read or to listen to several times. A short digital companion How to Unhurry workbook is also available and includes exercises to get started on each of the four practices. Comer's everyday practical suggestions will benefit anyone who seeks to live an unhurried life and follow the lifestyle of Jesus. This is a book you don't want to miss!