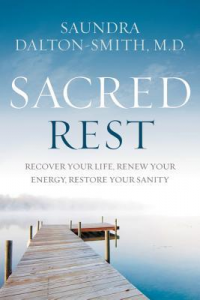 Are you weak, weary or worn out? Are you maxed out and stressed out? When is the last time you were simply still? These are some questions author Saundra Dalton-Smith asks in her book Sacred Rest: Recover Your Life, Renew Your Energy, Restore Your Sanity. 
Published by Faith Words in 2017, Sacred Rest addresses the epidemic of exhaustion in our culture. It challenges readers to understand the practical aspects of rest, evaluate themselves for rest deficits and encourages them to take steps toward needed changes. The book is written in short, easy-to-read chapters with the tired and soul weary person in mind. It includes science and research, Scriptural wisdom, real life accounts and practical application.
Saundra Dalton-Smith is an author, speaker, and board-certified internal medicine physician. She is a top 100 medical expert in Good Housekeeping Doctors' Secrets and has been featured in many outlets including Women's Day, Redbook and Prevention.
Dalton-Smith writes, "A staggering 97 percent of us state we feel tired most of the time, and my medical colleagues state that over 10 percent of those visiting their offices are there for the purpose of investigating their unexplained fatigue." She notes that "sleep is different than rest, but good quality sleep trickles down from a life well-rested". She also writes that rest "is the best kept secret in medicine".
In Part 1, which is titled "Why Rest," Dalton-Smith identifies seven different types of rest: physical, emotional, mental, social, sensory, spiritual and creative. She asks, "What kind of tired are you?" She notes symptoms of rest deficits and tips to replenish and restore based on intentional passive and active rest. She explains that a deficiency can negatively affect relationships, health, productivity, happiness and perspective. A free rest quiz is available at www.restquiz.com.
In Part 2, which is titled "The Gifts of Rest," the author discusses 12 aspects of rest, offering biblical insight on topics such as boundaries, reflection, communication and productivity. Chapters "The Gift of Permission" and "The Gift of Cessation" were excellent.
I would recommend Sacred Rest to anyone who is chronically tired and hurried as well as anyone desiring a deeper level of satisfaction in life. Personally, I enjoyed Part 1 the most. The symptoms of rest deficits and designations of seven different types of rest was eye opening. I recommend the reader take the short rest quiz at the beginning of the book, so applications can be made throughout the book.
In addition to the rest quiz, Dalton-Smith offers a 30 Day Sacred Rest Challenge at IChooseMyBestLife.com for daily encouragement and tips to find the rest you need.
Protect your new year with a personal rest strategy!