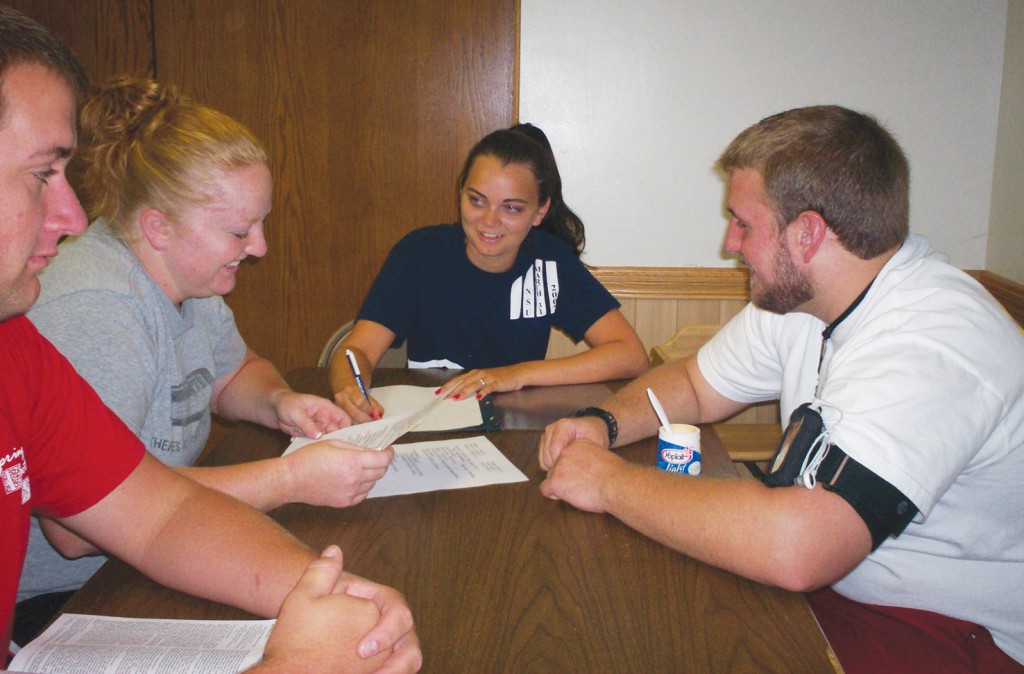 The Baptist Collegiate Ministry at Northeastern Oklahoma State University in Tahlequah has been a life-saver for Sierra Thomas. Literally.
It was just more than a year ago that Thomas was lying on the floor of her sorority house thinking she was going to die.
"I had been drinking and was throwing up on the floor," explained Thomas. "I thought if I make it through this night, I'm going to do something better."
Thomas grew up in Muskogee and went to church most of her life. But while in high school, she started running with the wrong crowd, connected with the party scene and stopped going to church.
"When I got to NSU, I joined a sorority and was partying all the time," she said. "By my sophomore year, I was drinking at least four nights a week. I got to the bottom, and there was nowhere to go."
But Thomas did find a place to go when a sorority sister invited her to the BCM. She said she knew something had changed after that first visit.
"People there were so happy and were happy for me to be there," she said. "I wanted that in my life."
Thomas said she knew about God, but had never taken the step to make Jesus her Savior; however, the second time she visited the BCM, she made a profession of faith.
"I felt weird because people expect you to be a Christian if you're from Oklahoma," she related. "I kept telling people I rededicated my life at the BCM."
However, When Thomas went on a mission trip to New Orleans during spring break, she said she couldn't stop crying during the worship services, and admitted that she had been saved at the BCM.
Jumping right into her new role as a Christian, Thomas applied to work at Camp Nunny Cha-ha.
"I have never been a kid person, but I had a great experience and learned a lot of patience," Thomas said of camp.
While at Nunny, she met a missionary from China.
"All summer, I felt God was calling me to China," she said. "It kept coming to my mind during my quiet time and through books I was reading."
When school started, Thomas enrolled in a linguistics class and loved it.
"The professor talked about English as a second language in different countries," Thomas said. "I was still thinking this is what God was calling me to do. I asked Debbie (BCM co-director Debbie Lipscomb) if there was anything I could do to prepare for something like that, and she told me there was a trip to China . . ."
Thomas said she wasn't sure what she could do there, and almost talked herself out of it. Also, she had to raise $2,000, not an easy task for a college student.
But the money started coming in, and Thomas left for China during Christmas break.
"We worked in an area where foreigners had been kicked out, and there had not been missionary entrance for a long time," she said. "We were there to make friendships and trail blaze for missionaries to come to that area."
Thomas said it was hard to leave after only two weeks of getting to know people and not knowing their eternity.
She said that trip changed her outlook.
"I felt like such a coward, knowing I'm able to share Christ openly here, and I hadn't been bold in doing it," she said. "It opened my eyes, especially to internationals here on campus. I can reach them and they can, in turn, reach people in their countries."
Thomas is spending the summer on mission in Vermont, and plans to go into full-time mission work after graduation.
"You know, Debbie tells me all the time that God has been blessing my socks off," she concluded.