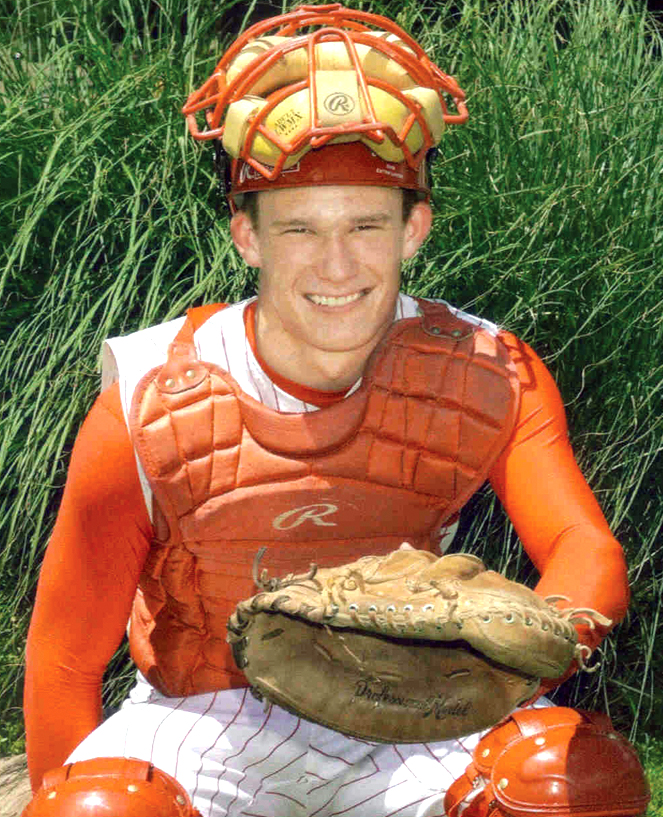 BETHANY-As the baseball world buzzes about the latest steroid scandal and the possibility of how some of the game's "greatest" players have stained the reputation of America's Pastime, Chris Wall's thoughts turn to his favorite player-an 18-year-old catcher with a winsome smile whose life was tragically cut short more than five years ago.
Wall, lead pastor and team leader for the cause team, consisting of the student, recreation and singles ministries at Bethany, Council Road, remembers Justin Sullivan as not only a phenomenal baseball player, but also a faithful, spiritually-mature Christian whose influence has extended well beyond the short life he lived on this Earth.
He truly lived A Life Worth Following, the title of a new devotional book Wall has written, based on the wisdom and insights taken from Sullivan's personal journal. In fact, Wall and Sullivan are listed as co-authors of the book.
Sullivan had all the tools to become a major league catcher someday as he toiled behind the plate for the Yukon Millers. And when he stepped from behind the dish to wield a bat, he sent shivers down the spines of opposing pitchers. His .492 batting average and powerful swing were just a few of the reasons he was named the Oklahoman's player of the year on June 2, 2002. His senior season was a dream one: nine home runs, 16 doubles, 52 runs batted in.
He had been offered scholarships from Rice, Nebraska, Arizona, Southern Nazarene University and Oklahoma Baptist University Wall said, adding that Sullivan was seriously considering attending Rice and one day becoming a surgeon.
On Monday June 3, University of Oklahoma coach Larry Cochell left a message on Sullivan's answering machine asking him to become a Sooner. Justin never got to hear that message.
"He was tragically killed in a freak accident on his way home from work," Wall said. "Even though his life was short, Justin taught people what it meant to walk with God. The truth is that he lived a life worth following, and his legacy will carry on for generations to come. His example in life, his impact on people and his personal discipline together created a life that truly made a difference to all those who crossed his path."
Even Sullivan's last act on Earth was a sacrifice. When the wheels of a semi came loose on I-44 on June 3 and tumbled towards the Jeep Grand Cherokee Sullivan was driving, he turned the Jeep to the right and took the brunt of the impact on the driver's side to save the lives of two others in the vehicle with him-his girlfriend, Elizabeth Darter, and fellow ballplayer and close pal Josh Walker.
Walker said often later that his best friend "was blocking to the very end," referring to Sullivan's outstanding ability to block the plate."
Wall remembers another example of Sullivan's selflessness.
"There was one time he went to the batting cages; he was such a devoted athlete and did what was right to take him to the next level. He saw a mom there who was in a wheelchair and trying to help her son hit," Wall recalled. "Justin spent his whole time just helping this little kid become a better hitter."
After Justin died. Wall was asked to help with the funeral. Sullivan's mother, Juliann, allowed Wall to use her son's prayer journal to prepare the message.
"As I read it and used it to prepare for the sermon, I couldn't believe it," Wall said. "The Lord really put it in my heart at that time that something needed to be written later, but I didn't know what it was."
It took a long time for the "what" to coalesce.
Wall struggled with what format to use. In the end, however, it was Sullivan's own insight and wisdom in his journal that opened the door.
"It was a really tough day. I had gone to the church around 4 a.m. to write and had nothing after four hours, so I grabbed his journal and said out loud, 'God, I can't do this,'" Wall said. "So, I got his journal and started reading it and his entry on Jan. 31, 2002 said, 'Don't use excuses to turn away God's call. God wants us to be courageous and take risks, for He's with us the whole way. Great opportunities usually lie within seemingly impossible situations. God will decide what we can handle.' And when I typed it, it was like the Lord told me to finish it."
Wall said since Sullivan was not one to seek the spotlight, he felt the book couldn't be about Justin, but had to be about his faith in God.
"But Justin was a giant of the faith that every one of us need to rub shoulders with," he said. And so I looked at the discipline in his life, because Justin was a young man who was very disciplined. There are a lot of people who want to walk with God, but they lack the discipline to really do it, just like there are a lot of people who want to be professional athletes, but they don't have the discipline to practice. Well, Justin had the discipline to walk with God.
"So the book is about building six disciplines into your life: Bible study, prayer, service, scripture memory, meditation and journaling. Then, I added the discipline I call Time With the Giant, because there are people who have walked with God who we need to learn from. To develop this discipline, I encourage readers to learn about people of faith, such as Dietrich Bonhoeffer and Jim Elliot. But I urge them also to look in their own life; maybe there's a pastor they need to go sit with and say, 'Tell me about your walk with God. Let me learn from you.'"
A Life Worth Following is a 280-page, leather-bound, 40-day journey during which readers explore their own disciplines and also hear from Sullivan through notes excerpted from his journal, such as these:
Feb. 19, 2002: "Have compassion. It's the quickest way to God's heart and it grows like a wildfire. Soon, you give more and more. Make others feel wanted. Showing compassion for someone who won't pay me back is a pure act of worship. Do that today."
Jan. 25, 2002: "Pray more. Spend less time worrying about how I will fix something and spend more time allowing God to take charge. The more I go to God, the more effective I will become."
Proceeds from the sale of the book, which is available from Council Road (405/789-3175, www.alifeworthfollowing.org), go to fund a new ministry that will support a baseball team that will minister as it plays at a high level and conducts clinics for underprivileged children.
"When he died, I thought, 'Lord, this can't be the end of his story, it just can't,'" Wall said. "I'm so thankful God allowed me to be a part of writing something that honors Justin's legacy, and enables him to continue to rub shoulders with people.
"What if we teach the next A-Rod to utilize the gift of baseball as a ministry? Think about the impact of that! Think of teaching the next A-Rod to rub shoulders with Justin and then he gets a passion for Jesus-and it's important to note that the life worth following is actually Jesus. Justin's life was so significant because he walked with Jesus."