GROVE—A sign of a successful operation can be expansion. That is what CrossTimbers Children's Mission Adventure Camp is experiencing this summer.
Since CrossTimbers has been located in Davis, more and more churches have been bringing 3rd-6th graders to participate in a four-day session of fun experiences that involve mission lessons, Bible study and Gospel presentations. The encampment near Falls Creek Baptist Conference Center has even increased to offering 11 summer sessions, and all of the sessions are near capacity.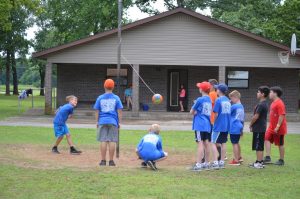 In June, CrossTimbers expanded also to meeting at Grand Lake Baptist Assembly (GLBA) in Grove. Session one was June 5-8, and session two was June 10-13. GLBA is hosting two more sessions this summer, July 6-9 and July 10-13.
James Swain, who leads the Equipping Team of the Baptist General Convention of Oklahoma (BGCO), explained during a May 2018 BGCO Board meeting how CrossTimbers is now featured in the northeast part of the state.
"Scott Hill, director of missions in Northeastern Association, approached BGCO leadership about exploring the possibility of a partnership that would enable CrossTimbers to be hosted at Grand Lake Baptist Assembly beginning in the summer of 2019," Swain said.
CrossTimbers at Grand Lake had great results in June, and Swain shared that the BGCO appreciates Northeastern Association and GLBA for making it happen.
"We appreciate all the help from Dr. Hill and Grand Lake camp manager Keith Lozier in making CrossTimbers at Grand Lake a reality," Swain said. "This is a great picture of what partnership in Oklahoma Baptist life looks like, and we are praying for God's continued blessing."
After the first two sessions, CrossTimbers at Grand Lake has hosted 462 campers and sponsors and recorded 96 spiritual decisions with 23 campers making professions of faith in Christ.
"Grand Lake is an absolutely beautiful campground," Gatton said. "It's right on the lake. It's got a lot of shade and trees, and it's also got a lot of great, big open areas where we can do activities."
Gatton pointed out that GLBA does not have a ropes course built, like what is offered at the Davis campground, but they improvise with fun inflatables that campers enjoy. Campers also have the opportunity to enjoy a classic fun game of tetherball, as GLBA offers multiple tetherball poles on the grounds, as well as swimming pools.
"We are pretty excited about God being at work already," Gatton said. "It's smaller (in attendance), so we are able to build relationships faster in this environment. It's a great experience."
Will Wilson, pastor of Bethel Acres, New Hope, was the camp pastor for session one of CrossTimbers at Grand Lake, and Eric Fletcher, pastor of Eufaula, North Fork was the camp pastor for session two.
"CrossTimbers at Grand Lake was a wonderful experience," Wilson said. "The beautiful campground will prove to be a tremendous place where God will continue to build on the work He has done for many years through the valiant efforts of the churches in that association. Bringing the CrossTimbers program to Grove saw fruit (during) week one and will continue to see fruit for many years to come."
Curt Gathright, church administrator at Bartlesville, First, served as a sponsor during session one and offered his praise for CrossTimbers meeting at GLBA.
"The campground is very scenic," Gathright said. "I thought the staff was first rate. The staffers were very attentive and enthusiastic. They did a great job relating to the kids."
Gatton also commended how well the summer staff members were helping to make CrossTimbers at Grand Lake successful. Overall, though, he said the summer staff is an integral part at both locations.
"We train as one staff, so we don't consider ourselves 'Grand Lake staff' or 'Davis staff,'" Gatton said. "We are just a CrossTimbers staff. Some are working here (at GLBA), and even those who are working here will also work in Davis at some point. We think we are just one big happy family."
Many of the summer staff are from northeast Oklahoma, Gatton said, and were already familiar with GLBA. He said some staff members stayed at GLBA in between the June and July CrossTimbers sessions and helped other camps that GLBA is hosting.
"It's unique," Gatton said. "I don't expect what happens at Davis to happen here, but I do expect the camp (sessions) will be full very soon. Once people see that we are here and understand what we are doing and why we do it, we are going to grow every year, just like Davis has grown."
And with more children attending CrossTimbers both at Davis and Grand Lake, more campers will learn about mission work around the world and will also hear the Gospel preached.
From an eternal perspective, that is the greatest sign of success.