"As they were worshiping the Lord and fasting, the Holy Spirit said, 'Set apart for Me Barnabas and Saul for the work to which I have called them.' Then after they had fasted, prayed and laid hands on them, they sent them off" (Acts 13:2-3).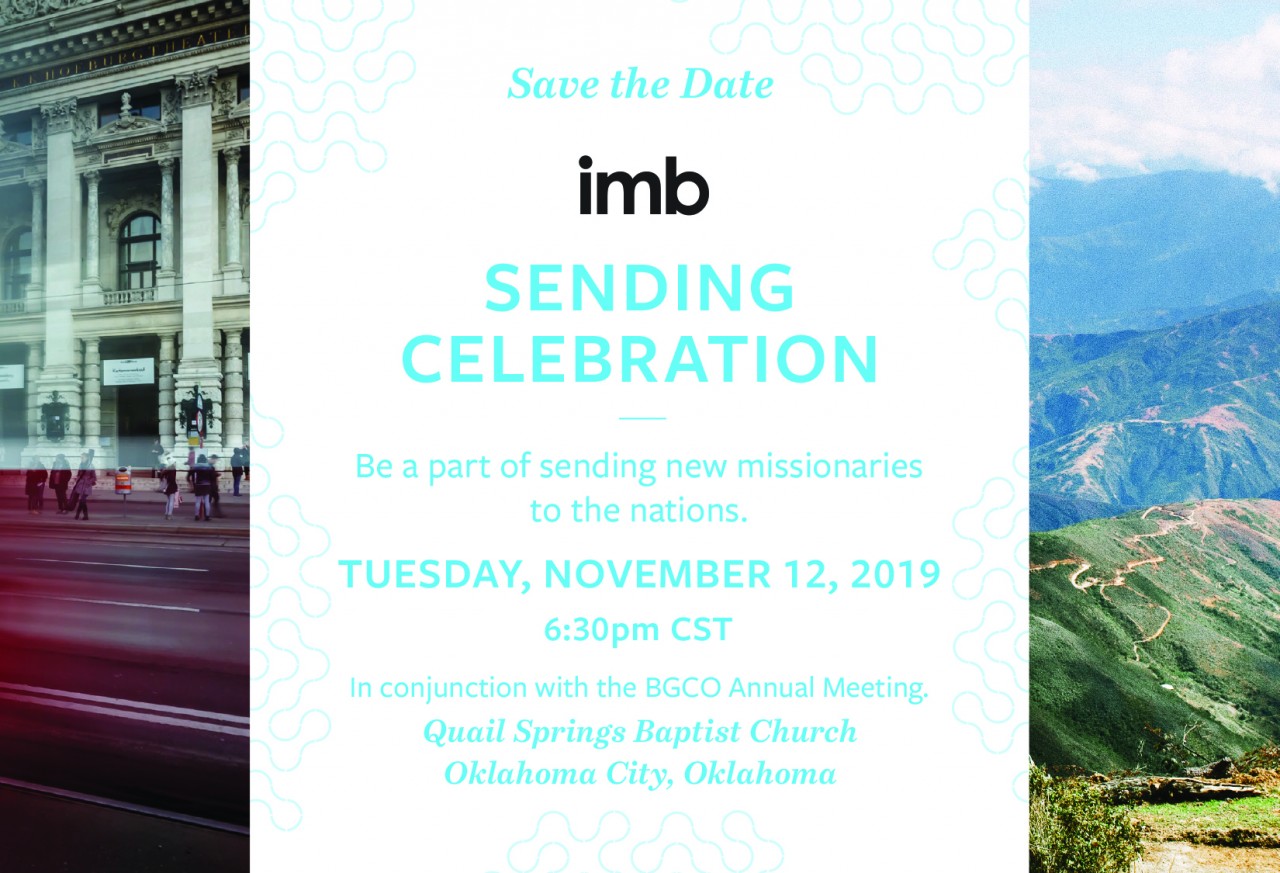 Next month, Oklahoma Baptists will observe a similar event that happened with the church at Antioch, involving the sending of appointed international missionaries. In conjunction with the Annual Meeting of the Baptist General Convention of Oklahoma (BGCO), an International Mission Board (IMB) Sending Celebration will take place at Oklahoma City, Quail Springs, 6:30 p.m. on Nov. 12.
"It's kind of like a last hoorah for us," said Coal McRay* who, along with his wife Ruth*, will be returning to Northern Africa and the Middle East. "We are seeking to go overseas for a long period of time as career missionaries."
Other missionaries will join the McRays on that Nov. 12 evening, and all who attend will experience a significant observance that represents the great mission work of Southern Baptists. As Coal described, this IMB Sending Celebration will celebrate two groups of missions-minded people.
"This is a chance for people to encourage and be a part of God's heart outside of America and His glory outside of America," he said. "It's a celebration of this beautiful community that we have where some people go and some people send. We are coming together and celebrating the goers and the senders. And we have this community where we are together at this time, and then we're parting ways for the purpose of God's glory among the nations."
A 'sweet' reunion for the McRays
Coal and Ruth both credit their passion for mission work to Oklahoma Baptists. Ruth grew up attending an Oklahoma Baptist church, and her dad worked in Baptist Collegiate Ministries (BCM) for 20 years. Coal was a part of a collegiate ministry that was influenced by Max Barnett, longtime BCM director at the University of Oklahoma.
"It's really sweet to be able to have (the Sending Celebration) happen in Oklahoma where more of our friends and family will be able to be there and be a part of the celebration with us," Ruth said.
The couple met at a missions conference in Colorado Springs, Colo. They both did short-term mission work before they met and even after they got married.
"From my childhood of growing up in a Baptist church in Oklahoma," Ruth said, "it was always understood that a part of the Gospel of Jesus is sharing it, and that includes with the nations."
Coal also grew up in a Southern Baptist church, but he made a profession of faith in Christ when he was older.
"The great thing about growing up in church," Coal said, "even though I didn't understand those (Bible) stories at that time, I had a hold of this knowledge that God reminded me of His love overflowed. I understood those stories in a new light. I now can see Christ in all those stories I learned as a child."
Coal's faith grew during his college years, and he was discipled by a man who was spiritually mentored by Barnett.
Recalling this one-on-one discipleship, Coal said "The heart that God has given me, and the skills that He developed in me, started coming to light. I was able to see where God was leading me, which is going overseas."
Training and learning overseas
The McRays served in Northern Africa and the Middle East for more than three years and will be returning to this area after the IMB Sending Celebration. After going on many short-term overseas mission experiences, they were excited to "live somewhere and be established."
"We began with a strategy that the IMB gave us, which is to enter well, to learn the language and to identify believers and non-believers," he said.
The Muslim religion is dominant in the region where Coal and Ruth are serving, but they were able to connect with a group of Christians.
"They invited us into their community, and we have been involved in the last few years training them as well as learning from them," Coal said. "We've learned so much about prayer and worship. There has been an explosion of people believing and being baptized. They are very bold. They love God, and they love people and want them to know who Christ really is."
Ruth said it was easy to connect with people where they are serving.
"We were extremely blessed to be around so many people who are incredibly hospitable and kind," she said. "They are eager to share with us about their culture."
She also explained the process of learning the language of their new friends.
"Learning the language was exhausting and difficult," she said, "but it was also exciting to see our growth from the day we arrived, when all we could do is smile and laugh, to actually being able to greet our neighbors and shop owners around where we live and then to see those relationships deepen."
Coal and Ruth are looking forward to continue what God has been leading them to do in Northern Africa and the Middle East.
*Publicity names
 What others are saying about IMB Sending Celebrations

"As Southern Baptists work together through the cooperative missions, we see the Gospel extended to the very ends of the earth. And, at this Sending Celebration, we'll be able to pray for those who are taking that Gospel out"
—Paul Chitwood, IMB President

Speaking about the IMB Sending Celebration June 10 during the Southern Baptist Convention Annual Meeting, as well as the upcoming Nov. 12 event: "The Lord truly moved in our midst in this time, as together we sent out 26 missionaries to the ends of the earth. Some of these faithful will be serving in places we cannot name. Please pray for our IMB missionaries and please plan to attend the IMB missionary sending event that is happening right here in Oklahoma"
—Hance Dilbeck, BGCO Executive Director-Treasurer

"I have attended two Sending Celebrations in the past. Every time, I get teary-eyed and overjoyed to join in a celebration of God's faithfulness to continue to call and send new workers into the field. It's also a time to celebrate the workers' obedience and to praise God in anticipation of His work among the nations. Our missionaries need to know we will stand for them and with them as they follow their calls"
—Stacy Neuschaefer, Oklahoma WMU President

"Each opportunity I've had to be a part of a Sending Celebration has been both a reminder of how great our God is and how much we need Him. You see the worthiness of our Savior in the sacrifice that is being made by individuals, couples and families to leave home and the people they love to go where God has called them. At the same time, you are hearing these same people acknowledge they cannot do this without Him. To think that God allows us to be a part of sending and supporting these precious folks also challenges me to pray often for them and give sacrificially. Nothing else so clearly reminds us that our God is, by nature, a 'sending' God, and therefore, we are, by redeemed nature, a 'going' people"
—Douglas Melton, Pastor, Oklahoma City, Southern Hills