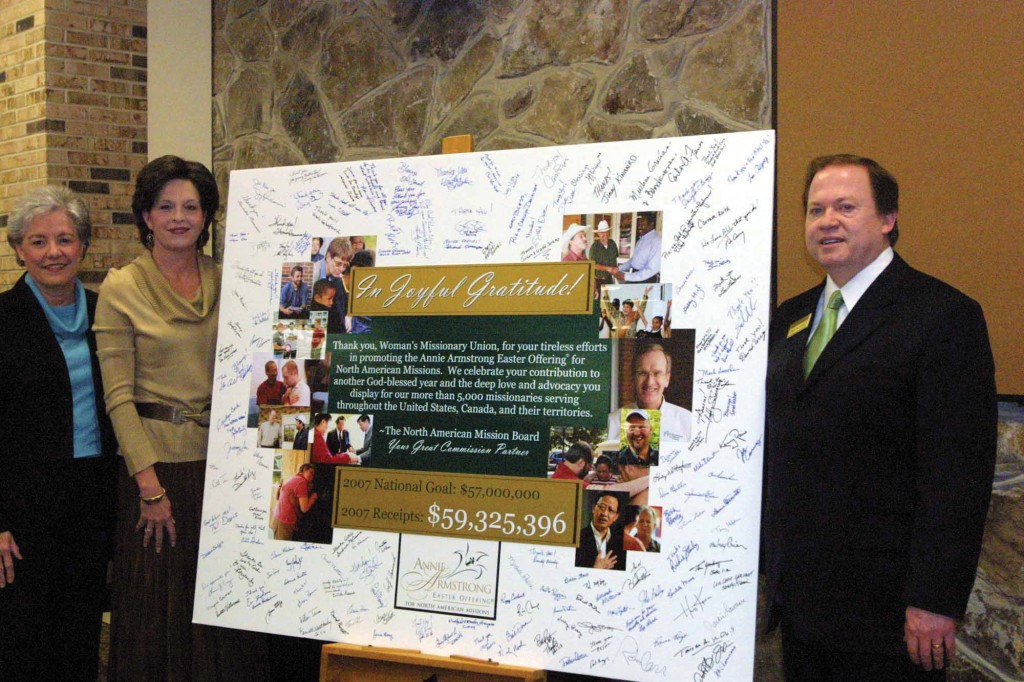 TALLADEGA, Ala. (BP)-Southern Baptists giving to the Annie Armstrong Easter Offering(r) for North American Missions exceeded the national goal for the second consecutive year, with $59.3 million received, the most ever in the history of the offering.
Geoff Hammond, North American Mission Board president, shared the news with national and state leaders of Woman's Missionary Union (WMU), gathered for their board meeting at Shocco Springs Baptist Conference Center in Talladega, Ala.
Hammond noted that WMU is a valued partner in the work of reaching North America. "We cannot do our work without partners. We can't send missionaries without our partners."
Presenting a large thank-you board signed by NAMB staff, trustees and missionaries, Hammond said, "We have gratitude to God for your hard work in getting the word out and teaching people about North American missions. Once again, we had the highest Annie Armstrong Easter Offering in the history of the North American Mission Board."
In reaching the $59.3 million total, Southern Baptists exceeded the offering's 2007 goal of $57 million by $2.3 million
"We are so grateful to all those in our churches who support North American missionaries through prayer and giving," said Wanda S. Lee, WMU's national executive director-treasurer. "We also greatly appreciate the strong and thriving partnership we share with the leadership and field personnel of the North American Mission Board for the cause of missions."
Hammond shared that one of the things he has learned in his eight months at NAMB is that "Southern Baptists still love their mission boards because Southern Baptists still love missionaries.
"The North American mission field is becoming increasingly difficult but wonderfully challenging," Hammond said. "God is bringing the nations to be our neighbors. Increasing population, ethnic diversity and secularism characterize the future of North America. Engaging people with the Gospel is critical. We are focusing on missionaries and missionary things. We want to help churches do the kinds of things they could not do without a mission board."
Showing a video on the work of missionary Brenda Crim in Alaska, a collegiate evangelism missionary serving in Anchorage, Alaska, Hammond painted a poignant picture of how gifts to "Annie" are used.
"Our missionaries do what they do," he said, "so that men, women, boys and girls can know Christ."
The Annie Armstrong Easter Offering accounts for 47 percent of NAMB's annual budget, with 37 percent provided by church gifts through the Southern Baptist Convention's Cooperative Program. One hundred percent of AAEO gifts are used to jointly support more than 5,000 missionaries and their ministries with state Baptist convention partners.
The 2008 offering goal is $61 million, and the theme is "Live with Urgency." The offering will be promoted in churches in March, beginning with the Week of Prayer for North American Missions, March 2-9.
For more information about the Annie Armstrong Easter Offering and the Week of Prayer for North American Missions, visit www.anniearmstrong.com. Week of Prayer missionaries will be highlighted in the March issue of Missions Mosaic, a publication of WMU, and in the Spring issue of On Mission, a publication of NAMB.