DAVIS—The annual Oklahoma Baptists' Women's Retreat took place April 21-22 as a hybrid event with in-person and virtual options and blessed those who attended.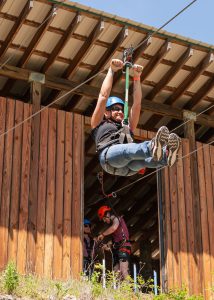 Amy Cordova, Oklahoma Baptists' missions and women's ministry partner, led the planning of the retreat. She emphasized that "the Lord moved in special ways for all who participated in the retreat." Three attendance options were available to women: in-person, digital pass and host church.
According to Cordova, more than 1,800 registered to attend the in-person retreat at Falls Creek Conference Center in Davis, with 50 churches hosting the retreat in their own community with a video livestream link to the main sessions and content.
Speakers for the main sessions included Elizabeth Woodson, Jamy Fisher, Mary Wiley, Sandy Wisdom-Martin and Lauren McAfee. The event was multilingual. Spanish and ASL interpretation was offered.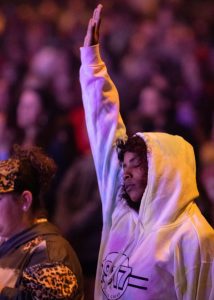 Eden Trentham led worship throughout the weekend. Minister James Willis and Nu Praze Choir from Oklahoma City, Prospect led worship on Saturday morning. Romans 12:12 was theme verse, "Be joyful in hope, patient in affliction, faithful in prayer." In each worship service, a section of the verse was highlighted.
During the Saturday morning session, Owasso, First Pastor Chris Wall and his wife Robin interviewed an International Mission Board (IMB) missionary who is serving in Ukraine. Following the interview, an offering was given to the IMB for the Ukraine Gospel Response project. Attendees at Falls Creek gave $12,661. The Voice of the Martyrs partnered with Oklahoma Baptists by giving away "Hearts of Fire" to each attendee in-person and virtually.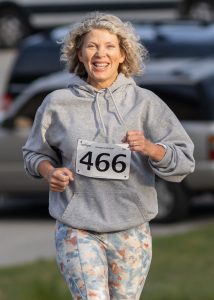 Overall, more than 300 churches participated in the Women's Retreat. Women in attendance enjoyed recreational activities such as the zip line, walking the Prayer Gardens, and the 5K on Saturday morning.
"The weather for the retreat was beautiful and a blessing," Cordova said. "Each woman attending in person received an Oklahoma Baptist branded belt bag. God provided such a great retreat this year!"
What Women's Retreat attendees are saying:
Magi Sutton from OKC, Newchurch: "Newchurch OKC Ladies loved doing the zipline! A first for some of us! Thank you for a Great Weekend!"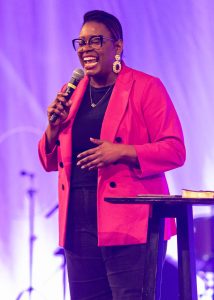 Patricia Gilliland from Ponca City, First: In talking about the message, "Keep the main thing the main thing… that seemed to be a lot of people's takeaway, and I think it serves well as the top of the umbrella, covering all the other things taken away as we went home."
Augusta Smith, executive director from Native American Link: "To God be the Glory! What a wonderful, uplifting time. It's all in my heart. Thank you, Chris Wall for your challenge to evangelize. 'Do you know Jesus?'"
Monta Higle Cochran said, "We have been coming to ladies retreat for many years. We used to all go to the same church, but now we are all three serving at three different churches. Grateful to still grab a photo together."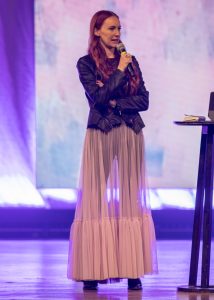 Meagan Hisey said, "We brought a group of 16 ladies for the first time. We are a church plant of five years, so this was really exciting for our group! We were encouraged by the speakers and inspired by the worship! We loved the time we got to spend with each other too. The theme was right on for all of us! Thank you so much from Open Door Church women!"
Valarie Land from Broken Arrow, First (host church), added, "We loved joining via simulcast at FBCBA! What great speakers and worship leaders! I'm so thankful I got to attend!"
Whitney Kochenower of Lawton, First, said, "Our ladies had a restful weekend at Falls Creek. Lots of laughs, a few tears, new bonds were made and most importantly lives were changed, and souls were saved! We continue to give thanks to the Lord—He is good, and the glory is His alone!"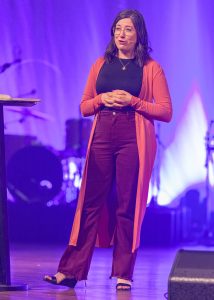 Carolyn Morgan from Bartlesville, Southern (host church) said, "The women who came to Bartlesville Southern were so grateful to be able to enjoy the Falls Creek retreat experience without having to travel. The speakers challenged and encouraged us, the worship and fellowship were sweet, and we loved hearing about what God is doing in Ukraine! Thank you for making this option available!"
For more information, visit oklahomabaptists.org/women.
Photos by Austin Urton