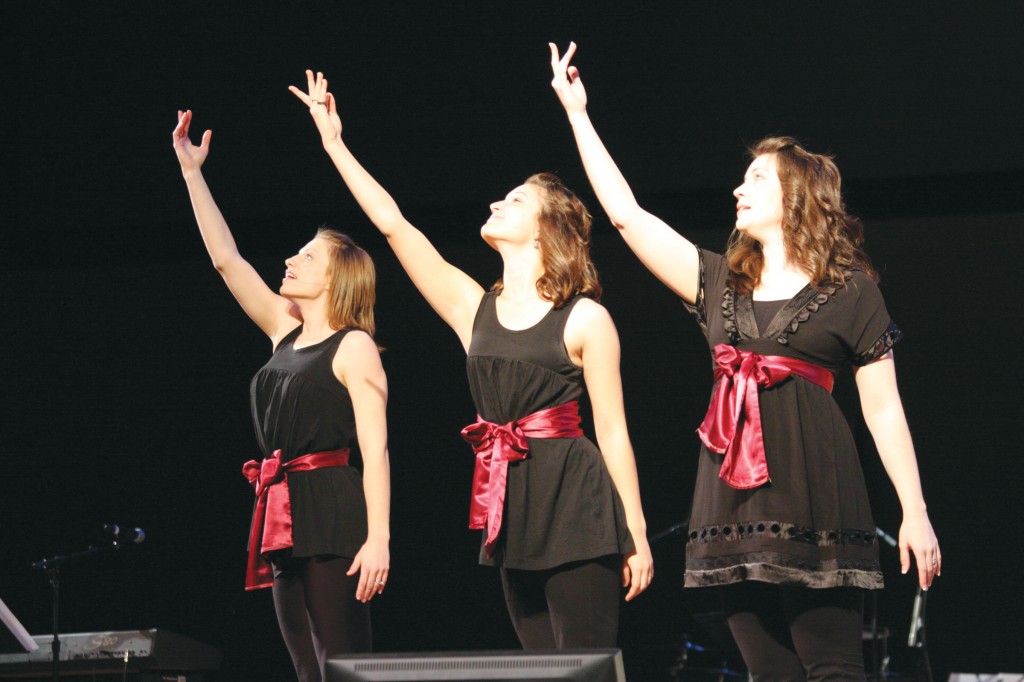 DAVIS-The energy was electrifying and expectations were met as a record crowd of nearly 3,000 women from across the state made their presence known during the 2008 Oklahoma Ladies Retreat held at Falls Creek Baptist Conference Center the weekend of April 11-12.
No guys were allowed as women laughed, hugged and were inspired to walk by faith, not by sight during the annual ladies experience directed by BGCO Women's Missions and Ministry Specialist Kelly King.
Knowing a men's retreat was to be held in two weeks, King challenged the ladies to help fund a new missions building at Crosstimbers Camp (Formerly Camp Hudgens) near McAlester. The ladies responded by giving $19,173 to the cause!
Praise to the Lord filled the Tabernacle during the opening session as voices of women young and old were led in worship by Marcy Priest. Worries and cares of the world melted away as hearts sang in one accord with hands lifted toward Heaven.
Keynote speaker Jennifer Rothschild captivated the audience as she shared of her personal journey and challenges in a world of total blindness. Walking by faith, not by sight is more than a reality for the poignant storyteller and inspirational speaker. Walking by faith has become a way of life for Rothschild.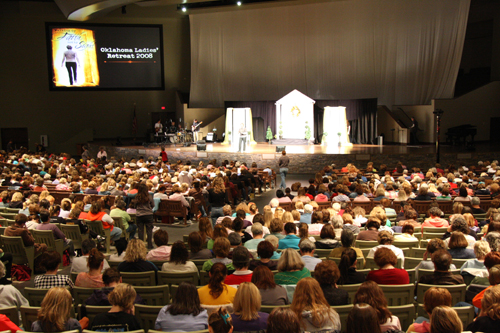 Greeted by applause as she was escorted to the platform by her assistant, Rothschild soon had the audience in laughter, describing what would be required of her to prepare her house for an interview to appear on "Good Morning America" April 22. She asked everyone present to pray that the message of the Gospel would not be edited from the interview.
Relating to her audience as a mother of two boys, Rothschild described how she attached jingle bells to the shirts of her boys to keep track of them when they were toddlers. Jesting about having her very own, "Dr. Phil," Rothschild shared of her love for her husband, Phil Rothschild, who is a college professor in Missouri. During a personal video segment featuring her family, Rothschild spoke of the grace God has provided her to be a loving wife and mother.
Demonstrating her multiple God-given gifts midway through her presentation, Rothschild turned her focus from speaking and began playing the piano and singing, "It Is Well with My Soul." A reverent calm was present throughout the Tabernacle as all eyes were on Rothschild.
As the song concluded, she turned to the audience and began to challenge them following an intentional pause, which was followed by the comment, "Questioning God is not the same as questioning God's character. While we are encouraged to ask God questions, we should never question His goodness. We may have questions that appear to have no answers, but we must always remember God is always good.
"There are times when we want to ask God if He cares. Don't you care God?" she asked. "The pain is even greater when you know He's there and feel He doesn't care. If He allows something so bad into your life, it is not because He doesn't care, it is because He does care. We must base our perspective on His character, not our circumstance."
"When darkness comes and brings messy questions, we can resist or we can rest.
"Have you ever noticed that the spellings of words resist and rest have everything in common except the letter "I?" When you are consumed with the letter 'I," you resist. But when you choose to not elevate the letter "I," you find yourself in a place of rest," she explained.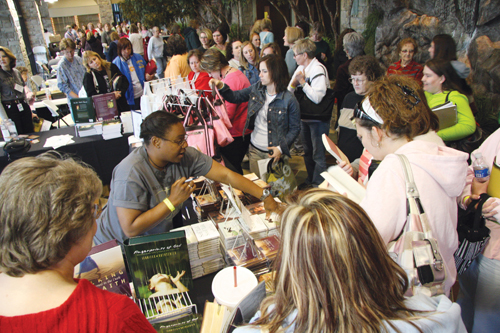 Drawing from the book of Habakkuk, Rothschild challenged her listeners to praise the Lord during adversity. She explained how Habakkuk didn't receive answers, but he did gain a deeper relationship with God.
"We should desire relationship more than answers," she stressed. "When God doesn't answer my questions, can I still praise Him? When I have a spiritual disappointment, will my relationship with Him remain? Will I still praise Him?
"Habakkuk says, 'The just shall live by faith.' Faith allows you to see blindness as an eternal perspective. Faith allows you to see what you may not have otherwise seen. Faith allows you to see the low places are really the high places.
"Why are we so afraid? It is because we are relying on feelings, not faith. We must remember we are not called to trust a God we understand. We are called to trust God whether we understand Him or not. That is why we are called to walk by faith, not by sight," Rothschild concluded.