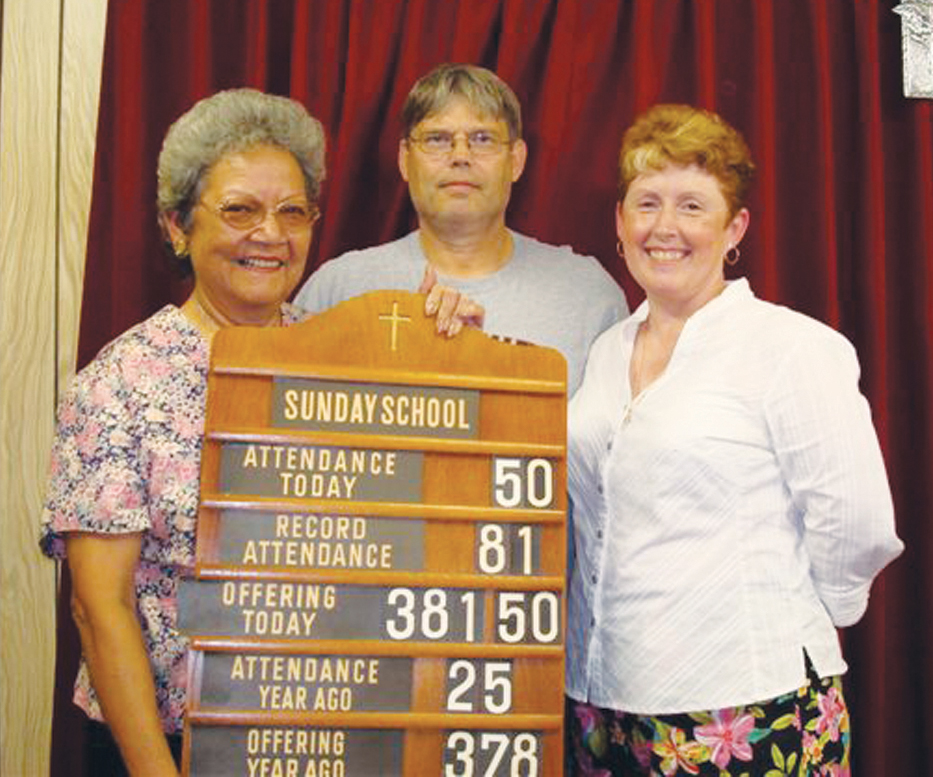 Nashoba Valley Church was sinking fast with little hope of survival. Nestled back in the trees, unable to be seen from rural Highway 144 passing nearby, the church had dwindled to three ladies who attended faithfully.
There was no water in the church house because of leaky pipes, but there was water on the church floor because of a leaky roof. With no money and no pastor, what could these dear women do?
They did what they could. They prayed to the Lord for intervention, and they called their director of missions in Frisco Association, Otis Cayton, for help. As Southern Baptists, they knew they were part of a larger group of churches, and they looked to them for wisdom, encouragement and strength.
Cayton was the guest preacher the next Sunday for this congregation of three. During his visit, they discussed the possibility of closing the church, but they decided instead to work together and allow God to use them to resurrect the church. Frisco Association agreed to be responsible for providing a preacher each Sunday, and the tiny remnant remaining at the church took responsibility for reaching out to the community by sharing the Gospel, bringing people to church and praying intensely.
Following several guest preachers, Cayton was "impressed of the Lord" to ask Ira Harris to supply for them. The remnant immediately believed that this was the man God had chosen to lead them. But there was a problem. Harris was the superintendent of Valliant Public Schools, which was 75 miles away. However, God was working in Harris's life as well.
Still a young man with a great future in public education, Harris left Valliant and became the superintendent of the much smaller Buffalo Valley School and the bivocational pastor of Nashoba Valley Church. Since that time a little more than two years ago, the Lord did indeed resurrect that little church.
Frisco Association assisted them in doing an evangelistic blitz of their community, which resulted in one person coming to Christ, as well as declaring to the community that the little church, though almost dead, was alive again. Volunteer builders from the association helped with repairs to the building.
The church now has about 40 people present each Sunday morning, and 30 on Wednesday night, with an effective outreach to the young people in the area. They had 81 in worship this past Easter, and many people have come to know Jesus or have come back to Jesus through the witness of this reborn church.
Pastor Harris says the story of Nashoba Valley Church demonstrates that "blessings follow obedience."
Cayton says the church has helped each person involved see that where there is life, even a little bit of life, there is hope. When a church gets desperate for God, and is willing to work together for His glory, He can do marvelous things with it.
Indeed He can!
Oh, and one more thing. Nashoba Valley Church is once again a contributor to missions causes in Frisco Association, across Oklahoma and around the world through gifts to the Cooperative Program!