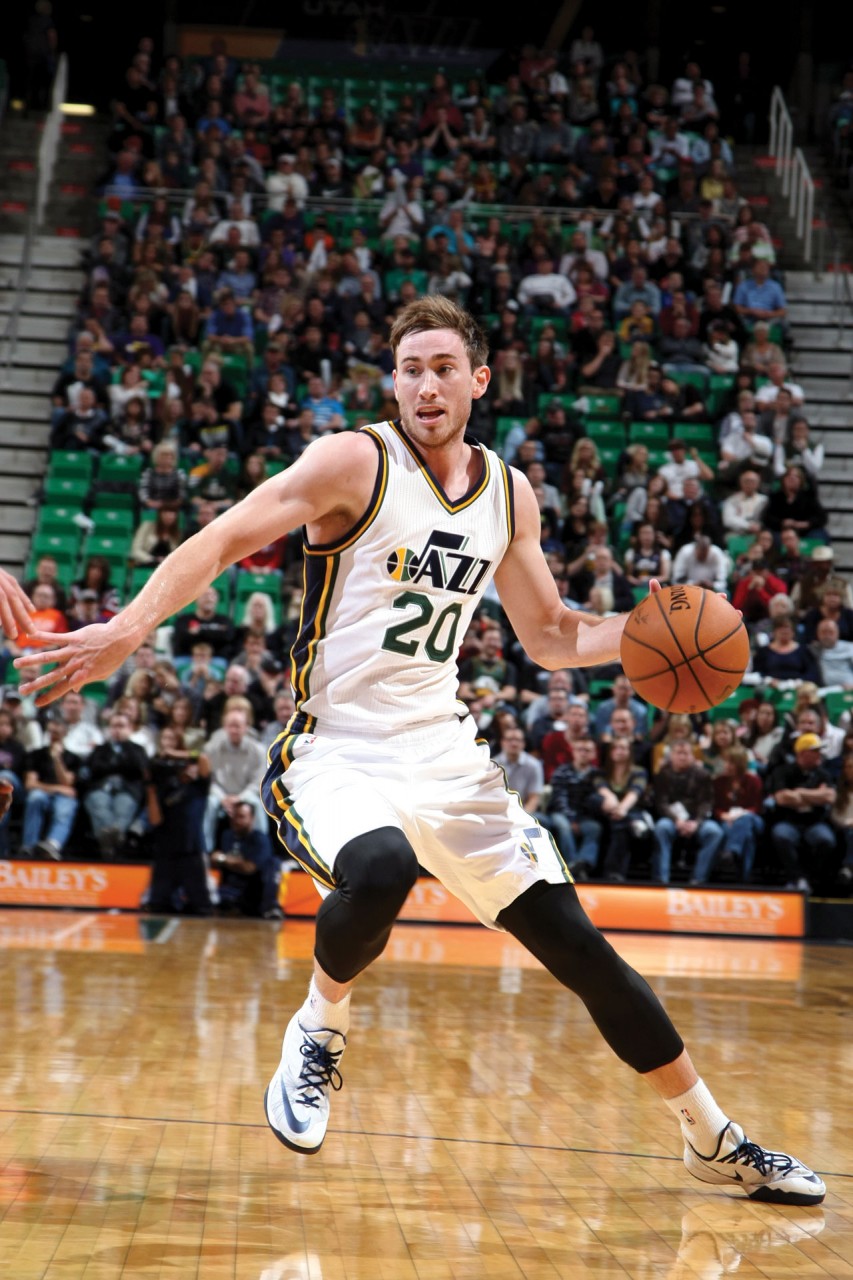 EDITOR'S NOTE: This article first appeared in the March 5 edition of The Alabama Baptist.
Had he made it, it would have been his biggest thrill in basketball.
Gordon Hayward's desperation half-court shot at the buzzer of the 2010 NCAA national championship game against Duke University hit the backboard and rim, leaving Butler University three points shy of one of college basketball's most shocking title game conclusions.
"It was a fun run. I wish it would have ended differently," Hayward said. "Maybe later in life I can go back with my old teammates and laugh about it."
During that 2009–2010 season, Hayward, a sophomore, led the Bulldogs to the national championship game at Indianapolis' Lucas Oil Stadium, less than a half-hour from campus. He led the Horizon League in scoring (15.5 points per game) and rebounding (8.2), was the league's Player of the Year, a third-team All-American and the MVP of the West Region.
Becoming the school's first player drafted into the NBA since 1950, Hayward left Butler in 2010 after the Utah Jazz selected him ninth overall in the first round. Hayward, a 6-foot-8-inch, 225-pound shooting guard/small forward, experienced another thrill when the Jazz played the Indiana Pacers.
Hayward's rookie season in the NBA was his first away from home.
"I've had to grow up a lot. I had to move out by myself. When you are out by yourself, the NBA is a tough league. There are ups and downs. It is always nice to be able to fall back on Him. I know that He is there for me," said Hayward, 24, now married. He and his wife, Robyn, are expecting their first child in June.
It also was the first time Hayward was not able to go to his home church in the Indianapolis area where he was baptized.
"My parents (Gordon Scott Hayward and Jody Hayward) went to church every Sunday. They have been there for me my whole life. They took me to church," he said. "It's always been a staple; something I try to do."
Before each game his mother texts him the message, "Remember Who you play for."
"It helps remind myself why I am doing this. I am playing for the glory of God," Hayward said. "It makes life easier. It takes a lot of pressure off of you. My inspiration first and foremost always has to be God. I play every game for Him and after that my inspiration is my family."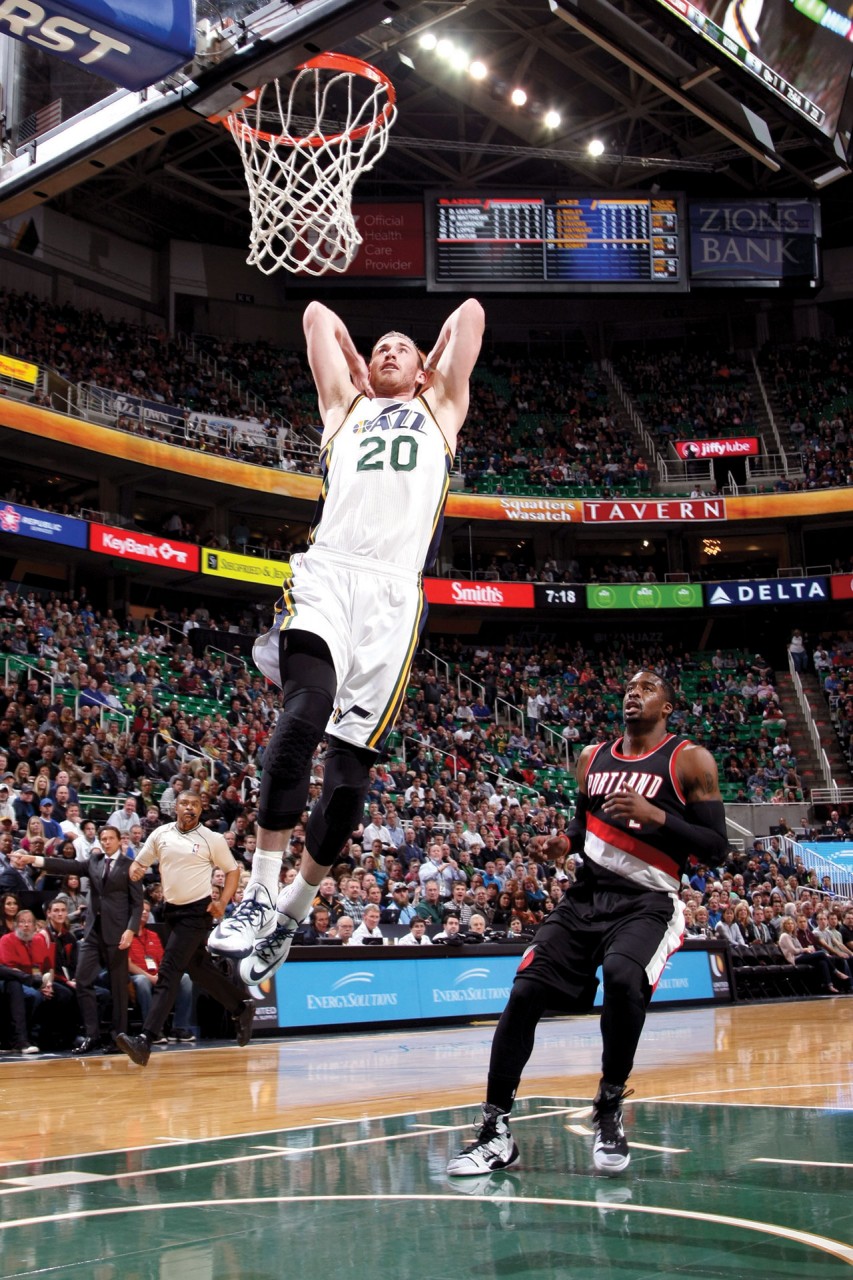 In his fifth season in the NBA, Hayward has grown in his faith.
"(My) faith has been good because of the people I have been around. The Jazz have always had good people and people with strong faith. There are always chapel services that you can go to," Hayward said.
This season, Hayward is averaging a career-high 19.7 points per game, 5 rebounds, 4.3 assists, 2.7 blocks, .391 three-point percentage and 45 percent from the field.
He was a finalist for the International Basketball Federation's 2014 USA Men's National Basketball Team. His favorite verse—Phil. 4:13—fuels his competitive spirit.
"I think that I learned that I can accomplish a lot more than I ever thought I could. I have become (a) more confident player and somebody that the team can lean on toward the end of the game. I have developed (an) off-the-dribble game and gotten better all-around."
Former Utah forward Steve Novak calls Hayward "such a valuable player because he distributes the ball and he can score." (EDITOR'S NOTE: Novak is now a member of the Oklahoma City Thunder).
Rudy Gobert, a Utah forward-center, said Hayward brings "pretty much everything" to the Jazz. "That is why he is a good player. He is a very good scorer for us. He can shoot. He can drive. He is a very good passer and I like the way he plays defensively."
A player who likes to run in the open court, Hayward has worked on bringing energy with solid defense.
While Hayward has a quiet leadership style, Gobert said, he has the team's respect. Novak said, "He is someone the whole team respects. They respect his ability, his IQ, and I think that is important. Seeing the guy who we look to, he has got to be a guy we all respect."
Hayward's twin sister, Heather, played No. 1 singles for her high school tennis team, and he played in the Indiana State Open in mixed doubles in 2005.
"(God) has put me in the spotlight," said Hayward, who hit a game-winning shot Nov. 5, 2014, in a 102–100 victory over the Cleveland Cavaliers. "Someday I will be able to go to my real home and this is all to praise Him on Earth."