EDMOND—Each Sunday, members of  a local Southern Baptist congregation can be heard saying, "We are a family of faith, passionately connecting to Christ, His church, His Word and His mission for His glory." These words mark the mission statement for Edmond, First.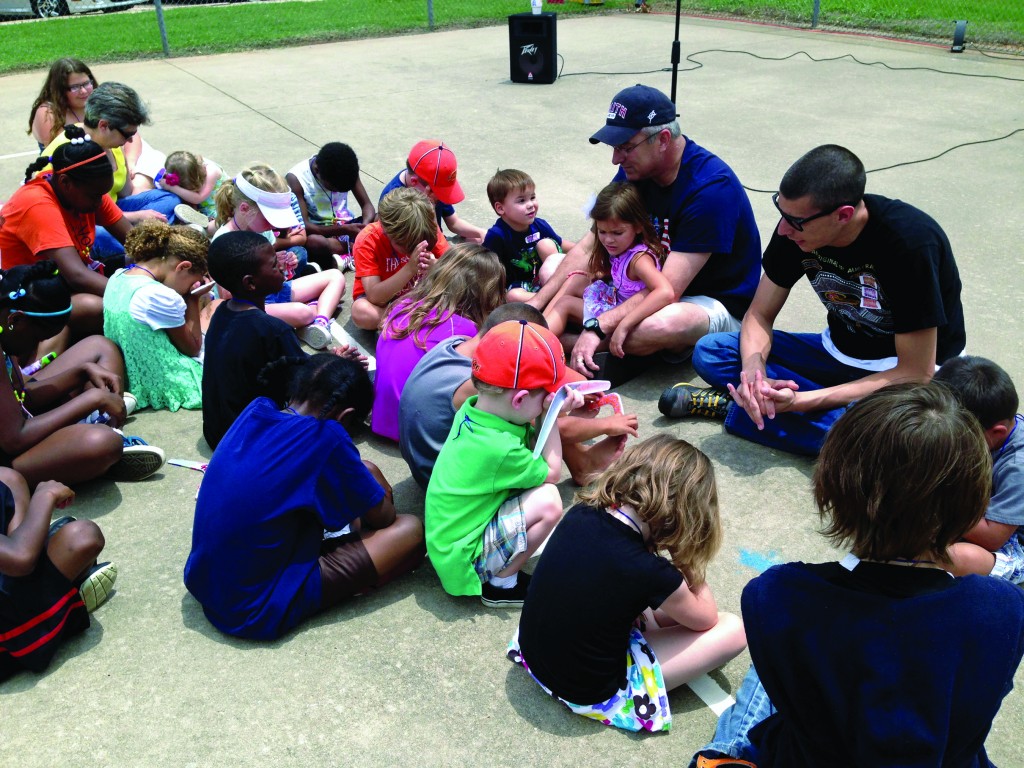 Not only do members of the church recite its mission statement each Sunday, but Pastor Blake Gideon also strives to lead his church into living out this mission statement. It was this statement that led to an unusual approach to Edmond, First's Vacation Bible School (VBS).
Gideon and Associate Pastor and Children's Minister Charles Scheffe created a plan to put this mission statement into action by recreating the church's VBS by going into neighborhood parks for one day and ministering to the families there.
"As we evaluated our past Vacation Bible School models, I saw that we really struggled to connect people to our church," Scheffe said. "We looked at how we could further our goal in connecting families to our church, connecting people to Christ and to His Word through the clear presentation of the Gospel that VBS provides, as well as putting our people on mission with doing it."
Scheffe explained that the one-day VBS sites were only a springboard for front yard Bible clubs, which came from new LifeWay material for backyard Bible clubs.
"We decided the front yard Bible clubs would be a great opportunity to put our people on mission and to move outside the walls of our church so that we could enter the community," Scheffe said. "We partnered with seven different homeowners' associations to use each park."
Each neighborhood park was strategically picked where a member of the church resided. Their home was the meeting place of the front yard Bible clubs. By utilizing the VBS materials and inviting each neighbor to join in the fun, the families were able to receive information about the front yard Bible clubs as well as meet the host home family.
"In contrast to the LifeWay product that is a backyard Bible club, we wanted to be out in the open," Scheffe explained. "Not only for security reasons, but also because that is more inviting. So we called them a front yard Bible club, and they took place in front lawns and driveways of local church members."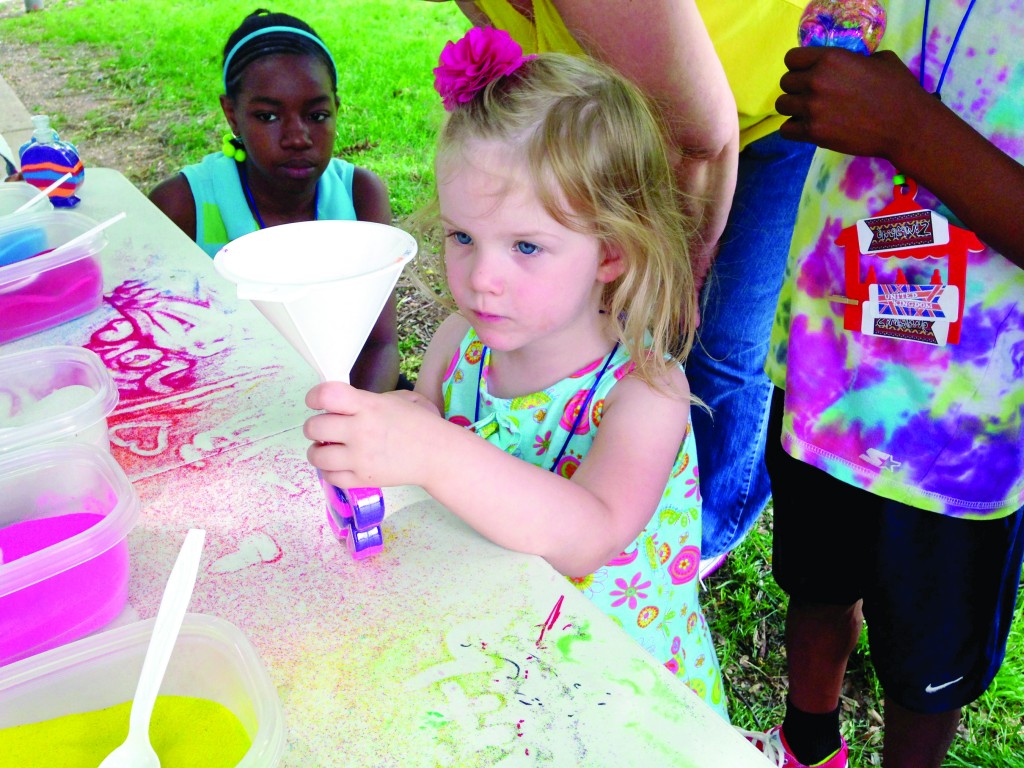 Each VBS location had team leaders hand chosen by Scheffe to oversee their site. They were in charge of recruiting other church members to help as workers as well as building relationships with the families at each park. The theme centered around material from Cokesbury called Everywhere Fun Fair, which allowed the kids to learn about many different countries at each station. The events were scheduled from 10 a.m. until 2 p.m. and included several missions activities, craft times, recreation and Bible stories. Each site also provided lunch for the families at the park.
During the front yard Bible clubs, each group used the Colossal Coaster World material from LifeWay to accomplish four things: a time of recreation, craft, snack and a Bible story.
"We took an hour, to an-hour-and-a-half-long approach for five days with the front yard Bible clubs," Scheffe said. "We left it up to the club 'team leader' as to how the group met, when they met and the time frame that they met.
"Several of the groups met on Sunday evenings since we do not have Sunday night activities at our church right now, especially during the summer, and they were highly successful with that."
After further evaluation, Scheffe is pleased with the results of the one-day VBS and the front yard Bible clubs. The front yard Bible clubs exceeded the original vision. Treating the front yard Bible clubs as they would a new Sunday School class, Scheffe expected to have 10 kids at each Bible club. However, the current average has been upwards of 15 and 16 kids per sites, while some groups had 20 or more on a given night.
"One of the big differences between a traditional Vacation Bible School and what we did with this effort was that it was more relational and it felt less programmed," Scheffe said. "As a result, we have built better relationships with those we came into contact with who are prospects for our church. We also discovered lots of unchurched families in the process.
"These are families who most likely would not have come to an open-door, traditional event at our church, and probably would not have been invited by one of our families because they would not have had previous relationships with them."
Edmond, First has already seen several families meet the goal of connecting them back to the church and expects more relationships to grow because of this mission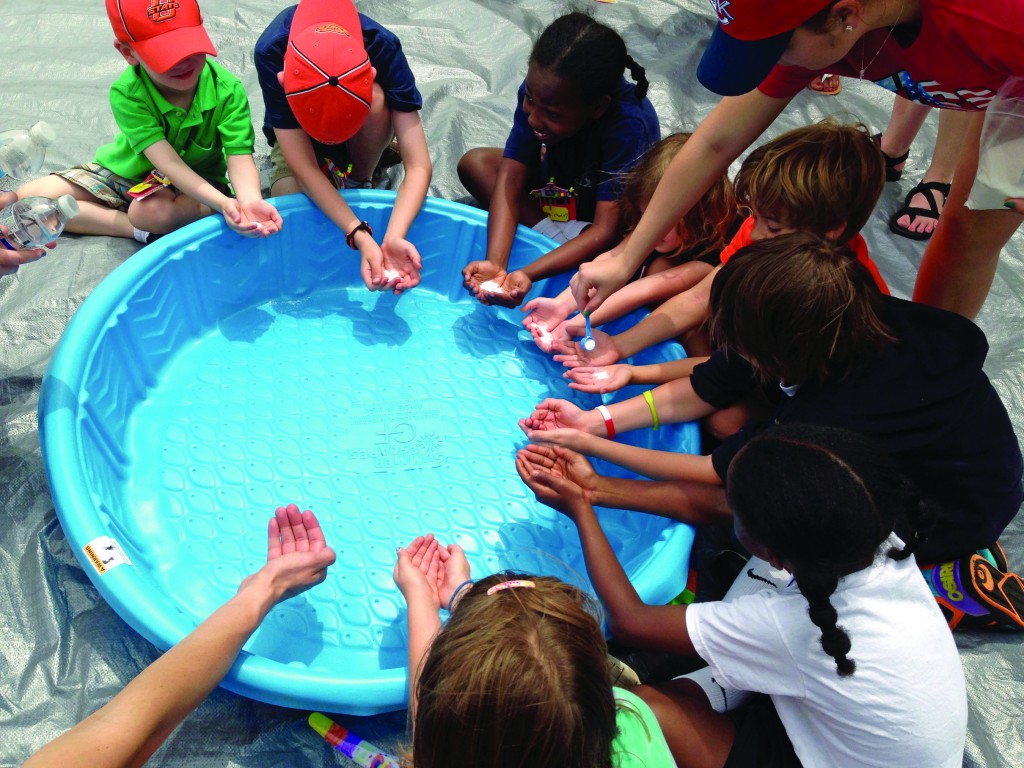 opportunity.
"Follow up plans are a key thing now," Scheffe said. "All the families who participated in the One-Days got an invitation to the local front yard Bible club meeting in their neighborhood. They also received a thank you note card written by either the team leaders who were there, or my team that is a part of the Children's ministry at Edmond.
"The final follow-up plan is an evening event on Aug. 18. We are inviting all of the families who participated in the one-day VBS or front yard Bible clubs to join alongside our church family at Pelican Bay. This event will allow for another opportunity for our church to foster relationships and make connections so it is an easy transition for new families to want to come into our church atmosphere. "