by Michael A.G. Haykin

"The 18th-Century Great Commission Resurgence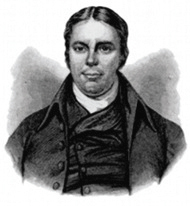 1. From a garden to a dunghill: the spiritual need"
Baptists first appeared in the late 1630s and early 1640s in London. By 1715, there were some 220 Baptist churches in England and Wales. During the 17th Century, they had been one of the most vigorous evangelistic bodies in the British Isles. These Baptists often referred to their local churches as "enclosed gardens." For example, Benjamin Keach (1640–1740), a leading Baptist theologian of this period, noted that "all mankind naturally were alike dry and barren, as a wilderness, and brought forth no good fruit," but "God hath separated some of this barren ground, to make lovely gardens for himself to walk and delight in." Here the idea of the church as an enclosed garden functions to highlight the way Christians have been drawn out of the barrenness of this world and planted in a specific place of spiritual fruitfulness. In Keach's words, "the Church of Christ is a garden enclosed, or a community of Christians distinct from the world." For scriptural support, Keach turned to the Song of Solomon 4:12, which stated, "a garden enclosed is my sister, my spouse."

Baptist Decline
During the course of the 18th Century, the passion and fire of the Baptists for evangelism began to wane, and by 1750 their number of churches had declined to about 150. The image of an enclosed garden can easily depict something that is insular, refusing to engage with what lies beyond the garden walls. So it was that far too many congregations of the English Baptist community in the 18th Century became inward-looking, closeting themselves within their meeting-houses and limiting their horizons to the maintenance of church life. The image of the enclosed garden, which had been a positive image in the 17th Century, became a picture of stagnation in the following century.
Various reasons can be cited for this decline. It was illegal for Baptists to engage in mass evangelism outside of their meeting-houses, and so their money and effort began to be poured into the erection of church buildings instead of evangelistic outreach. Moreover, prior to the building of a meeting-house, services might be held at a variety of geographical locations, and thus a congregation could have an impact over a wide area. But once a building went up, members who lived at a distance were expected to make their way to the meeting-house, and thus the impact in the various locations was somewhat diminished. So it was that the monetary value of the property of the Baptists increased, but its membership was beginning to decrease.
There was also a tendency to get stuck in traditions that had had lost their efficacy. Baptists, for instance, were the only major group in 18th-Century Britain that insisted upon believer's baptism, which, they rightly argued, is the baptism set forth in the New Testament. Anglicans, Congregationalists, Presbyterians (and later, the Methodists) all upheld infant baptism, while the Quakers dispensed with the rite altogether. Apart from a very few exceptions, the tradition was to have baptisms done outdoors in a pond, stream or river. All and sundry could come and watch what was happening and ideally the Baptists would be furnished with an excellent opportunity to bear witness to the Gospel and their distinct convictions.
In some situations, though, an outdoor baptism had the opposite effect, but having it outdoors was maintained because of tradition. William Steadman (1764-1837), a Baptist leader in the north of England, records that when he first came into the county of Yorkshire, the older ministers in the area "objected to baptisteries in their places of worship" and continued to "administer the ordinance in rivers." The Baptists in the town of Bradford, where Steadman was pastoring, "baptized in a small stream, the only one near them," though it was "scarcely deep enough, muddy at the bottom, and from which the minister and the persons baptized have at least a quarter of a mile to walk along a dirty lane in their wet clothes before they can change." Moreover, Steadman noted, the site where the baptisms were done was "quite unfavourable for seeing or hearing, and by that means the benefit of the ordinance are lost to the congregation, few of whom ever attend it." Instead of installing an indoor baptistery, by means of which these disadvantages could have been overcome, these Baptists maintained the tradition of an outdoors baptism and its attendant problems.
Andrew Fuller (1754-1815), was raised in a Baptist work in the small village of Soham, not far from the university town of Cambridge. Its pastor was John Eve (d.1782), who ministered at Soham from 1752 till his resignation in 1771. His preaching, as Fuller later recalled, "was not adapted to awaken (the) conscience," and he "had little or nothing to say to the unconverted." Thus, despite the fact that Fuller regularly attended the Baptist meeting-house with his family, he gave little heed or thought to the sermons that he heard. It was Fuller who would later say that if "erroneous doctrine" had continued to prevail among the Baptist churches of his denomination, they would have been "a very dunghill in society."
The hymns of Anne Steele
Yet, one of the most significant examples of vital Baptist life in this period is a woman hymn-writer, Anne Steele (1717-1778). Anne was the daughter of William Steele, the pastor of the Particular Baptist chapel in Broughton, Hampshire, a village situated roughly mid-way between Salisbury and Winchester. Converted in 1732 and baptized the same year, she grew to be a woman of deep piety, genuine cheerfulness and blessed with a mind hungry for knowledge. Her piety was wrought in the furnace of affliction. She wrestled most of her adult life, it appears, with ongoing bouts of malaria and other bodily ailments. Single all of her life, Anne devoted much of her time to hymn-writing and other literary pursuits. After her death, her hymns became as well known in Baptist circles as those of Isaac Watts (1674–1748), for example, the so-called father of English hymnody.
One that is still sung today reveals the way in which her hymns would have played a part in revitalizing areas of the Baptist work throughout the British Isles.
The Saviour calls, let every ear
Attend the heavenly sound;
Ye doubting souls, dismiss your fear,
Hope smiles reviving round.
For every thirsty, longing heart,
Here streams of mercy flow;
And life and health and bliss impart,
To banish mortal woe.
Ye sinners come, 'tis mercy's voice;
The gracious call obey;
Mercy invites to heavenly joys,
And can you yet delay?
Dear Saviour draw reluctant hearts,
To thee let sinners fly,
And take the bliss thy love imparts,
And drink, and never die.
Michael A.G. Haykin serves as Professor of Church History and Biblical Spirituality at The Southern Baptist Theological Seminary in Louisville, KY.