LEXINGTON—Miguel is like many other Oklahoma Baptist University (OBU) students. On any given day, he wakes up, gets dressed, has his quiet time, eats breakfast, then heads off to class.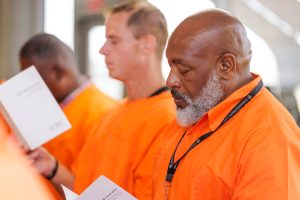 What makes Miguel's experience unique, though, is that all of these activities happen behind bars. Miguel is serving a prison sentence at the Lexington Correction Center in Oklahoma, where he is one of 67 students enrolled in the OBU Prison Divinity Program.
Since 2021, OBU has offered a Bachelor of Arts degree in Christian Studies to inmates in an Oklahoma prison. Upon completion of their degrees, these men will be eligible to be commissioned as field ministers and deployed to other prisons across the state. OBU, Oklahoma Baptists and the Oklahoma Department of Corrections are partnering in this historic endeavor in Oklahoma.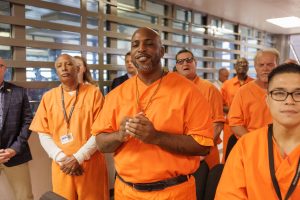 Miguel is a junior enrolled in the program, well on his way to earning his bachelor's degree. He is projected to graduate in 2025. Miguel is on fire for the Lord, sharing the Good News of Jesus with everyone who crosses his path.
If you looked back 10 years ago at his life, one would have never guessed Miguel would be on such a good path. Having committed a violent crime, Miguel also was involved in drug dealing, all of which led to his conviction.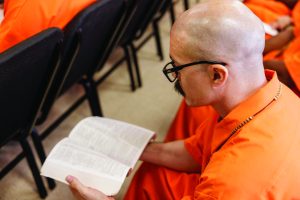 Shortly after his arrest in 2013, Miguel was being held in a county jail, where someone shared biblical books and Gospel literature with him.
A close friend had written a personal letter to him, which included the plan of salvation.
"God pursued me," Miguel said. "When I realized what Jesus had done for a sinner like me, I asked God to have mercy on me."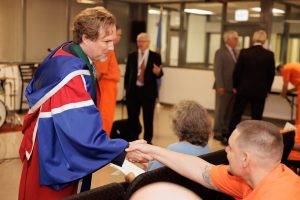 Miguel knew he was a sinner in need of God's grace, and there inside a prison cell, he knelt down and, through tears, repented of his sins and gave his life to Jesus. He felt the peace and presence of Jesus come into his life, and he's never been the same.
Miguel is originally from Honduras, and he primarily spoke Spanish. In the prison system, he accepted an opportunity to learn English and eventually earned his GED diploma.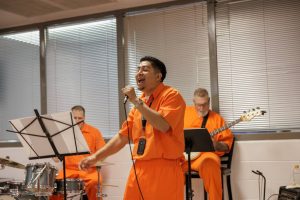 Through God's divine guidance, Miguel eventually was moved to Lexington where he was later accepted into the OBU Prison Divinity Program. Like others, Miguel is serving a long-term prison sentence, which allows students like him to have a long-term Gospel impact within the prison system.
All courses are taught face-to-face at the Lexington Assessment and Reception Center. Students are carefully selected, based upon their application materials, interviews and progress through the degree program together.
The program's objective is to facilitate change in the culture of the prison system with greater respect for authority as well as their fellow man. The program also intends to facilitate greater safety within each unit where field ministers are deployed and allowed to serve and to provide a pathway to reduced recidivism of those who have been impacted by the service of the graduates.
The OBU Prison Divinity Program was recently recognized as the top academic institution of the year at the National Moral Rehabilitation Conference, where Chaplain Ron Lindsey also received the chaplain of the year award during the event. This degree is a fully accredited, four-year Christian liberal arts degree, which includes an internship with the prison chaplain.
The OBU program is based on the successful example of the Angola Prison Seminary and the Prison Seminary Foundation in Louisiana, in connection with New Orleans Seminary.
Students in the program are receiving a quality Christian education. Miguel himself has earned excellent grades in his studies. He also has been afforded some unique ministry opportunities, such as to preach and lead worship.
He often wears a lanyard around his neck that is emblazoned with the phrase, "I love Jesus." Even though he has his own share of personal struggles, Miguel, when asked how he's doing, will say, "I am doing great by the grace of Jesus."
"I want to fulfill the call on my life and do ministry," he said. "Before, when I was outside of jail, I was a prisoner to my sin. Today, while I'm in prison, I'm free because of Jesus.
Through a series of circumstances, Miguel also connected with Bryan Haynes, pastor of Chickasha, College Heights. Since around 2018, Pastor Haynes and the church have been doing outreach to Lexington.
On Tuesday evenings, there are chapel services, where Haynes sometimes preaches and where Miguel has preached and helped with music each time.
"Miguel has an incredible level of faith. I'm so thankful we got connected. He shares the Gospel," Haynes said.
One year ago, the congregation voted to call Miguel as Associate Pastor of Prison Ministries, serving an outreach ministry. Miguel helps with worship services, outreach inside Lexington to the other inmates, and a thriving prayer ministry.
"To have had a past, as he does, all I see is that his heart is full of God's love," Haynes added.
Miguel and other students within the OBU program are leading other inmates to the Lord. According to sources, approximately 200 men have given their life to Jesus in recent months.
OBU President Heath Thomas is known for saying the goal of OBU is to see students serve "all of life, all for Jesus." Miguel has embodied the spirit of that notion.
"Even though I'm here (in prison), I know I am serving the Lord," he said. "I am at peace where God has me."
The late pastor Adrian Rogers once said, "There is no one so bad that he cannot be saved. There is no one so good that he need not be saved."
By God's grace, Miguel has been saved. By God's grace, he and others are thriving at OBU, serving the Lord while serving time in prison.
For more information about the OBU Prison Divinity Program, visit okbu.edu/pdp.