I didn't know that hosting the inaugural Baptist Messenger Cookbook Contest would be such a difficult task. Sifting through a mound of tasty recipes, I knew I was in trouble when I came across one that contained the instruction: "cream your butter." I have seen many cans of whipped cream, but I don't know where to look in a store for a can of creamed butter (I had to Google it).
It didn't take long to realize I was in way over my head and needed a team of experts. I am so grateful Millie Combs said "yes" to helping organize a team; she enlisted the help of Barbara Jackson and Judy Courter. These ladies have more experience in cooking and working on cookbooks than Sara Lee, Chef Boyardee and Marie Callender combined.
I am grateful for the many hours they spent sifting through, examining and comparing recipes until they finally came up with a list of winners. (This is the part where you tap your fingers on the table as a substitute drum roll.)
The grand prize winner of the inaugural Baptist Messenger Recipe Contest is Sharon Everhart with her delicious recipe for Indian Beef Curry.
BEST OF THE BEST: Sharon Everhart, Oklahoma City
Meats and Main Dishes: Indian Beef Curry
DIVISION WINNERS:
Fruit and Salads: Farmers Market Fruit Salad—Linda Kellett, Moyers
Vegetables: Sweet Potato Casserole—Linda Sageser, Oklahoma City
Bread and Rolls: Bill's Surprise Cinnamon Rolls—Bill Channel, Oklahoma City
Desserts: Mandarin Orange Cake—Gladys Sharp, Sawyer
The beautiful cookbook we have created to hold these recipes is called "A Very Merry Aqua Velva Christmas Cookbook." It contains a collection of 77 of the best and tastiest recipes from our readers.
Some of these recipes include stories of how the recipe came into their family and was passed down from generation to generation.  These recipes have names like "Kickin' Coleslaw," "Wild Rice Casserole/Stuffing," "Spoon Burgers," "King Ranch Casserole," "Potato Chip Cookies" and "Grandma's Clothesline Taffy," just to mention a few. Your family will love you for presenting them with these tasty treats!
You can tell most of the entries were submitted by Baptists, because the Desserts section contains the most recipes. Mixed among the recipes are nine wonderful, humorous and heartwarming stories. You won't want to miss out on the "Aqua Velva" story and how the cookbook got its name, plus a couple of pictures of yours truly with the culinary team of Moore, Moore and Moore, otherwise known as Poppy, Titus the Honorable and Cohen the Goodhearted. Sorry, River the Peacemaker didn't make this edition.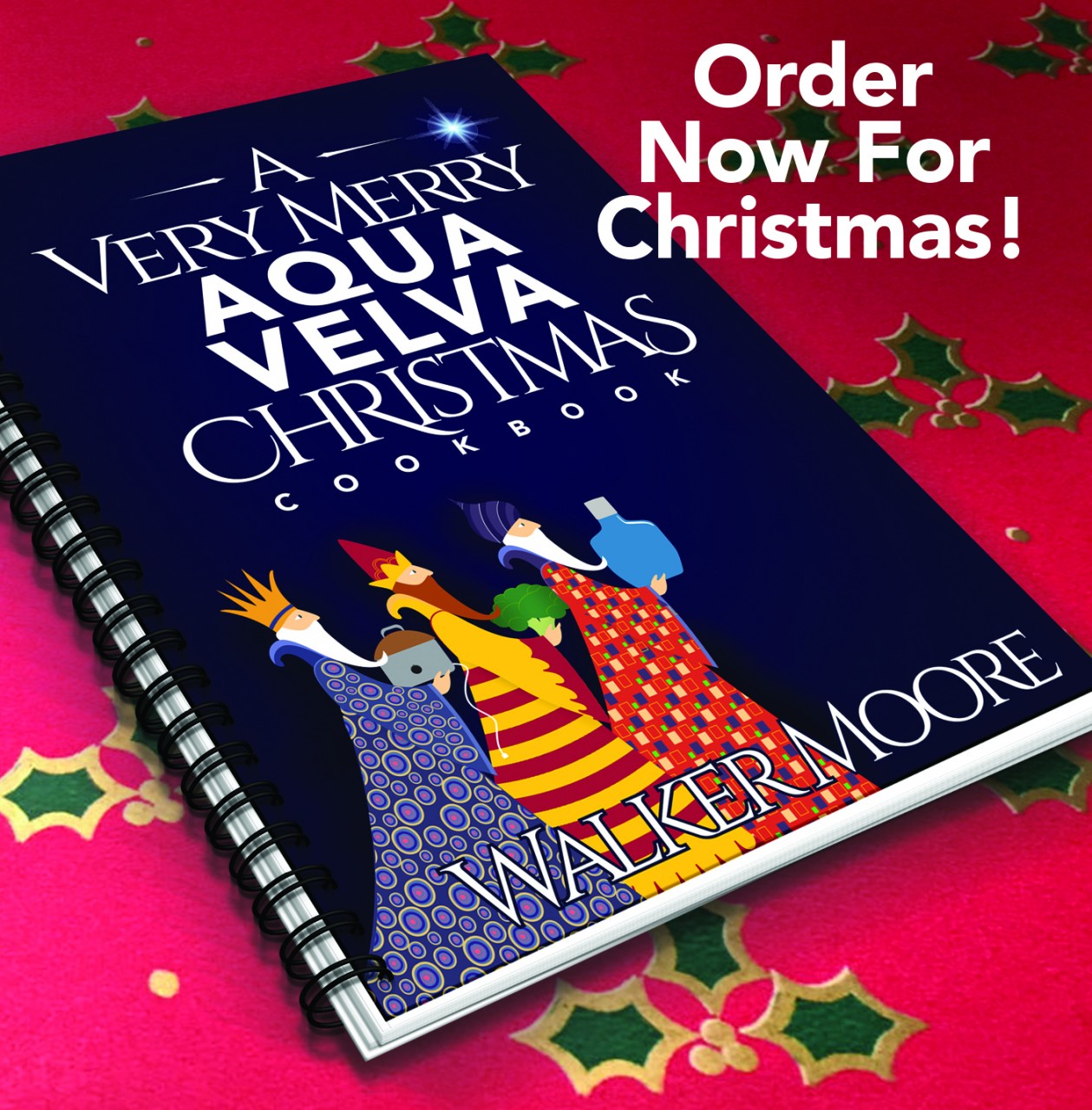 Purchase one for yourself and another one as a gift with our "Buy One, Bless One" special. Order today at www.walkermoore.org or send your check to Walker Moore, P.O. Box 470265, Tulsa, OK 74147-0265.
Did you miss out on submitting your favorite recipe? No problem. The Second Annual Baptist Messenger Recipe Contest will be coming in 2020. We are looking for your submissions to "The Old Country Church Cookbook Contest."
Thanks to all of you who submitted your favorite recipes. As far as I am concerned, you are all winners, and so are those with whom you share "A Very Merry Aqua Velva Christmas Cookbook."