I don't remember when or where we purchased it: a small plastic snow globe with a red base, a plastic dome, and a snowman and a tablespoon of artificial snow inside. When you push a button, a fan blows and the snow spins around as Christmas music plays.
I bought this globe a long time ago when our niece Victoria was young. Her family moved to another state, and the snow globe was put away and forgotten. But when Titus the Honorable started the walking-and-getting-into-everything phase of life, he somehow unearthed this musical treasure,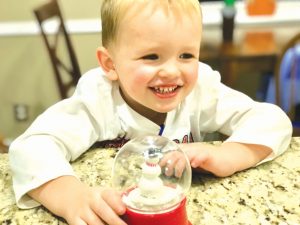 I'm not sure of the source of his fascination with the snow globe, whether it's the music, the swirling snow or the button on the side, which he pushes repeatedly. Whichever one it is, he plays with this globe for hours on end. He sits watching it over and over while the songs repeat, one after another. I think this snow globe has 10 songs, and I guarantee, we can never listen to just one.
Last Christmas, Titus dropped the beloved snow globe, and the snowman separated from its pedestal. Titus cried and cried. I went online and looked from here to China to find a replacement, but to no avail.
Not wanting to disappoint him, I began the process of dismantling the globe. I removed the base and then the little motor. Finally, I took off the top so I could re-glue the little snowman. This was the event that forever fixed in Titus' mind the idea that "Poppy can fix anything." 
Last night, Titus came over, and I had planned for us to make Christmas cookies, Poppy style. You see there is Grammy-style baking, and then there is Poppy style.
Grammy-style baking includes fresh eggs, vanilla, flour, butter, sugar, a mixing bowl and a mixer. Poppy-style cookies include a plastic bag with semi-frozen premade cookie dough. All you have to do is cut the plastic wrapper, put the frozen cubes on an ungreased cookie sheet and slide the pan into the oven at 350 degrees. Eleven minutes later, "Voila!" you have Christmas cookies, Poppy-style.
I must confess, there is a difference in quality between Poppy-style and Grammy-style cookies. Grammy's cookies have an extra ingredient mine don't, and that is love. Only Grammy can put love into food.
Titus came into the kitchen to help with the cookies, and as soon as I got out the ingredients—one semi-frozen package of Christmas cookie dough—he yelled, "Wait!" and ran off.
I didn't know what I was waiting for, but a few minutes later, he came back carrying that plastic snow globe and set it on the kitchen counter. He pressed the button on its side, and nothing happened.
I don't know how grandchildren learn to do this, but Titus has mastered the art of puppy-dog eyes. Even though I have crossed the Seven Seas and climbed Mount Kilimanjaro, puppy-dog eyes bring me to my knees every time. Seeing the disappointment etched across his brow, I reached into the drawer and brought out two new batteries. It wasn't long before the old ones came out, the new ones went in, and the music began to play. The joyful smile that spread across that little boy's face was enough to warm both my heart and his. He laughed and played song after song.
And as we sat there eating cookies, drinking hot chocolate and listening to the music of Christmas, our hearts scooted a little closer together.
Titus, you should know that Poppy also loves Christmas music. Maybe you inherited your special joy in it from me. There is something magical about music that celebrates our Lord's birth. You can't help but fall into a holy hush when you hear "Silent Night." And what about "Angels We Have Heard on High," "Joy to the World," "Hark, the Herald Angels Sing" or "Go Tell It on the Mountain"? And remember "The Little Drummer Boy"? That song will get your heart ra-pum-pum-pumping every time.
In fact, all the Christmas carols get stuck in your mind and play over and over for weeks. Each one makes your soul rise, and for a moment or two, you lose sight of this world and catch a glimpse of the Prince of Peace.
Yes, my little Poppy-style baking buddy, did you know the very first Christmas song was introduced at the time of Jesus' birth?
"Suddenly a great company of the heavenly host appeared with the angel, praising God and saying, 'Glory to God in the highest heaven, and on earth peace to those on whom his favor rests'" (Luke 2:13-14).
I wish I could have heard that one, because guess how they sang it? Grammy-style—with love.